Merill Comeau: The act of stitching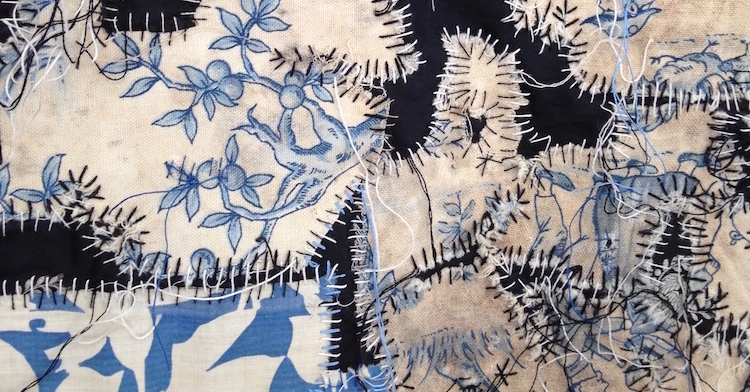 ---
Merill Comeau is a mixed media artist creating installations, murals and garments examining narratives of repair and regeneration.
In addition to drawing and painting, Comeau deconstructs, reconstructs, and alters clothing and linens to disrupt, reorder, and build stories exploring common human concerns. Her use of repurposed materials evidences her concerns of environmental sustainability and the inequitable use of resources.
In this interview, Merill reveals how an adolescence spent kicking against convention soon led her in to the traditional female arena of sewing. And we learn how she expresses her views though stitch and mixed media to create her remarkable sculpture installations and fabric recycled clothing pieces.
Sensual satisfaction
TextileArtist.org: What initially attracted you to textiles as a medium?
Merill Comeau: Textiles are an essential element of our daily lives: we are swaddled when born, we sleep in linens, we clothe our bodies each day, and we mark life's passages with special garments and fabrics.
In my practice I primarily use repurposed cloth gathered from family, friends, and extended community. Each piece carries stories of countless human beings: who created, wore, gifted, graced their table with, or found comfort in it.
Textiles evidence culture, socio-economics, challenges of global sustainability, and are symbolic of shared human concerns.
For my piece From the East, I researched the fascinating history and contemporary manufacturing of denim. I combined this knowledge with my concern about our consumer culture's impact on the environment to create a piece from discarded jeans.
The title refers to an imaginary return of Adam and Eve from the east where they were banished. I hope that a future Garden of Eden will arise from our debris.
Textiles provide me with a concrete engagement with the material world.
I like the processes associated with textiles: marking making (dying, stitched resist, block printing,) construction (sewing, 3-D fabric manipulation, seaming, repair) and decoration (embroidery, applique, embellishment.)
I experience deep, sensual satisfaction in the feel of linen, cotton, wool, all different and all pleasurable.
Currently I am using Toile fabrics that I compost in my garden bin, launder, and reassemble. The images printed on Toile illustrate idyllic scenes that I reorder to create a narrative of deconstruction and repair.
And, more specifically, how was your imagination captured by stitch?
Stitches are construction, repair, and embellishment. The tools of needle and thread engage the body with material.
Stitching is focused, repetitive, and meditative. Stitching is expressive, whether messy or tight, small or large, lined up or crisscrossed.
Today, when we are bombarded with images and information about a complex world with many troubles, the act of stitching provides relief.
Expressing my quirks
What or who were your early influences and how has your upbringing influenced your work?
My grandmother and mother sewed clothes. I grew up occasionally using a home sewing machine. I also picked up skills in a traditional home economics class.
In my adolescence I began buying vintage clothes and personalising contemporary pieces with alterations, paint and embroidery. I fought hard against the family expectation that, as a young woman, I learn to cook. The kitchen felt like a traditional restrictive woman's sphere and I didn't want to be there.
But rebellion and expression were provided in the traditional female arena of sewing and fashion by altering garments to express my quirks and by wearing men's clothes.
I sought out influences aligned with my feminist beliefs. I saw Judy Chicago's Dinner Party when it first toured the US and the idea of taking back traditional women's crafts and using them in a new way inspired me.
The table settings honoring women in history really spoke to me, a revolutionary domestic reference. Learning about Judy Chicago and Miriam Schapiro's Womanhouse project opened my eyes to the possibility of a woman's sphere that encouraged questions, evaluation, and the critique of norms.
My college degree is in social theory and political economy. I am interested in the ways we organise as societies and what material culture says about our values and social structures. Textile history and feminist theory are a rich source for learning, reflection, and inspiration.
In my strong palette, all-over imagery, and hanging of loose fabric on the wall I owe a debt to the Pattern and Decoration Movement. In my use of recycled clothing and sewing construction I pay homage to the history of women patching together salvaged bits of cloth to make quilts. My conceptual base continues to express my feminism and rebellious nature.
Do you use a sketchbook? If not, what preparatory work do you do?
I keep sketchbooks for a variety of purposes. For example, one is filled with images from the media that inspire my abstract printing blocks that I use to create my own patterned fabrics.
Another is full of inspirational images from nature. In addition I use Pinterest to keep a digital archive of images and ideas.
I have one idea sketchbook in which I rough sketch ideas in pencil and jot down brainstorms. I have another sketchbook I use to draw for the pure pleasure of drawing.
When I am on an artist residency, I try to draw every day. I do not use sketchbooks to draw an idea imagining the finished work nor do I use drawings as instructions to follow.
An emotional dialogue
Tell us about your process from conception to conclusion.
I tend to work in series, though I don't always know in advance what the link will be between works. The conceptual underpinning becomes evident over time and then I build upon the discovered and identified theme.  Looking back, I can see I have worked in three years blocks.
My first source of inspiration is autobiographical, the next circle comes from my surrounding community, family, friends, students, and the wider ring of influence is my awareness and understanding of issues and experiences that bind us as human beings.
At the start of every series, I have something I need to say, get off my chest, or puzzle through. I have an emotional dialogue with the world through visual means.
To begin, I pull out a mixed bunch of textiles that I throw around on the table and the floor. I have an extensive stash of textiles: painted and printed linens, deconstructed discarded garments, worn clothing, and donated commercial yardage. When I look at them and think of what I am feeling and/or what I need to say something always jumps forward that I can pursue.
When in the midst of a series, I draw and paint to flesh out and illustrate components of history and narrative. I write essays and thoughts that are incorporated into the work through titles, stenciled or stitched onto cloth, or are typed onto labels I attach to the work.
For my installations, drawing, painting, and textile work happen in tandem. For my piece Black and Blue an essay I wrote about my favorite house from childhood is stenciled on the floor cloth, my favorite tree climbing branch is embroidered on a chair cover, and scrolls of drawings/paintings of my family and myself hang on the wall.
What environment do you like to work in?
To produce my solo studio work I love solitude and quiet. One of my favorite things to do is to attend artists' residencies and I try to carve out a month away every year. I depend on this time alone to produce.
I find I am able to work all day and again in the evening when I am not interrupted by life's daily needs. I am never lonely or bored, but if I have a monotonous process that takes many hours I may listen to audio books for company.
In contrast, I love my peopled community work and the art we create together. I have extensive experience as a teaching artist in residence working with community groups and college students to create collaborative works of art.
I am committed to the use of visual expression as storytelling, transmitting knowledge, and teaching values. I offer workshops that explore individual identity and participants commonalities resulting in site-specific installations.
I am a teaching artist for the Department of Youth Services working with youth involved in the Massachusetts Court system and residing in secure treatment residences. I will be working this year with parents of young children for the Jewish Community Center of Greater Boston exploring how families experience their faith.
I will be working with a food sustainability organisation and their community dinner participants to express their mission of being 'Open to All'. The impact of my students' experiences and my observations of the wider human family provide me with rich inspiration.
Clothing construction
What currently inspires you?
I like being surrounded by inspirational textiles. I purchased my first at fifteen, a decrepit, antique Chinese embroidery of blue silk threads on deep red wool which I meticulously restored.
I continue to collect: 50s abstract bark cloth, kimono elements, samples of crewel on linen, crazy quilts, contemporary African fabrics, and geometric woven rugs.
I'm enjoying the use of text to enhance expression and as a method to provide the viewer with an entry point into the work.
In 'Women's Work is Never Done', I am painstakingly teaching myself elements of clothing construction in homage to the history of seamstresses. I started this piece after deconstructing some tattered antique clothing and realizing I was undoing another woman's work.
Each element has a tag referring back to the method of construction often with a pun. For example: 'I'm boxed in' for box pleat, 'I'm tuckered out' for tucks, 'I'm ruffled' for ruffles.
In my sculpture Foundational Garments words are often stenciled or stitched onto the shirt.
Each shirt is exhibited with an label with its title on one side and a quote from my mother that was informing me of what is appropriate or not appropriate behavior for me as a female.
The shirt titled 'Comb Your Hair and Put on Some Lipstick', lined with my stitched hair, refers to her admonition after I had a baby that I fix myself up so my husband will want to come home from work.
I am interested in how we learn what we 'should' and 'shouldn't' do. I am currently collecting stories from people about what messages they received from their family of origin.
A commitment to thought and practice
Who have been your major influences and why?
Right now I am in an exhibition curated by Samantha Fields and Jessica Burko titled STITCH: Syntax, Action, Reaction that includes work of nine powerful artists: Samantha Bate, Sarah Meyers Brent, Angela U. Drakeford, Samantha Fields, Erica Jaquith, Judith Leeman, Michelle Lougee, Victoria Marsh, Maria Molteni, Andrew Mowbray, NCAA, Bob Oppenheim, Destiny Palmer, and Noel Puello..
These artists all mine different inspirations and are inspirational to me in their commitment to thought and practice.
Artists whose work I follow include: Josh Faught, Mary Mattingly, Derick Melander, Elana Herzog, Jean Shin, El Anatsui, Josh Blackwell, Kaarina Kaikkonen, Nick Cave, Chiharu Shiota, and Yinka Shonibare.
They are looking at the world around them and using visual means to critique, comment, and express concerns.  Looking, looking, looking has inspired my ideas, choices of materials, and learning of techniques. Reading about these artists has affirmed and enhanced my understanding of conceptual bases.
How has your work developed since you began and how do you see it evolving in the future?
I worked for years designing interiors for projects requiring construction. When I first shifted into creating art, I was thrilled to make 2D works that hung on the wall: it didn't have to hold anything up!
I find that as I develop I am venturing back into thinking in 3D. I am enjoying telling narrative through garments and have many more stories to tell.
I have been creating multiple object installations engaging the wall, the floor, and space. These sometimes refer to landscape and sometimes to domestic spheres.
I have an artist residency coming up at the Weir Farm Art Center at the Weir Farm National Park in CT at which I will create 2D and 3D works inspired by the history of the park and their collection of objects and furniture.
I see myself doing more sculptural, multi-component installations. I like the engagement with my body and the body of the viewer.
What advice would you give to an aspiring textile artist?
As a heads up, my experience is that although creating art is the most fun, being an artist requires running a small business. I spend at least two days a week on administration: shipping, proposals, billing, loan agreements, writing, ordering supplies, etc.
I suggest all artists be professional, treat people with respect, and honor your commitments. There are some people in the art world who see a hierarchy. For example they see painting as a higher art form than textiles or craft as lower than fine arts. My advice specifically to textile artists is that these are old-fashioned ideas so don't let them get to you.
The most important thing to do is create art; the most important characteristics for success are commitment, focus, and tenacity.
Can you recommend 3 or 4 books for textile artists?
Two books I love because of the examination, research, and analysis of role of textiles and textile tools in history and in contemporary culture:
The Fabric of Cultures: Fashion, Identity, and Globalization edited by Eugenia Paulicelli and Hazel Clark.
The Age of Homespun by Laurel Thatcher Ulrich.
Two books that support my thinking about the conceptual underpinnings of my work:
Making Memory Matter by Lisa Salesman.
Material Matters: The Art and Culture of Contemporary Textiles edited by Ingrid Bachmann and Ruth Scheming.
An amazing tome:
Textiles: The Whole Story: Uses Meanings Significance by Beverly Gordon.
Do you give talks or run workshops or classes? If so where can readers find information about these?
The viewer's experience is very important to me so I give artist talks whenever the opportunity arises.
I use my training in Visual Thinking Strategies to collect and share viewers' observations. Looking at art as a group greatly increases everyone's engagement, perception and understanding. In addition, I provide technique demonstrations and a talk on contemporary fiber art in a post-modern context.
I just facilitated a multi-generational workshop making narrative garments and hope to do more. I don't teach a consistent schedule at specific schools but respond to requests as I receive them.
I post upcoming exhibitions and workshops on Instagram and Facebook.
Where can readers see your work this year?
Group exhibitions:
3s ArtSpace, Portsmouth, NH exhibition 'Glass Ceiling: Limitless View', March 30-April 22, 2018
Lewis Gallery, Portland Library, Portland Maine, exhibition 'Reverence of a Thread: Function and Form', April 6-28, 2018
Viridian Artists, New York, NY exhibition 'Evil Plastic', March 27 – April 21, 2018
Solo Exhibition:
Chandler Gallery, Maud Morgan Arts Center, Cambridge, MA solo exhibition 'Family of Origin', July 9 – August 3, 2018
For more information visit: www.merillcomeau.com or join Merill on Facebook, Instagram, Twitter and Pinterest.
Got something to say about the techniques, materials and processes used by this artist – let us know by leaving a comment below.