Saima Kaur: A young mother picks up a needle…
For many of us, the idea of becoming an 'artist' while raising a young family seems an impossible feat. How do you find the time, let alone muster any creative energy?
Textile artist Saima Kaur doesn't have any definitive formula for making it work. But she did turn to stitching while raising children to lay claim to at least one thing she could truly call her own.
When the pandemic pushed Saima to turn to social media to connect and share her work, her confidence as an artist blossomed. An outpouring of positive feedback encouraged the stay-at-home mother to realise she had indeed become an artist while keeping her household afloat.
It also encouraged her to test the waters of earning income from her art: a possibility both exciting and frightening. It was incredibly rewarding knowing people wanted to purchase her art, but it also forced her to wrestle with creating personal work that met commercial interests.
Saima is sharing a look into the magic of her Indian-inspired art, along with candid insights about exploring the business side of textile art. It's a story of cultural embroidery and artistic gumption that's sure to inspire.
Memory leads the way
Saima Kaur: I learnt cross stitch and basic embroidery in school in India. It was an extracurricular activity I chose and loved.
I was also surrounded by wonderful Indian fabrics that were very clever in the ways they married colour and pattern. But I only began to appreciate the high level of skill involved in Indian textile traditions after moving to England, and I missed them immensely. This love and appreciation further developed when I worked in museums and learned about world textiles.
I wasn't able to continue embroidery classes when I moved to England at age 13, but I was lucky enough to participate in a short museum project led by textile artist Munni Shrivastav in my late twenties. My muscle memory kicked in, and I seemed to remember a handful of stitches along with my love of embroidery.
Embroidery truly captured my imagination in my mid-thirties while at home with my children. I found it to be an intuitive, intimate and transformative medium. It allowed me to create something that was just mine. And it gave me the space to slowly express my imagination and build texture and design in the simplest way possible.
For me, textiles are almost magical beings that drape and transform everyday life. They are things of functional beauty, skill and imagination.
Tapping into traditional stitch
Due to my increasing workload, I work on up to six embroideries at a time. Sometimes, I'm stitching three a day just to keep up! I start by creating a very quick sketch, then I create templates out of paper before drawing them out on fabric. The rest is intuitive.
I enjoy working with a strong colour palette and high contrast, using a small set of stitches to build up texture and depth. The most enjoyable part is finishing big areas and finally starting on the details.
I also love adding points of interest, such as ribbons in hair, shoelaces, red knees or a fringe on a dress, which help me complete a piece. I am happy to unpick if things are untidy or unbalanced, but I will not add to the piece once I deem it to be 'complete'.
I like to use a washable marker to draw designs on cotton fabric, and then I fill them in using stranded cotton in bold colours. My favourite is DMC all the way! I love their colours and the softness of the thread.
I mostly use chain, split and satin stitches, and a woven stitch shown to me by first generation women from Pakistani heritage. They couldn't tell me its name in English (they called it a 'simple stitch'), but it's similar to a Cretan stitch.
It's a really clever stitch and excellent for filling large sections while being economical with thread. It has a wonderful woven quality that makes the stitches less prone to catching.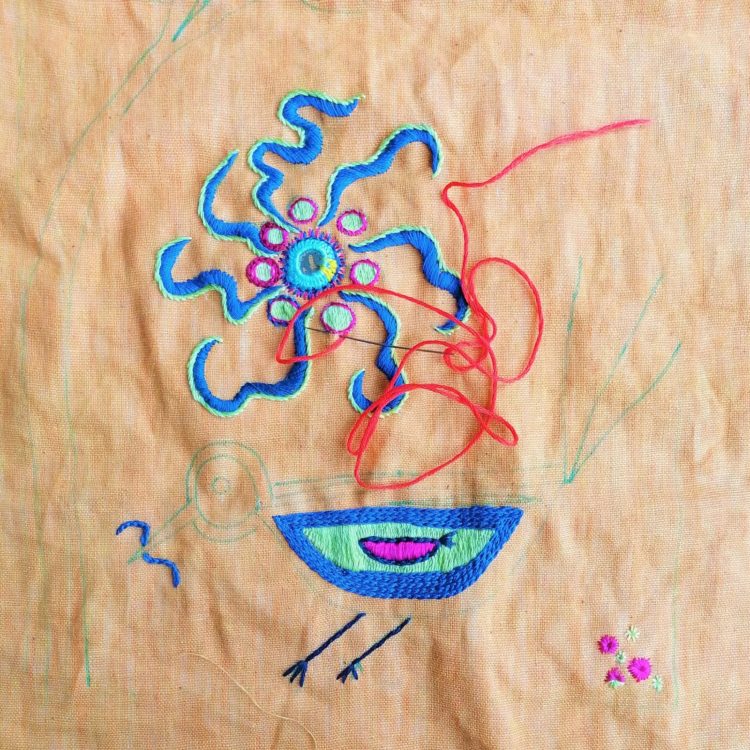 I often back my fabric with a thinner cotton to give it added weight. I also tend to use a small six inch embroidery hoop to avoid hand strain, and I only work in small sections at a time.
My designs are mainly figurative, often with text and lots of patterns that are traditionally found in Indian folk embroidery. I have a fondness for stylised figures and peacocks, which can be found in old Phulkaris and Rabari embroidery.
I also love adding borders made up of triangles or squares. The classic phulkari flowers and swirls found in kanthas also often find their way in my work, although my renditions are rather clumsy compared to the neatness and beauty of the originals.
As I became more confident in my work, I started adding text – silly, absurd text that would make me laugh.
I miss having colleagues, and freelance work can often be lonely. So, I try to find ways to express the whole of me – daftness an' all!
The business side of stitching
As my work has developed and with collaborations such as The Shop Floor Project, for the first time in years, I have a year full of exhibitions and work opportunities
Despite my caring responsibilities and limited work hours, I wanted to continue to embrace these opportunities wholeheartedly and push my practice to discover what kinds of collections I could create.
But I also received some daunting feedback that was difficult to digest. I was advised my embroideries on brightly coloured backgrounds made my work seem 'gaudy' and 'not contemporary.' I was encouraged to continue to develop my style but to use a more muted colour palette.
At first I was upset, but upon further reflection, I came to understand the feedback in relation to creating more commercially sellable work.
So, now my goal is to continue developing my characters and stories that have commercial appeal without selling my soul in the process!
I also realised that constantly making new, original hand embroideries was very time consuming and not hugely profitable. And some of my work is close to my heart, so selling them can be rather upsetting.
So, I decided to create some limited-edition prints of some of my favourite embroideries. The process was fairly straightforward. I mounted and stretched the work, and then had them scanned and touched up at a local printer.
The final images were printed on high-quality archival paper in standard A4 or A3 sizes. I chose 'giclee' prints which are more expensive than digital, but the quality is much higher.
I will be experimenting with photographing my new embroideries, as scanned images can expose stray threads or small fabric imperfections. Hopefully the photos won't need as much touch up.
I sell the prints on a wonderful online interiors platform called Glassette. It's a very kind and savvy organisation, and it has created a new avenue for sales.
The importance of play
While earning income from art is fantastic, it comes with its own pressures, creative briefs and deadlines. All of that can challenge my ability to just have fun.
So, at one point, I started creating framed mini embroideries just for my own enjoyment. They also allowed me to experiment without spending hours on any one piece. I had to distil my ideas to their core principles without losing their essence.
I use Nkuku frames that have glass on both sides. I purchase them from a local shop called 'Spirals' here in Hebden Bridge, but they can also be bought directly from Nkuku. Despite being gorgeous, I love the fact the frames are fair trade and handmade.
I also like how the backs of my embroideries show through the back glass. I know many stitchers avoid showing the back of their work, but I view the backs of embroideries as maps revealing the route to the final product. I've also learned non-stitchers seem fascinated by the backs, knots and all!
I first create a grid the size of the frame on a larger piece of fabric, and then fill it with the design I want to stitch. I also apply any paint or other medium I want to use before stitching and let it dry. I then put the fabric into a six- or eight-inch embroidery hoop, which allows me to stitch closely to the drawing without straining my hands.
Once I've finished stitching the design, I cut the embroideries to the size of the frame. I like to fray the edges by pulling a few loose threads along the cut edges. A word of caution: be sure to add extra fabric to fray when you create your design! Otherwise, you'll have a very small embroidery.
Sometimes the fabric can stretch while embroidering, so they're not always perfect squares. But I think 'square-ish' is sometimes good enough. I have a short video on my Instagram that demonstrates this whole process.
What the future holds
Indian Phulkaris, Kantha and Rabari embroideries never stop inspiring me, especially those that are rich in patterns and symbols and that reveal an older social order. I am currently inspired by the Selvedge podcasts, as well as their Tea and Textiles talks on Instagram.
My work has evolved from being pretty compositions with birds, to figurative works, and then to pieces that include text, humour and a touch of the surreal. I am a lot more confident in creating a range of work for different clients without losing the essence of my style.
But I want to return to creating bigger pieces that tell stories.
Like so many artists, I hope to find that happy place between being commercially viable and creating ambitious community-focused work with a heart. I have my fingers crossed.
Key takeaways
Research the stitch traditions of your cultural heritage and consider ways to incorporate those techniques/designs into your own textile art.
Think about ways you might inject humour into your textile art. How can you make your image or theme a tad silly?
Sometimes it can be challenging to balance your artistic choices with commercial interests when selling your textile art. Try to keep an open mind and have an honest dialogue with potential sellers.
About the artist
Saima Kaur is an artist and educator specialising in Indian hand embroidery. She has an MA in Museum Studies and worked in the arts and museums sector for 10 years before starting her freelance career. She now runs a range of community hand embroidery workshops, delivers talks and workshops on Phulkaris and creates her own artwork inspired by this textile tradition.
Website: www.saimakaur.com
Instagram: @sewsaima
Saima explored creating printed images of her work to sell. Read more about how to photograph your own art.