Discover: Seven contemporary textile artists
Contemporary textile artists often seek to challenge traditional values and conventions, and that can make their work unique, aesthetically stimulating and highly engaging. Their compositions may be abstract and experimental. Sometimes they're provocative, controversial or eclectic.
Modern communications have not only helped to make today's world an artist's paradise but also make the work of contemporary artists so much more accessible to the public. Plus the range of materials and processes has probably never been so diverse.
These artists no longer need to conform to ideologies or techniques that once constrained even the boldest in the past. They are free to express themselves – and that can only be encouraging for budding textile artists who also have a desire to create with abandon.
Meet seven contemporary textile artists who are making statements and pushing boundaries with their work. Vanessa Barragão's love of marine life, and her distress at textile waste, encouraged her to use only waste materials for her giant coral reef sculptures. Hale Ekinci and Gurjeet Singh both tell stories: Hale uses embroidery, quilting and crochet with found materials and photographs, while Gurjeet makes unique soft sculpted heads from recycled and rejected materials.
Kristine Stattin and Meri Sawatzky work intuitively and dynamically with a small range of embroidery stitches, while photocopy processes and Xerox transfer are the go-to techniques for art quilt pioneer Joan Schulze. Finally, Patricia Kelly takes her sewing machine needle for a walk across a sandwich of natural fabrics creating a striking contrast.
This work can help to shape a new world and we can't think of a better way of going about it.
Kristine Stattin
Just two stitches
We've always maintained that you don't need a vast array of stitches to create artistic textile embroideries, nor is it necessary to have formal training. Kristine Stattin is living proof of both. Apart from a few workshops, she is self-taught and uses only straight stitch in different lengths – both machine and hand stitched – plus a lot of French knots.
Despite this simplicity, her work is striking. Kristine's thread paintings are abstract explorations in colour, line, shape and texture. Kristine relishes the speed of the sewing machine, which allows her stitches to dance across the fabric, freely and spontaneously. Conversely, the peace evoked by the slower hand stitch can put her into a meditative and introspective state.
Kristine works intuitively, allowing this pull between order and chaos to give each mark direction to the next.
Kristine Stattin: 'The love of embroidery has grown on me, and so five years ago when I sold a restaurant I co-owned, I was able to give my art my full focus. I approach my work very much as a painting. The difference is that I'm using threads instead of paint.
'Though I've no formal education in embroidery, my embroidery style and skills have developed over time with practice, with play – which is very important – and experimentation.'
Stitch freedom
Effervescence is one of Kristine's purely abstract artworks, its story only coming to her as she worked on it.
'I don't like to plan out what I'm going to make in advance. It's like when you go on holiday. Some people like to have the trip all pre-booked in advance. Others, like me, prefer to just get in the car and drive. It's the same with my work. There is a freedom and excitement in letting go and seeing where the threads will take me. Letting go of control, trying not to be attached to outcome and expectation. Being in the now with the work, stepping into the unknown. It's an enigma that asks to be resolved.
'I just use normal cotton and DMC threads, which I buy locally. Where I live there aren't many opportunities to thrift threads and materials, but whenever I can get my hands on some, I grab them. When it comes to choosing what colours to work with, I bring out all my threads, and try different combinations until I'm happy with a starting point. Later in the process some get added, others discarded. I chose to work on linen for its texture.
'In 2022 Effervescence was sent to London where an architectural firm was showing artwork from several artists to a client. The client didn't choose my work, and then on the way back it got lost in the post. After several months of effort, I finally got it back, fortunately still in perfect condition. Effervescence then got chosen to feature in the fall issue of the literary journal The Pinch and it now lives in the US.'
Kristine Stattin was born in Stockholm, Sweden and currently lives in the Occitanie region in the south of France. She has a Bachelor's degree in Fine Art and is a member of S.E.W (Society for Embroidered Work). She has exhibited in Sweden, Italy, Ukraine, US and France.
Artist website: kristinestattin.com
Facebook: facebook.com/KristineStattinTextiles
Instagram: @kristine_stattin
Hale Ekinci
Embroidery, quilting and crochet
Perhaps due to her Turkish heritage, perhaps given her breadth of experience as Associate Professor of Art & Design at North Central College in Chicago, or in her artist residencies, Hale Ekinci takes her inspiration from several disciplines. She explores personal history, cultural identity, gender politics and craft traditions, and her works vary from videos to embroidery paintings embellished with vibrant colours, patterns and autobiographical relics.
Hale Ekinci: 'Western art tradition values fine art practices such as painting, mostly done by men and on canvas. Historically, women's work such as embroidery, quilting, and crochet have been undervalued as craft or not considered fine art. Bringing these techniques into the gallery space allows me to question the hierarchy in the western art world. I also feature other fabrics and fibre crafts beyond the canvas and paint that echo this sentiment.'
Personal textiles
Hale takes particular inspiration from old photos and the narratives that they initiate. She works with found photographs and also likes making up her own stories and thinking about a particular time and place in history as an immigrant woman. She favours found domestic textiles like handkerchiefs or patterned bed sheets, using these as her canvas because of the feelings of home and intimacy they invoke and their personal and bodily history.
'I started working with embroidery and crochet to relax and move away from screens. Over time, they bled into my artwork replacing drawing and paper.'
For her artwork Pinky Promise Hale chose a silkscreen printed photograph stitched onto a vintage handkerchief and further embellished with glass beads, embroidery, sequins and crochet.
'I taught a workshop at Textile Center Minneapolis to a group of women. I loved a photograph of the grandmother of one participant and asked if I could use that. I was drawn to the intimacy between the two women in it, but also the ambiguity in their relationship, especially considering that the family had this image. The handkerchief was a gift from an older woman who had so many domestic textiles that she just wanted us to take anything we could use. I loved her generosity but also appreciated the hardship of letting things go.'
Pinky Promise has been exhibited at Hale's 2022 solo exhibition Between You and I at Comfort Station, Chicago as well as in open studios following her artist residency at Spudnik Press, Chicago.
Hale Ekinci is a multidisciplinary Chicago-based Turkish artist, designer and educator. She works as Associate Professor of Art & Design at North Central College, Chicago. In 2022 she was Artist in Residence at Spudnik Press Cooperative in Chicago, and in 2023 she is the Engaged Artist-in-Residence at Indiana University.
Artist website: hale-ekinci.com
Instagram: @haleekinci_art
Joan Schulze
Quilt pioneer
The work of Joan Schulze proves that contemporary textile art can actually span half a century. A pioneer of the art quilt movement, this is her primary vehicle of self expression. Joan keeps her work fresh and engaging by starting each project with a new mind – or in her own words, 'a clean slate – both actual and metaphorical'. It helps her to reinvent or re-imagine that which she already knows.
Joan has experimented with collage, quilt making, photography and photocopy processes, painting, Xerox transfer and digital technology. Photography is key to her work and her images are often transferred onto fabric or paper. She enjoys working in textile art as it provides the greatest scope.
The subjects Joan explores are many, varied and personal, and she often writes a short poem upon completion of a quilt, as she did with her trilogy of quilts, one of which is Not So Long Ago. This artwork is inspired by a small Tang Dynasty bowl gifted to her by the museum director at her solo show in Shenzhen, China in 2016. Her intention is to immortalise the precious artefact and pay homage to the culture that it comes from.
'It reveals its many facets as I incorporate transformed bowl images in this on-going series. The many lines interact with the bowls and quietly tell a story by me, the writer and photographer.'

Joan Schulze:
Silk, batting and backing
Joan began the project with digitally altered photographs which she printed onto silk using a photocopier. The photocopy processes and Xerox transfers that Joan uses enable her to juxtapose, overlap, duplicate, add, remove, layer, and paint the images. She combines them onto a large surface which she then layers over batting and backing, finishing with machine quilting and hand stitching. The black and white palette creates a dramatic image of the bowl from different angles, sides and in various sizes. The patterned bowl was originally wrapped in layers of Chinese-language newsprint and images from this have been taken to use in the background.
'I use silk and sometimes paper, though not in this quilt, and I start with white silk. I am still using silk from a bolt I bought years ago.'
The other two quilts in the trilogy are A Long Time Ago and Once Upon The Unknowable Future. Joan still has the first two and the latter is in the collection of the International Quilt Museum, Lincoln, Nebraska.
Joan's bowl continues to inspire other quilts which are part of ongoing series; the Opus series and the Bowl series.
Joan Schulze is an artist, poet and photographer who has gained international prominence as a studio artist, teacher, lecturer and juror. Her studio is in San Francisco, California and she has a home studio in Sunnyvale, California. Over the decades she has been published in many catalogues and publications, and is included in public and private collections in the US, Europe and Japan.
Artist website: joan-of-arts.com
Facebook: Joan Schulze Artist
Instagram: @myart_works13
Gurjeet Singh
Fantastical stuffed heads
Wonky eyes (maybe two, or even six of them), stuffed fabric noses and cactus-shaped ears, necklaces spilling from lips, bells for teeth, a scattering of buttons and… could that be a doll's torso emerging from the head? Tartan, paisley, florals, plains, brocade and damask – if these recycled fabrics and findings land on Gurjeet Singh's desk, you can be sure they'll be fashioned into the most fantastical of giant-sized stuffed heads.
Emerging artist, Gurjeet Singh, is one to watch. Exploring the themes of love, identity, storytelling and his own experiences of growing up queer in the village of Algon Kothi, Punjab, he works with scrap fabrics and reject beads and buttons to create soft sculptures sewn entirely by hand.
And they're unique. For when Gurjeet sits down to develop a sculpture, it's an organic process.
Organic, soft sculptures
Gurjeet Singh: 'Soft sculptures have come through so naturally. I remember the first time I made a key chain for my best friend by joining two leather pieces. It was awe-inspiring and unforgettable. I enjoyed the process and each step of making it so much that it generated a desire for more. So I took some pieces of clothing from my family and developed a head form.
'I find the process, idea, creativity, inspiration and excitement of making these sculptures familiar and powerful. It starts with an idea that's often about making a story into a sculpture. Seldom does the formation process itself bring up new stories and emotions.
'Black Lips represents the story of my friend, who had always wanted to become a make-up artist but, due to family pressure, society and other circumstances beyond his control, he was unable to. In Black Lips I tried to portray those emotions. The black lips represent desires that have been repressed. The expressions reveal the unheard words and helpless heart.
'I started with drawings related to the idea and its possibilities including shape, form and material requirements.
'The selection of the right material and clothing is a pivotal and basic premise of my sculpture. In Black Lips I used discarded clothes including my own trousers, plus fabrics and other leftover pieces I had.
'I filled it with cotton to give it the desired form, and used colourful threads for embroidery, along with beautiful beads and buttons for details.'
Gurjeet Singh is a visual artist based in Chandigarh, India. His first solo exhibition This is What It's Like To Be Fabulous was held at Chemould CoLab, Mumbai in December 2022, and in the same month he presented works in a group exhibition at Museum of Art & Photography (MAP), Bangalore.
He was commissioned to create the cover artwork for Issue 3: A Final Freedom of the Dirty Magazine, Mumbai, and his self portrait featured in the November 2022 edition of Harper's Bazaar (@bazaarindia), The Art Issue.
Instagram: @softgurjeet
Vanessa Barragão
New life
Her distress at discovering the amount of waste created by the fashion industry was the catalyst for Vanessa Barragão's decision to become an ecological textile artist. From then on she committed to only working with recycled or otherwise discarded yarns collected from textile factories across Portugal.
Her works employ techniques including crochet, latch hooking, weaving, knitting, felting and hand-tufting. Her passion for marine life and the complex structure of coral reefs are her inspiration to create artisanal tapestries, rugs, wall hangings and textile sculptures. Each, while aesthetically appealing, is intended to highlight the fact that the global textile industry has severely affected marine ecosystems.
Vanessa's Afterlife collection was conceived because she often ruminated on the subject of life after death.
Vanessa Barragão: 'I remember as a child I was very afraid of the concept of death. I often asked: 'What comes next? Can death really be the end of everything?'. This fear made me research the subject. Reading a lot of different opinions helped me accept and live more comfortably with this inevitability.
'In my process, I intend to show that the end is a new beginning. From waste, trash and leftovers my creativity starts growing and my artwork is born.
'It's my belief that the end is a new beginning. In our lives, death is probably not the end either but the mark of a new beginning.'
Carving and sculpting
In her Afterlife collection Vanessa mainly uses the techniques of latch hook, crochet and felting, as well as other fibre manipulation that allows her to better translate her ideas. Her materials are mostly leftover wastes from factories located around Portugal.
'My creative process starts with an idea of the colours I want to use and what I would like to represent. I then outline the canvas, cut it to a shape and begin creating. Throughout the process, my idea becomes more defined, and sometimes new colours are added. I love to be free during the creative process as each piece takes some time to be done.
'The last stage is the one that really brings it to life: the carving and sculpting. It's an amazing feeling when the work is actually complete. That's when I meet my creation and I realise what was going through my unconscious mind during its creation.
'Textile-focused handcrafts are my preferred media to express my thoughts and vision. Learning new techniques and creating from fibre has always been a passion of mine. I get most of my inspiration from nature and, more specifically, the ocean. I like to be in contact with both these elements as much as I can to get ideas and to be as creative as possible.
'Seeing these environments affected because of our human path is one of the key motivations to create my work. I believe that through my artwork, I can raise awareness and impact people and businesses to change their actions.'
Vanessa Barragão is based in Albufeira, Portugal. She has exhibited in numerous group shows and completed multiple commissions. Her Afterlife collection was presented at Art Paris 2023. It will also be shown at This Is Not A White Cube gallery in Lisbon.
Artist website: vanessabarragao.com
Instagram: @vanessabarragao_work
Facebook: facebook.com/vanessabarragaoartist
Patricia Kelly
Reductive art
Picture a small hand holding a charcoal stick, delighting in its mark-making as it moves across a drawing board, and you'll get an idea of the uncomplicated beauty of Patricia Kelly's work. With a simplicity reminiscent of child's play, she allows her sewing machine needle to wend its way across a sandwich of fabrics, contrasting black on white or white on black.
Freeing herself with the simplicity of lines, circles and sometimes pure unapologetic and decadent doodling, abstract machine stitch has become the trademark of this Northern Irish textile artist.
Light, colour and texture
Patricia's inspiration comes from the changing colour, light and texture of the rugged landscape and skies in the west of Ireland. Growing up on a farm, she was involved with the land in a very physical and tactile way, making hay and stacking turf. She attributes her earthy, textural and repetitive style to these experiences.
'My work has become much more abstract in recent times with a greater focus on the use of the stitched line. The repetitive use of shape and mark has become increasingly important and helps to imbue a meditative and ethereal quality.'

Patricia Kelly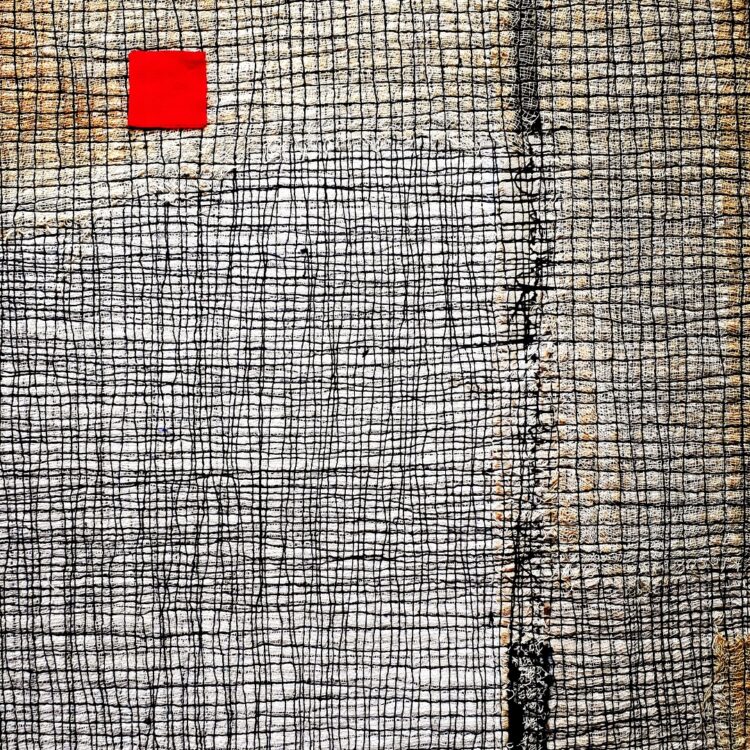 At Play is a small piece created in 2023. As Patricia focused increasingly on larger pieces with a measured grid arrangement, she began one with a different black stitched pattern in each square. But it looked 'too much' and she left it half completed. She took a photo of a detail of this piece which suggested to her the design for At Play. She went on to complete this in a smaller size and it's been submitted to a juried exhibition.
At Play is made on a cream background of calico and hessian and is stitched in black thread. Patricia has applied a contrasting stitched fragment in the centre.
The piece proved extremely popular on Instagram and Patricia plans to create larger works, 64cm x 90cm, with the same energy.
Patricia Kelly is a textile artist based in County Fermanagh, Northern Ireland. She has a BA Honours degree in Fine Craft Design, specialising in embroidered textiles. She has had two solo exhibitions in Northern Ireland in 2022 and her work has been selected for an international textile exhibition at Amelie Maison in Paris.
Artist website: patriciakellytextile.com
Instagram: @patriciakelly_artist
Facebook: facebook.com/patricia.kelly.textiles
Meri Sawatzky
Sensory pleasures of texture
A self taught, intuitive artist, Meri Sawatzky found her way into art through play. She creates because she enjoys it. She is curious and that guides her hand when creating her detailed embroideries.
Meri's art evolved from being simply a means of release into a desire to express her obsession with the dream state of life and her scepticism of what's deemed by so many to be reality. She hopes to inspire intrigue through her combination of materials – textiles often blended with plaster, gel mediums and acrylic paint. As she explores the sensory pleasures of texture, her work brings calm to the chaos and invokes a meditative state in the viewer.
Living next to the Pacific Ocean on Vancouver Island, Canada, Meri thrifts or is gifted all her materials. She uses as many natural fibres and ingredients as possible.
Little lines of thread
Meri Sawatzky: 'Information Landscape started as a vague mental image derived from topographical maps and vintage cartography. Once I had sat with that for a while, I started stitching and let myself forget the original impetus, allowing it to take its own shape. Only once I was about halfway done did I develop a story.
'To me, it looks like clouds of information going upwards, forming a canyon shape. The image happens to be taken while a crack in the paradigm flashes, a glitch, revealing one of the layers of time in the bottom right corner.
'Both the linen and hoop were given to me by two lovely neighbours. One that loves finding fabric in thrift stores and one that owns a vintage drum shop.'
'I stretched linen over a vintage bass drum hoop, used a bit of acrylic paint and embroidery floss. The technique is pretty straightforward. Just a whole lot of little lines of thread.'
Meri Sawatzky is a self-taught textile artist living in Vancouver Island, British Columbia, US. Information Landscape was shown in a local art show.
Artist website: paleillusions.com
Facebook: facebook.com/paleillusions
Instagram: @paleillusionsart
Key takeaways
Our featured artists have shared a range of inspiration that you can apply to your own textile art practice. Let's take a look at some of their tips and techniques.
There's no need to let your lack of a textile or fine art study hold you back. Kristine, Meri and Joan learned through curiosity and play, allowing the materials, the stitches and the story to come to them as they worked. Make time for art play each week and give yourself the freedom to create whatever you want.
Embrace your limitations. Kristine and Meri used a restricted range of stitches and still created dynamic work. Which are your favourite stitches? Can you work just using those?
Can you, like Vanessa, Meri and Gurjeet, use thrifted or gifted materials? Consider asking upholsterers, fashion companies, seamstresses or even family, friends and neighbours for their textile waste.
Hale gains her inspiration from old photos and Joan uses photos digitally to create her art quilts. How can you use photos in your work? Take a look at these artists who describe their processes for printing images and Wen Redmond who makes striking digital textile art.
Do you feel inspired to try any of the materials or techniques mentioned above? Let us know in the comments below.