Learn to dabble with purpose
How being a textile technique butterfly can enhance your practice
A key benefit of our early childhood education was the opportunity to try new and different things. Especially with non-curricular activities. Music programs encouraged us to try out various instruments and vocal singing styles. Sports programs offered a variety of competitive experiences indoors and out. Arts programs presented both visual and performing opportunities.
There was a good reason behind all those options: all that 'dabbling' helped us discover our passions and strengths. Emphasis was placed on trying out and exploring new things, and little pressure was placed on 'choosing' or 'perfecting' a particular activity. That's what made it fun!
Unfortunately, as adults starting out on our creative journey (or coming back to it after years of not picking up a needle and thread), we tend to forget the joy and benefits of dabbling. Instead, we pressure ourselves to commit to a particular endeavor. Like a soon-to-be graduate, we bombard ourselves with questions like 'what style of textile art do I want to create?' or 'which techniques or materials best suit me?'
It's okay not to know the answers. And it's more than okay to dabble! That's how you'll find out.
Why not return to that childhood approach of exploration and play for a while? Regardless of whether you're stitching for fun or on a more dedicated pursuit to find your creative voice, dabbling can get you there.
You won't be wasting time or energy. Dabbling is an investment in your creative future. Each workshop you do or technique you try helps lay the path for more in-depth work later on. And you don't have to finish every piece you start.
Think back to the first box of crayons or set of paints you had as a child. It's unlikely you stared at those colourful objects, refusing to touch them, wondering if you could create a masterpiece. More probably you eagerly grabbed a crayon or splashed your brush deep into the water jar and started spreading colours across the paper.
You also likely had plenty of unfinished work lying about as you moved from one creative adventure to the next. Perhaps you remembered that new Lego set needed your attention or your mum invited you to learn to bake cookies. No matter. Whether you returned to your painting or left it to beautifully languish, you learned something.
That's the same creative approach we encourage you to take at the start of your textile art journey. Even as an adult, dabbling can help unlock your future artistic voice.
The joy of bits and bobs
Years back, business guru Malcom Gladwell popularised the notion that it took at least 10,000 hours of practice to become an expert in a given field. It's a catchy notion. But to make such a commitment, you must first choose a particular technique or material that suits your creative interest. Not easy!
And even if 10,000 hours of practice leads to mastering a technique, it doesn't necessarily guarantee you'll enjoy that technique. What a shame to spend all that creative time on a skill that didn't inspire!
This is why dabbling better serves your creative journey. Ironically, not committing to a particular technique can ultimately inform any in-depth creative choices you make in the future. Why? Because you'll discover which techniques truly inspire.
When Helen Cooper started participating in Stitch Club workshops, she found herself feeling self-imposed pressure to become an expert in her textile art journey. She had retired from academia where her work had been filled with overseeing students and research.
"It was all a rush in academia, and I transferred that onto my textile practice. But with the help of the Stitch Club workshop leaders, I've come to realise I was too focused on the outcome. The process is far more important. That was a huge door opening for me. Stop your rushing!"

Helen Cooper
As Helen suggests, it's not about 'practice' when you're dabbling.
Instead, it's about experimenting. You're simply attempting a new creative approach to see what happens.
Push yourself to try something new
We tend to be creatures of habit, even with our art ventures. We tell ourselves what we're 'good at' (which is often what feels most comfortable) and ignore the rest.
That's a self-defeating approach to creativity, as it prevents you from truly experimenting. Doing the same thing that leads to the same outcome doesn't help you grow as an artist.
Indeed, it does take gumption to try something totally new, but we promise the take-away in doing so is well worth it.
Stitch Club member Jane Cook faced this dilemma when one of the weekly workshops focused on stitching figures and people.
"I knew that was not my thing and thought I am definitely not going to do that workshop. But when I saw what everyone else was doing, I got inspired and gave it a go. I could not have been more delighted and surprised with the pieces I created."

Jane Cook
Remind yourself no one is looking, keep an open mind, and take the plunge into creative adventures.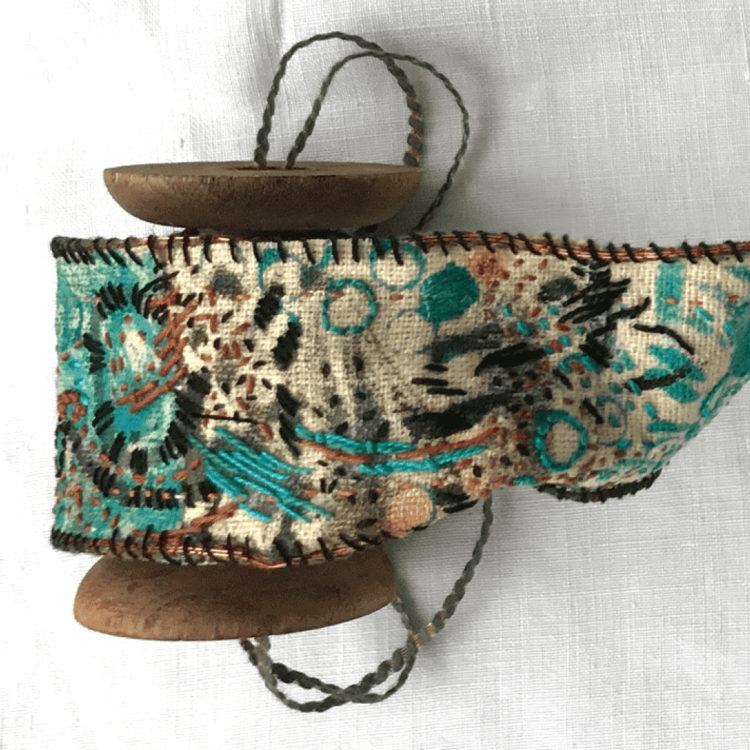 Ask yourself 'what if?'
Some experimentation requires you to jump ship from your preferred techniques, materials or tools. In fact, those favorites can also serve as foundations for your exploration.
Textile artist Jodi Colella always encourages her students to ask 'what if…?' to help push their experimentation forward. And she poses that question to herself to make sure her own work continues to evolve.
"If you love red, then experiment with 100 kinds of red. Or if you love silk, experiment with different kinds of threads on silk."

Jodi Colella
Jodi especially likes to have students create 10 small studies that are easy to complete, each responding to a unique 'what if?' question. What if I use yarn for this version? What if I paint the background red in this version? What if I tear the fabric for this version?
"The first four or five samples will definitely feature deviations because you're pushing hard. But they'll also still be somewhat close to the original. It's when you move into the sixth or more samples that those "what if" questions really start to push your creativity."

Jodi Colella
It's okay not to like something
Not every technique or material will suit your fancy, and that's okay!
Unlike your mother saying you must eat everything on your plate, we encourage you to take what looks appetising and leave the rest. But we do encourage you to at least take a taste of everything.
There's as much learning in not liking something as there is in activities we enjoy. It's helpful to know strip weaving is not your thing or French Knots are just too frustrating. And it's not because you weren't successful. It's because you just don't enjoy those techniques.
Not liking something isn't the same as doing something wrong.
Happy mistakes
Perhaps the biggest challenge to trying new things is fear of failure. You look at an instructor's work or a finished project and think you could never achieve the same outcome.
Again, you need to remind yourself that you're simply dabbling, and mistakes are okay. And those mistakes can actually push you in new directions. There's no such thing as wasted effort when you're experimenting, and it's critical to artistic growth.
If everything you attempt turns out exactly as you hope, it's likely you're following a formula for success that's 'safe.' That may initially feel good, but that doesn't mean you're growing or evolving in your creative journey.
Mistakes are truly opportunities for learning. And with a mindset of play, they can serve as a true adventure.
Don't be afraid to copy at first
'Originality' can be another concern we face on our creative journeys. We are hugely inspired by a variety of artists, yet we worry we'll be seen as copycats or imposters if we attempt to mimic their styles.
Textile artist Clarissa Callesen wants you to know copying when dabbling is not only okay, it's the way we learn in any artistic endeavor.
'When a child learns to play piano, she's not expected to start with composing. Instead, she plays "Mary Had A Little Lamb" over and over and over. Eventually she'll move on to harder and more challenging pieces. But that copying plays an important role in her development.'
Clarissa agrees we don't want to only copy. It is important to ultimately express that which is special to us. So, how to do that?
"Originality is like a collage. So, I encourage artists to combine all the inspirations they learn from copying into something that eventually becomes their own style and voice."

Clarissa Callesen
Clarissa also wants you to remember it's impossible to exactly copy another person's work. We are not machines, so the fact your brain and hands made the choices and did the work prevents you from making an exact replica of another artist's work.
Tips for dabbling
As adults, we can have a knee-jerk resistance to the notion of dabbling. 'Focus' and 'productivity' take center stage and can even feel like moral imperatives.
But it doesn't have to be that way when it comes to your textile art journey. Here are some tips for regaining your dabbling mojo:
1 Use or re-use what you have on hand
We can sometimes worry about the expense of trying new techniques. We don't want to waste good fabrics, tools or supplies. So, whenever possible, try to use what you have at hand.
Barbara Cotterell, one of the founding members of the Material Space Textile Group, tries hard not to buy anything new and always prefers to work with found materials, mostly from around the home.
Of course, there are no hard and fast rules. Every now and again you will need to replenish your supplies. But before you rush out and buy the exact type of fabric suggested by a workshop leader, ask yourself what you already have at home that could be used as an alternative.
Many textile art techniques use very simple approaches that are combined in inventive ways. And who knows? You may invent a new technique of your own using that old scrap of linen.
2 Set a timer
It's easy to give up when something doesn't work exactly as we hoped. But remember, it's the process that counts. After you line up your materials, try to commit to spending at least 15-20 minutes playing with a new technique.
Try to set judgment aside and just see what happens. Remember, you're creating a sample, not a full masterpiece.
3 Unfinished work is okay
Life happens and interests can wane. Don't beat yourself up if you have to put your needle down to attend to family matters. And don't worry if you discover a particular technique or material just doesn't suit your fancy. Whatever time and energy you put into sampling counts as an investment in your creative journey.
Before she embraced the notion of dabbling, Stitch Club member Laura Otten told herself everything she did with textiles had to lead somewhere 'significant.'
"Doing various workshops, I have gained skills I didn't even know I needed or wanted. It hadn't occurred to me to do some of these techniques, and I really enjoy them. It's really given me back my creativity and it's given me permission to just do what I can. I don't have to come out with a big finished piece, just working is enough. I now see the value in experimentation and it really does inform the work I make that isn't inspired by a particular workshop."

Laura Otten
4 Ask yourself 'What If?'
Think about a favourite technique, material or tool, and then ask yourself how to turn it on its head. What if you use chunky yarn or ribbon for that stitch? What if you add beading? What if you cut a finished sample apart and reassemble it differently? Create multiple small samples to explore the possibilities.
5 Combine experiments
As you learn new techniques, look for ways to combine them into new pieces of work. Maybe that blanket stitch you just learned could be combined with a collage technique. Or perhaps that new felting technique could be combined with an appliqué technique.
Long-term dabbling is an investment that really starts to pay off and helps you uncover your own visual vocabulary. Stitch Club member Gill Tyson discovered that phenomenon while watching other members post their samples that combined learning across various workshops.
"They would post, "I used a bit of this and a bit of that." That's when real learning is taking place, because people are pulling that knowledge and experience together. The end outcome is greater and more original, because it's like a collage of ideas and elements. It's very fulfilling. And it's a huge achievement."

Gill Tyson
The possibilities are endless!
6 Record what happens
Write down the materials, techniques and supplies you used, in case you want to use them again in the future. Always try to record what happens without being too critical of your end result. Simply focus upon what you enjoyed about the process and what you might do differently in the future.
Textile artist Cas Holmes lives by the mantra 'reflect, create, record,' including making note of the things that didn't go well. Her mistakes reveal exciting new directions for her work, and she sees trying new things as part of an ongoing investigative process that informs the evolution of her work.