Stephen Cunningham: Lions and tigers and bears…oh my!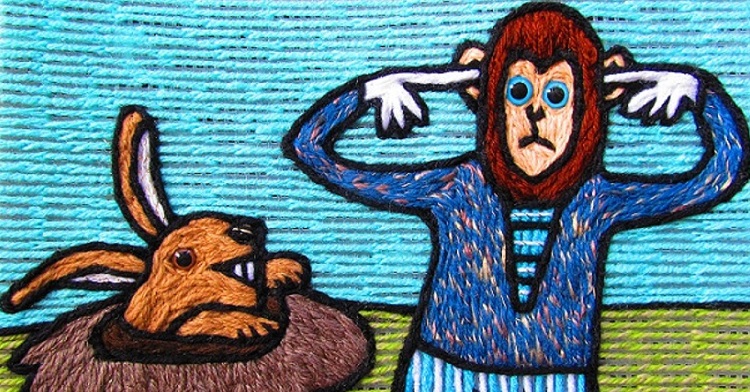 ---
If you had asked a young Stephen Cunningham what he wanted to be when he grew up, the answer may have surprised you. Simply put, he envisioned moving to Africa and illustrating animals for a living. For a boy growing up in the U.S. Midwest, that was a pretty exotic dream. But coincidence and a passion for making would help him largely achieve his goal (although he hasn't made the move to Africa).
Stephen's embroideries present a menagerie of animals, colour, and humour that's hard to resist. His seemingly simple images and materials create incredible textures that engage both the heart and mind. He creates worlds in which cats play guitars, insects drive cars, and ducks smoke pipes. There are plenty of humans and other 'creatures' added to the mix, as well.
Stephen is offering us an in-depth look into his process, as well as his artistic journey. You'll also learn about 'the Zebra moment' that was a turning point in his stitching technique.
This is a story about acting upon one's artistic 'calling' that will inspire anyone who is hesitant about finding his or her artistic voice.
Stephen lives in Baraboo, Wisconsin, U.S. He's been stitching for about 22 years, and he is entirely self-taught.
The 'zebra moment'
TextileArtist.org: What initially attracted you to textiles as a medium? How was your imagination captured?
Stephen Cunningham: I was making a lot of paintings and started to attach various things to them like playing cards, small toys, photos, etc. The woman I was dating at the time had a large bag full of yarn that she used to crochet stuffed animals.
One day I glued some of the yarn onto a painting to add texture. This reminded me of art created by the indigenous Mexican Huichol (pronounced 'Wee-call') people I had seen years before. They use melted wax to hold yarn on boards to create images of peyote rituals, visions, various beings and creatures.
I wondered if I could somehow make whole pictures with just yarn, but my first piece ended up looking muddy, as the paint bled through the yarn too much.
Then I realized I could use a needle instead of an adhesive, but I didn't really like stitching onto fabric. There were some scraps of plastic canvas grid sheets in the bag of yarn I was dipping into, that could be used instead of cloth, so I tried a couple out and liked them so much I've used them ever since.
The first pictures I made with yarn were much more haphazardly done, as far as stitching techniques. It's definitely been a learn-by-doing process, which even after 20-plus years is still happening. It was while working on a picture of a zebra, I think, that I realized that if I concentrated on the direction of the flow of the fur, it turned out way better/ natural looking.
It was such a simple thing, but with no background at all with needlepoint-type art, it was eye-opening for sure and has really helped the images overall. The direction of the yarn itself is vital.
I've really liked that I could follow through with many of my painting ideas but in a different medium. There's also an extra depth to them this way, texture-wise, especially in person, compared to the flatness of paint.
What or who were your early influences and how has your life/upbringing influenced your work?
My earliest influences were illustrations in books (Richard Scarry being a long-time favorite), film posters, and especially animated cartoons. I have always liked how they'd have many kinds of animals acting and dressed like people, getting themselves into funny situations, etc. I also enjoyed the colors, the backgrounds, and the balance of the simple mixed with specific details.
As I grew older and studied art history, I really responded to the Expressionists, not only because of the subject matter, but because they could so often say so much with just a few curving lines. I have also been a big fan of Picasso's incredibly prolific output, the variety of his mediums and subjects.
Nature has always been a deep influence. There was a river in our back yard, and I would spend hours watching the ducks, birds, woodchucks, squirrels, bees, trees, and the seasons changing. Over many years throughout childhood, I thought I would eventually end up living in Africa, studying the wildlife, making paintings and illustrations, writing books about fur and feather patterns.
I was born and raised in Madison, Wisconsin, in the United States. I eventually moved to Baraboo, WI, a much smaller town, which is where I still live today. It's certainly quieter here and less hectic, which suits me well.
What was your route to becoming an artist?
I spent a lot of time by myself as a kid (and still do) drawing, reading, following the threads of whatever I was interested in. I knew as a young child that my 'calling' was to be creative.
I distinctly recall sitting in class drawing some pictures, probably around the age of seven or eight, and having an image suddenly come to mind of being an old man who had lived his life making art. As if that was the most important part of the path I was meant to be on. It rung so true to me and has felt preordained.
None of my family members were diving into art, but I've had many friends who are painters, musicians, writers, photographers, etc. We've found each other through common interests and energies.
At 17, I was accepted to a well-known art school, but I didn't want to go that much into debt. So, I instead dug more into learning on my own. I figured that for a fraction of the cost I could just buy supplies and produce new pieces at my own pace and not be too influenced by what others were doing.
This was in the early 80's before there was access to everything on the Internet, so I would go to the local public libraries and regularly check out big piles of books on so many different subjects. Not only art history, but also artist biographies, photography, animal studies, UFOs, ghosts, cartoonists, and more.
I would also usually carry a sketchbook around and would stop to draw something either seen or imagined, scribbling down ideas for future paintings, etc. I also hung around with painters, puppeteers, woodworkers, creative people, talking about techniques and inspirations. I'd also hear about other names to look up at the library.
As time went on, I kept drawing as much as possible, as well as making mixed-media sculptures, collage, photographs, and many paintings big and small. I also wrote a lot and made music.
Figuring out a stitching puzzle
Tell us about your process from conception to creation
Having done around 1,000 of these yarn pieces alone and not liking to repeat myself very much, there are a variety of ways I'll get to a certain picture idea. (Of course, we all have 'themes' and personal images that may reappear.) Sometimes the idea comes from seeing something on a walk, from a dream that morning, or characters/faces/etc. from old sketchbooks.
I'll often combine one image with another, setting up a relationship between two unique beings. For example, I keep lists of ideas of things I'd like to get to someday, such as bananas, rabbits, astronauts, whatever. Then one day while looking through the lists, I might decide to do a rabbit with a banana, because the colors and/or shapes would go well together. The composition would have a natural balance between the two, or the finished piece could bring a laugh. Lots of possibilities.
I usually work on simplifying the forms somewhat, partly due to personal style and partly because of the use of the materials themselves is somewhat limiting. Although some pieces are more detail-oriented than others. Some are more 'realistic' looking, especially animal portraits.
The drawings are done with a permanent marker onto the plastic grid sheets which have been cut to size. Then I stitch black yarn on top of the drawing to help prepare it for the filling in of colors.
At that point it becomes somewhat like a puzzle, and it can sometimes take a while to find the right balance between colors. The original ideas of tone/palette might even change.
As far as the choices of colors, using yarn is very different from paint. With paint, it can be mixed to achieve a particular color. For example, if I need a color to be a bit lighter, I could mix in some white or yellow and get closer to what was being looked for.
With yarn, what I have on hand is what's available. So, if I need a somewhat darker orange and don't have it, some of the other colors may need to be adjusted instead.
There have also been times when the piece was originally thought of as more purple-based, for example, but I needed to use blues instead because that's all I had on hand with enough variety.
Once the piece is filled in, I tend to look for any spots or details that might need fixing, and I then redo the black outlines to help tighten and shape the final image. Maybe I'll attach a button to represent the moon or whatever else.
I've been seeing the piece close-up the whole time while making it, so I'll also quite often prop it up and step back to see it from halfway across the room.
There's a certain amount of 'math' to many of these images, especially when it comes to filling in the backgrounds. As in two lines of this color next to each other, then one of that, etc. I'm always aware of the balance between them all.
The average time-per-piece as far as stitching in the colors/finishing it is around 10 hours, and I make about two to three pieces a week. I then post my new work to my webpage.
Tell us a bit about your chosen techniques and how you use them
I prefer acrylic yarns as they are more durable than others and do not come apart while stitching. My pieces wind up being rather thick, yarn-wise, as I tend to really fill them in. I often find yarn in thrift shops, so I don't have a preferred brand .
I'll use different types of threads and strings, as well, mostly for smaller details or to help add to the background.
I use 7-count grid sheets, which means seven holes per inch. Those seem to work best with the needles I have.
When I have done showings of these yarn pieces, I found frames to put them in, which is what some people who have bought or been given my work tell me they use to display the art in their homes. Otherwise, I just prop pieces up on a bookcase or wherever.
What currently inspires you?
Animals have always been a big inspiration, so I continue to learn about them and look through photos of different birds, big cats, etc. The Internet has been a big help as far as being able to quickly look up reference photos of beak sizes, leopard spots, etc.
My youngest daughter will sometimes point out something like strange sea creatures she's seen or heard about, which can often lead to finding out about other animals and getting new ideas.
I'm also inspired and influenced by many older movies for the compositions of the images and the ways in which people interact: their postures, emotions, facial expressions.
I don't know much about other current artists, but one favorite is Yumiko Kayukawa. She's an incredible painter, especially with her many animals. I also like Shag and Pawel Kuczynski.
As is likely true for most of us, the more time goes by, the more we fine-tune our priorities as best we can, leaning into what rings true. I really like the people who are just themselves and don't try to imitate or copy others, letting the natural way they do their art be as free as possible.
Continuing to explore
Tell us about a piece of your work that holds particularly fond memories and why?
One recent piece that really stood out to me is a portrait of a wolf I made for my son whose middle name is Wolf. It means a lot for just that reason. I realized I hadn't made him a wolf yet, despite giving him a few other pieces. So, I was extra focused on it becoming a good one.
The idea and drawing for it came rather quickly, and then the colours all came together well. I was happy to give it to him as a birthday gift and glad he appreciated it.
How has your work developed since you began and how do you see it evolving in the future?
Future pieces will likely be, in many ways, a continuation of themes and subjects I've been working with all along: animals, humans, loss, connections, curiosity, moments in time, humor.
Some will be more detail-focused, and I'm looking forward to exploring that more. Some will be more simplified with basic, even faceless, figures 'in action.' Perhaps more landscapes, as well.
For quite a while now, the average size of my pieces has been 10.5" x 6.5." I have some ideas for much larger work and may eventually get around to figuring out how to do them. It gets more complicated and physically much more difficult to work with larger sizes, though, so I'm thinking of ways to make many smaller sections and then stitching them together into one whole.
I don't usually plan too far ahead. Sometimes there are a few pictures ready to go, the drawings done or sketched and waiting to be finalized. A fairly constant sifting through of possibilities.
For more information visit Stephen's Flickr page
Stephen injects colour and humour into his work. How has that inspired your own work? Let us know below.