Sharon Peoples: A purposeful menagerie of stitch creations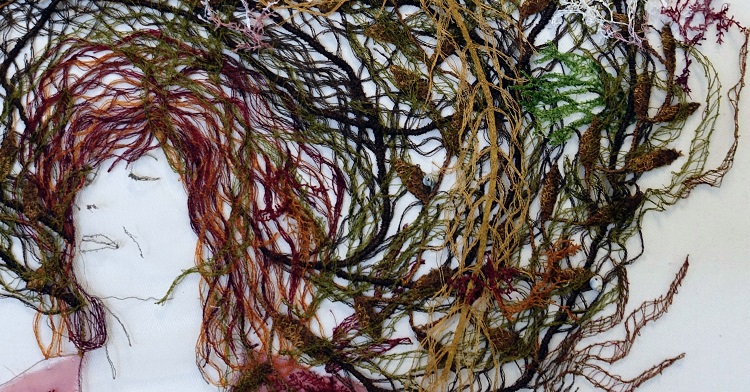 ---
Textile artist Sharon Peoples is the first to say she doesn't necessarily have a 'signature style.' And she points to her Instagram feed as proof. Scroll through, and you'll discover a menagerie of wonderful creativity ranging from intricate tassels, small embroideries, lace samples and even a go at tapestry creation.
While techniques and materials may vary, her love for both hand and machine embroidery largely ties her work together. And while work may appear to be dissimilar, all are driven by her mantra 'the medium is the message.' She purposely matches her artistic approach (the medium) to the story she wants to tell (the message).
Sharon's machine-embroidered lacework is especially remarkable. And she's been kind enough to offer an insider's look into her technique. She also helps readers understand how an intricate stitched portrait of a good friend came to life.
Sharon has worked as an artist in Canberra, Australia, for over 25 years, exhibiting nationally and internationally, as well as taking on commissioned work and teaching. Her work has been collected by the National Gallery of Australia, the National Museum of Australia and the Parliament House Collection. She has both a Master degree and Ph.D. from the Australian National University.
Enjoy this adventure into Sharon's eclectic textile art portfolio. It's a visual delight.
The power of embroidered jeans
TextileArtist.org: What initially attracted you to textiles as a medium? How was your imagination captured?
Sharon Peoples: I initially wonder if it was having my mother all to myself while learning to embroider a Semco d'oyley. It was a posy of purple and mauve petals with yellow centres that were to be filled in with long and short satin stitch. The leaves were outlined with green stem stitch. And I remember my mother crocheted the edges for me. With six children in our family, one-on-one time with a working mother could have been the attraction to textiles.
However, I suspect it was the unexpected arrival of my cousin Robyn in the early 70's that fired my imagination about embroidery. Robyn arrived dressed in the most amazing and outrageous embroidered jeans that she had stitched while teaching in Mexico. They were wild!
After she left, I began embroidering on my jeans. One of my elder sisters was at art school and suggested I embroider her second-hand army jacket. The d'oyley was not touched again.
What or who were your early influences and how has your life/upbringing influenced your work?
Mirka Mora was a huge influence. She was a French Jew who migrated to Australia in the 1950s.
One of my sisters met another Jewish woman, Marge Greenberg, whose embroideries had a wondrously naïve quality. She just used knitting wool on heavy fabrics and encouraged me to keep embroidering.
During my master's studies at the Australian National University's School of Art, Canberra, Valerie Kirk invited a stream of UK textile artists, which included Paddy Killer, Lesley Mitchison, Lindy Richards, Lynne Curran and David Swift. But it was Alice Kettle who filled my head with the possibilities of machine embroidery. These artists in residence usually came for at least a month—some for a whole semester. Alice has returned a number of times and always runs stimulating workshops.
What was your route to becoming an artist?
Like many people of my generation, textile making was a part of the every day. However, the route to becoming an artist was circuitous.
I embroidered my way through the final year of high school, and my undergraduate degree was in interior design. But there were very few embroidery artist role models in Australia ('if you can't see it, you can't be it').
In the 1970s, Mirka Mora was the only visible artist to me in Melbourne. I would catch the Swanston Street tram that she painted just to sit and figuratively 'be' with her.
I then married and moved to Perth in Western Australia. As children were born, mermaids were stitched, clothing decorated and images of the local environment were embroidered. Interior design was parked in the garage.
A move to Canberra enabled me to embroider my way into a group of very creative women who suggested I should go and talk to Valerie Kirk, head of textiles at Australian National University's art school.
I graduated with a masters from there, which set me on a career path in embroidery. I rented some pretty cold studios along the way. Nonetheless, exhibitions kept me busy and institutions were buying my work.
A small inheritance meant I could build a studio at home. However, despite a clean and warm studio, I seemed to lose my way in my art. I needed to be accessible to teenagers, as well as the demands of paid part-time work. I felt the need for stimulation and returned to study.
This time my education was more academic as I studied curatorship and art history. I stayed on to complete a Ph.D. in fashion theory, which led to a part-time position in the museum studies department. When it became full-time work, I felt I needed to keep in touch with textiles, so I sat on the board of the local crafts council. And when I became Chair, I realised how much I missed making. I was very unhappy as an academic.
So, I began the task of resurrecting my arts practice. I took a number of short courses, including a week-long intensive with Australian artist Ruth Hadlow.
Another was an 8-week online course with American artist Jane Dunnewold. I loved that course, setting aside each Wednesday for assignments. There were no annoying students in the room, and I had access to all my materials. Through Jane, I picked up daily journal writing and stitch meditations which are both key for a really productive work day.
One artist…two styles
Tell us a bit about your chosen techniques and how you use them
I am both a hand and machine embroiderer. These are two strands of my work, and each strand responds to different ideas. I always ask myself 'why am I embroidering this?' as well as the 'how' of embroidery. I work through which process is suitable or most convincing.
I am a strong believer in the theory of Canadian writer Marshall McLuhan: 'the medium is the message.' If my work is about a narrative, I generally use hand embroidery. In English, to embroider a story is to elaborate, to exaggerate, to cover up, even to lie.
My machine-embroidered lace tends to reflect fragility of both the environment and the human condition.
Also, in thinking of very large historic embroideries (i.e., the Bayeux Tapestry), the marks of the stitchers, the restorers and the menders stand to illustrate the repair, care and protection that is required for the environment. Hence, embroidery can be used as a metaphor for repair.
I don't worry that I don't necessarily have a clear-cut recognisable style as such, and that my work seems that of two people. My Instagram account @peopsh shows this diversity.
I think it may also have to do with teaching embroidery. You need to be able to master many techniques to pass onto students.
My lace pieces are machine stitched onto soluble fabric. This fabric has improved vastly over the years.
One thing that influenced my experimentation was it was much cheaper to buy a 100-metre roll online. The soluble fabric then lost its preciousness. I played around much more and pushed the way it could be used.
I draw or trace onto the fabric with a Frixon pen. The danger is that any heat makes the lines disappear. But I love technical challenges.
I include small pieces of fabric within the machine embroidery. These have a double-sided fusible webbing (such as Vliesofix or Bondaweb) attached. I then dry-iron these on to the soluble fabric.
It's all a bit precarious avoiding direct contact with the soluble fabric. One tip I learned online was to use a tiny iron that doll makers employ. It looks like a soldering iron but with the familiar clothes iron shape.
Once the work is embroidered, I check that all the threads are connected, and I pin it out on a board that is covered in baking paper. This avoids the threads sticking to the board when dry.
I then rinse and leave to dry.
Tell us a bit about your work 'The Seaweed Collector'
'The Seaweed Collector' is a portrait of my good friend and artist, Julie Ryder. Julie is an incredibly focused artist, and research plays a major role in the artwork she produces. She has uncovered a number of 19th century seaweed albums in museum collections both in Australia and overseas that have been misattributed.
I have been with her a few times to collect seaweed that she preserves and uses for dyeing textiles. I could see a clear visual relationship between some of the seaweeds and her wild red hair.
I first imagined I would ask her to lie down on the sand while I arranged seaweed around her hair, but the weather was not conducive to that. So back in the studio, I went through my sketch books and found some little sketches I had made in Berlin of faces with extraordinary head pieces.
I photographed Julie but drew over the images so that she had closed eyes. I then began drawing a mass of seaweed above her head to reflect her thought processes. I then made images and samples of the seaweeds she collects.
This portrait fell into the 'fragility of the environment' category, and hence the decision to machine embroider on water-soluble textile to create a lace-like effect.
I began machine stitching, making a sample work to audition colours and shapes. I wanted to layer the seaweeds, so I had to make many bits and pieces.
I experimented with how I dried my lace—flat pinning some and allowing others to curl.
The process became very complex as I pieced loose embroidered seaweeds onto the layers and sought to buy new threads for the right colours.
Although I was excited by my work and felt I had captured Julie's likeness, the colours seemed way too dark. And despite the fact I had spent so much time on the portrait, I decided to repeat it in lighter tones.
Upon completion, I invited Julie to view both portraits and explained my decision to abandon the first. It was a little nerve-wracking showing her the portraits. But interestingly, watching Julie's face as I turned her toward the embroideries, she liked the first portrait saying it was as she imagined herself to look. That settled it, so I then took the lace and tacked it onto a backing ready for framing.
What currently inspires you?
The idea of the secret garden within us is my current inspiration. I have been working toward an exhibition with a fellow artist, Belinda Jessup, on idea about the inner garden for nearly two years. Our exhibition was to open at the end of April but has been postponed to September. This exhibition is at Gallery 76 in Sydney, the beautiful gallery of the New South Wales Embroiderers' Guild
I have also been working toward a solo exhibition from ideas explored in this work. 'Messenger from the Garden' would be hosted at Timeless Textiles, Australia's only commercial textile gallery.
Moving from personal to public
Tell us about a piece of your work that holds particularly fond memories and why?
Although not my design, my fondest memory is working on a 16-metre-long embroidery for the new Parliament House in Canberra. There were 498 embroiderers from across Australia working away in 1986.
As a newly-arrived young mother, I loved stitching away with the older women on the long frame. The women were highly skilled and most were vocal feminists. I still love taking visitors to Parliament House to see the impressive work.
I went on to design a 12-metre embroidery for our new National Museum of Australia in 2000 with the local embroiderers' guild stitching the work.
How has your work developed since you began and how do you see it evolving in the future?
My work has moved from the personal and domestic realm to very much the public realm. I began with hand embroidery and learned machine embroidery on the way. The themes I work on have similarly moved from the private to the political, although retreating to the inner garden more recently.
What advice would you give to an aspiring textile artist?
If a young artist walked through my studio door, I would suggest they learn, research, sample and find a niche rather than trying to master every stitch and technique. And then they should match their ideas with the technique. As I noted earlier, 'the medium is the message.'
Keeping a sketchbook of ideas and samples is also really important.
But most of all, I would emphasise stimulating their mind through books, films and hanging out in the art world.
For more information visit www.sharon-peoples.com and Instagram
Do you agree with Sharon that artists can have multiple 'signature' styles? Let us know below.