Nneka Jones: Stitching social justice
Exchanging a brush for a needle, and paint for embroidery threads, was a game changer for artist Nneka Jones.
Growing up in Trinidad & Tobago, Nneka had spent hours helping her mother thread needles and manipulate fabric. And, as a fine art student, she was inspired by the work of other textile artists. So, when her college professor asked her to 'paint without paint' Nneka chose to explore creating a portrait with thread.
Nneka wanted to bring her experience with paint into the process and work more intuitively, rather than research traditional embroidery techniques. As a result, the way she works was changed forever.
Although stitch is a challenging medium, she relishes how it forces her to slow down and be more experimental in how she approaches a portrait. It's often only when viewers take a second look that they realise that Nneka's thought provoking portraits are stitched by hand – with different coloured stitches layered like expressive brushstrokes creating the painterly effect.
Today her practice explores portraiture and symbolism across multiple media such as textiles, mixed media and paint, and through public art and large scale murals.
As Nneka has refined her technique, she has also honed her artistic voice and the messages she wants to convey. Through her choice of subject matter, she's taken up the role of an artist activist, commenting on social and environmental injustice and speaking up for the protection and celebration of girls and women of colour. Growing up, Nneka realised there was a dearth of successful female artist role models, and so, she's committed to showing other young women of colour a vision of what is possible.
Nneka Jones: Becoming an activist artist was an organic transition within my practice. I always loved seeing hyper-realistic artwork and my portraiture work would often reflect this. My focus then was mainly to capture a moment in time, as well as the beauty of the individual I was painting or drawing. However, as my medium changed so did my messaging.
Once I started working with embroidery, my reasons for creating developed as I honed my artistic style and voice, and realised how strongly my fibre work impacted many different people.
My artwork serves as a voice for those who are often silenced. It reveals the reality and has a rawness that captures the attention of anyone who takes the time to observe the artwork and will either evoke an emotional reaction or prompt a bigger response and start a conversation.
Women of colour have historically been associated with the terms 'independent', 'powerful' and 'strong', so much so that in times of need they are often abandoned or rarely ever protected and celebrated. As much as these terms may be true, they should not be used as shields when reflecting on social and environmental injustices in society.
My job as an activist artist is to remind society that these young girls and women are human and require the greatest amount of love and protection, particularly with topics that are often sensitive.
Currently, my work focuses more on identity across cultures and within oneself. The use of the female figure and portraiture has helped me to reflect on the importance of removing negative stereotypes to rebuild a true reflection of who I am.
Often people can see themselves in my work and are usually captivated by the gaze and eyes of the figures I stitch or paint. None of this is by mistake. These are topics that require honesty, observation, movement, emotion, conversation, and an obligation to yourself and others to be willing to do the internal and external work that would make society an overall better place.
From inspiration to artwork
Developing a work of art always starts with an image that holds prominence in my mind. Although I may not see all the elements of the design, I am often clear on the aura and overall message prior to starting the artwork.
I start putting these thoughts and images down on paper. I begin to research images, some of which I may have taken myself. Once I have a few source images, I collage them to recreate that initial image I had previously developed in my mind. This 'image collage' is created digitally in Photoshop. This process can take anywhere from a day to a week of planning. Once I'm happy with the image collage, I print it and use it as my reference image to start the physical artwork.
I work mainly on stretched canvas and cotton fabric but have also used monk's cloth as my substrate for large scale artwork. Once I have decided on the final digital image that I'll be referencing, I transfer hand sketched details to the canvas using a pencil or light marker, and carbon paper to ensure I get the exact measurements of the portrait. This acts as a guide or colour map once I begin sewing.
My starting point is almost always the eyes, as these are usually the focal area of my pieces. Then, I usually select one area and work from the centre of that section to the outer portions, making my way through the portrait by finishing each section as I go.
I rarely ever come back to a section once it is complete unless I am adding highlights to the skin tone after laying the mid tones down. Sometimes I use coloured pre-stretched fabric but if not, I will either carefully paint the background in around the thread and yarn or add fabric swatches using hand embroidery.
Going large
For oversized portraits, it is much easier for me to cover the surface using the punch needle technique as I am able to work a lot faster. I use a combination of yarn and embroidery thread to add texture as well as efficiently cover the surface area of each section.
When working on a larger scale with textile or embroidered portraits, remember that this image is simply made up of many different colours and shape variations. It can become overwhelming if you are looking at it as a whole rather than selecting different sections to work with.
Breaking the portrait down and simplifying it, especially if working from a reference image, will help you to identify the colours and shapes in that section, as well as the correct thread colours and ultimately leads to a more realistic outcome.
Waving the flag for embroidery
I was born in Trinidad and Tobago, and my Caribbean roots and culture were both great influences in my early works as an artist. They have moulded me into the artist I am today, particularly in my love for colour and special attention to detail – although I was always more interested in the people and capturing moments in time in Trinidadian culture, rather than stereotypical subjects such as palm trees and the ocean.
Growing up I was aware of many successful male artists in the Caribbean, such as Jackie Hinkson and James Armstrong, but I rarely ever saw women artists who had the same magnitude of success. This pushed me to become the role model that I was constantly searching for. 
Of course, I have had many women who mentored me along the way, such as my high school art teachers, but the vision of an artist whose work was loved and appreciated on an international scale almost felt impossible until I found embroidery and started using my artwork to truly make an impact.
My embroidery and textile work have taken me places in my art career that I would have never even imagined. One of my proudest moments was having my hand embroidered American Flag grace the cover of Time magazine in 2020. This came right after I was unable to display my artwork for my final graduation show due to the pandemic shutdown, so it was surreal that my artwork would go from not being seen to being viewed by millions of people around the world.
I'm delighted to hear of many students and young girls who are inspired by my work and journey as a young artist. I am pleased I can confidently say that I am paving the way for many of them to fulfil that vision and live their dream.
Sew out of my comfort zone
The process of working with paint is a lot easier for me. If I want a particular shade of a colour, I can easily mix it on my painting palette. However, thread pushes me outside of my comfort zone, finding different techniques of 'mixing' threads to create a specific shade.
Stitching is a bit more challenging, particularly with portraiture, as I still have to maintain some form of representation in order for it to look like the photo or image I am trying to recreate. This allows me to work on my craftsmanship and patience, while still enjoying the process of hand sewing.
Ultimately, what I love about textiles and stitching is the texture and variety that it creates, adding a new dimension to the artwork, as well as pushing the boundaries of older, traditional techniques to create contemporary fibre art.
My biggest challenge is the length of time and dedication it takes to complete a piece and how this contrasts with the demand on social media for fast turnover of content.
As an artist and entrepreneur, it can become pretty overwhelming trying to keep up with trends, yet still maintaining the quality of your textile work. Those working primarily in fine art may be able to make quick adjustments to satisfy this but as I work without a tufting gun or sewing machine, I can only go as fast as my body will allow.
However, I am working towards finding a balance of not rushing my process unnecessarily but capturing different stages and embracing each part of it as I know many people can relate and benefit from this.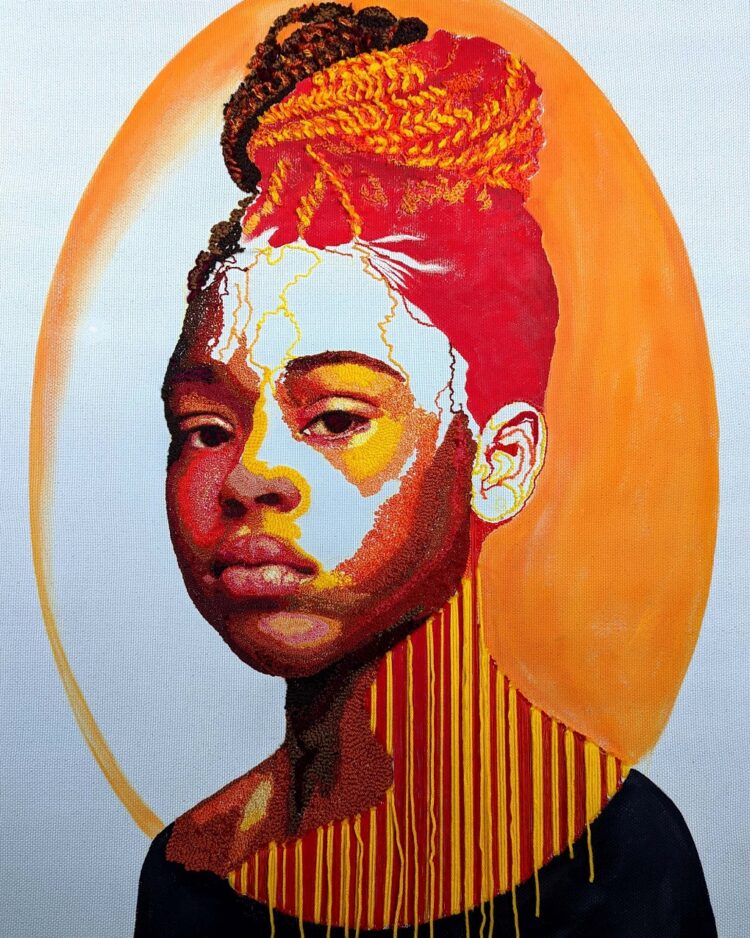 Key takeaways
Nneka developed her unique style and voice by exploring a new medium without researching the traditional way of doing things. Instead, she brought her own experience to it and worked intuitively, experimenting as she did so.
If you've ever wanted to stitch a portrait, try following Nneka's method. Choose a good reference image as a starting point. Simplify the portrait into key shapes and colours. Decide on your colour palette and organise your threads into different colours and tones of light, medium and dark. Work on a section at a time to prevent overwhelm. You can add highlights at the very end. 
Stitching forces Nneka out of her comfort zone and to work in a different way, which has enabled her to grow and develop new directions in her work. What could you do to move out of your comfort zone and explore something new? 
Nneka's passion for speaking up for girls and women of colour has become an integral part of her work and her role as an artist activist. What are you passionate about, and how could you introduce this into your work?
Nneka Jones is a Trinidadian-born multidisciplinary artist currently living and working in Tampa, Florida, in the USA. Since graduating from the University of Tampa in 2020, she has been commissioned by publications such as Time magazine (USA) and the Washington Post (USA). Nneka was a keynote speaker for Adobe MAX in 2020, and has a solo exhibition at The Knitting & Stitching Show at Alexandra Palace, London (5–8 October 2023).
Artist website: artyouhungry.com
Instagram:  @artyouhungry
Facebook: facebook.com/ArtYouHungry?
Capturing a likeness is always a challenge, and creating it in stitch and textiles is even harder. Find out how seven textile artists, with very different styles, approach portraiture and discover what they have learned along the way.
Why not have a go at creating a portrait using textiles – you can always use yourself as the subject as Nneka did. We'd love to see what you come up with so do share your portraits with us.