Katherine Diuguid: Going for gold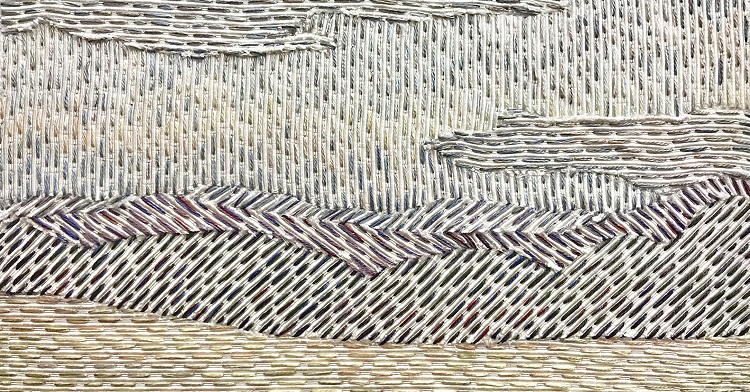 It's no exaggeration to say that Katherine Diuguid has built a life around stitch. Even as a young girl, she can't remember a time before she had a needle of some sort to hand.
Since those early days, she's founded a career as a studio artist and has taught widely, specialising in traditional embroidery techniques such as goldwork, as well as historical embroidery forms including medieval ecclesiastical embroidery.
Katherine has a passion for mastering traditional techniques and taking them to new conclusions. And much of this is underpinned by her academic research. Her current obsession involves a deep dive into the colour theory of the Impressionists – unearthing new insights into the effect of stitch choice on colour perception.
Add to this a personal thread running through her work, which explores our human need for belonging, and it's clear that looking beyond the surface is what intrigues her most.
Even though she's unafraid to dream big – taking on commissions and setting herself new challenges – her practice remains grounded in simple, daily acts that we can all learn from: the quiet act of stitching as a time for reflection (as well to express ideas), and sampling, stitching or sketching everyday but, most of all, having fun with the process.
From passion to process
TextileArtist.org: Tell us a little about your embroidery practice, and what you're working on currently?
Katherine Diuguid: I love to stitch. I love mastering traditional techniques, exploring them and manipulating them in interesting ways. So, my work balances both a deep respect for the 'proper' way of executing the techniques with a healthy dose of exploring their boundaries. In the same way, my colour explorations seek to understand why colour works the way it does in thread and then exploit those findings.
My current work is basically split into two main areas. The first focus is formal explorations of colour interactions in embroidery. I've done this through a pretty extensive (and growing) series of stitched samples, and through interpreting Impressionist colour theory in embroidery.
I've found great joy in the desperately lofty goal of trying to study Monet's luminous way of using colour and interpreting this with thread. I enjoy balancing the prose and poetry of colour study and using the knowledge gained to interpret what I learn artistically, both through samples and compositions. This is a continuing project I feel I will probably be working on for a very long time to come. 
The second series of work that I've been focusing on is my 'Weeds: Longing to Belong' series. I am interested in the human need for belonging and how naturally or unnaturally that comes for some people. For me, it's not a natural phenomenon to feel as if I belong in most settings. I have been using the metaphor of roadside flora or 'weeds' as a catalyst and metaphor to explore the concept of human belonging.
In the series, I've been mixing digital printing, eco-printing, goldwork, quilting and whitework techniques in both traditional and manipulated interpretations. The slowness of stitching (which I love about this medium) has allowed me time to ponder and process my experiences and observations on belonging.
Which area or facet of embroidery are you most passionate about?
'I have never really met a stitch that I do not enjoy, and the couple that I have found that I did not love at the beginning, I have purposely sampled them enough to learn to appreciate them.'
If I had to pick a favourite technique, though, it would be goldwork. There is something so special about the textural contrast between the metals and fibres and how sculptural the technique is. I really love sampling and trying to make a technique do something that maybe it's not supposed to after I have proven to myself that I can master it.
And what is it about embroidery that most captures your imagination?
This should be an easy question to answer but I find it difficult to verbalise, partly because textiles have always been part of me. From my early memories, I was stitching Barbie dresses and trying to figure out garment construction on a tiny toy sewing machine, using fabric from Wal-Mart that I'd saved up my holiday and birthday money to buy.
Fabric and thread are so malleable and versatile, and I loved how I made something special out of a flat piece of fabric or an old garment. I love the tactility of textiles, the feel of the thread and fabric, and the slow, methodical motion of it. Stitching relaxes me but I also love how both precisely and expressively embroidery can be used.
Stitching has always been my way of processing and provided a challenge for refining my craft and a place of solitude free of judgement where I could explore form, colour, and pattern. I love stitching, and I love the time for reflection that stitching provides. It is just time for my materials and I.
'I also love the camaraderie that is built into the tradition of stitching. As much as I love the actual embroidery techniques, I am also fascinated by the stories surrounding and imbued in the embroidery.'
Curious about colour
What themes are prevalent in your work, and what are you aiming to capture or convey?
As I mentioned, my work is split into two different themes right now. There are overlaps between them in how I work and execute the work.
With my colour explorations, colour is endlessly inspiring. I love the work of many of the Impressionists, post-Impressionists and early modern painters, but Monet holds a very special place in my heart. It's something that I cannot fully explain except, when I am in front of his work, there is just something that connects me to it in a special, non-verbal way.
His colours just sing to me. With my colour studies and my landscapes, I want to figure out how to make my threads sing like Monet's colours. I will readily admit that I sound exceptionally naïve, but I don't think it's terrible to have a lofty goal that's going to take a lot of time, attention, practice, and devoted work to accomplish. I'm not there yet, but I'm a lot closer than I was. Colour doesn't scare me. Colour fascinates me with his elusive magic.
My series 'Weeds: Longing to Belong' started as a way of processing and coping with feelings I was struggling with that needed to be stitched out. As I've continued with the series over the years, it has morphed with me. Through it, I want to convey a peacefulness and thoughtful empathy, as I feel that others must struggle with not feeling that they belong too.
I want to convey how beautiful resilience is. It might not feel beautiful. It might not seem like expected beauty, but there is beauty in our fragile strength, similar to that displayed by roadside flora.
You're also a teacher, tell us about the techniques you specialise in?
If I had to pick a speciality, I would say goldwork embroidery and colour explorations in embroidery. However, I've taught a much further range of techniques at both university level and for various guilds and museums.
I started teaching formally during graduate school as a teaching assistant. Many of our students wanted to learn proper sewing construction methods and pattern making, so I began by teaching workshops to the students as I had those skills.
After graduation, I was hired to teach full university classes on sewing construction and draping and that transitioned into an assistant professor position. I continued teaching the fashion courses but was also able to introduce several embroidery courses.
Additionally, I organised a six week study-abroad programme for students from North Carolina State University to the UK. They took classes at the Royal School of Needlework two days a week. Then I coordinated 26 field trips within London and surrounding areas to museums, collections and workshops for them to see the history of stitching in the British Isles firsthand.
We visited the Clothworkers Centre, The Ashmolean Museum (to see beautiful examples of 17th century raised work), St Paul's Cathedral, Catherine Walker, Anderson & Sheppard on Saville Row, Hand & Lock, the Constance Howard Collection at Goldsmiths, as well as many museums and exhibitions.
Today I teach virtual workshops from my studio and travel to teach various embroidery groups and conferences in the US and Canada. I really love teaching. I love designing courses and workshops, and I especially love that moment when something clicks for a student, or the day they come in excited to share something they have discovered. It is endlessly exciting to share in their joy.
On the record
Please share a little about how you plan and create your work?
I enjoy the design process, so every project I create, whether it's an exhibition or a teaching piece, is documented relatively extensively. I enjoy keeping the process in portfolios and doing formal inspiration boards, many iteration and refinement sketches, colour layouts (and options), material boards, and copious amounts of process photography.
'I work in a medium that is not fast. In fact, some days it can feel infinitesimally slow. I found that by documenting each step I can see my progress more clearly, and not become bogged down by the slow nature of the process.'
I write about select projects and process in detail on my blog. In graduate school, I started keeping a process blog for my thesis project, Consuelo: the Glitter of a Dollar Duchess, which was a wedding gown richly embroidered with silver, and inspired by the first marriage of Consuelo Vanderbilt to the Duke of Marlborough.
Since graduation, I have continued this process. In the past, I wrote regularly. Now, I write about select pieces, though I wish I had time to write more. I employ a wide range of techniques and methods in the pieces that I create driven by the specific projects.
Can you share one or two of the areas relating to embroidery that you've been researching? And a little about what you've discovered?
I've been investigating formal colour theory and Impressionist painting, and how to apply and interpret that knowledge in embroidery. Most colour theory classes use paint or coloured paper as the medium. These are great and helpful, but colour in stitching does not exactly behave in ways that are consistent to these rules.
'We must approach colour in embroidery as a sculptural act. We must build colour, not blend it.'
Colour perceptions created from thread are a combination of thread colour, the shadows of the texture, and the shadows created by how we've used the thread (which stitch types, etc). To ignore the shadows, to flatten the colour into a two-dimensional experience is to set ourselves up for failure.
I think my biggest discovery is the liberation from my colour cards. I'm no longer constrained to the colours provided to me by the thread dyers and manufacturers.
'By understanding simultaneous contrast, optical mixing and colour relationships, along with a healthy dose of excitement about colour, I see no difference in my palette of threads from a basic pocket watercolour set. Anything is possible. It's all in how you mix it and use it.'
I've been fortunate to secure time in the galleries at the Art Institute of Chicago and the North Carolina Museum of Art to stitch in their galleries and study in depth Monet's paintings.
I have been studying Stacks of Wheat, Thaw/Sunset, 1890-1891 at the Art Institute of Chicago and The Seine at Giverny, Morning Mists at the North Carolina Museum of Art. I want to create the same perception of colour interactions with thread. It's a lot different than colour matching like you might do digitally or with paint swatches. It is not flat colour.
I have learned so much from these gallery stitching sessions. I focus on a different area of the painting each time, and the devoted time studying the colour really allows me to see subtleties in the colour combinations that can be easily missed.
Sometimes it's not as much about the colour that seems dominant as it is the colour that's lifting that colour up and making it dominant. I have presented colour research-related presentations and posters for SECAC and Textile Society of America, as well as many embroidery groups and universities.
My residencies at Penland School of Craft and Chateau Orquevaux provided time to take the colour mixing principles refined in the gallery studying Monet and to apply that knowledge to my own landscapes.
Additionally, I create colour exercises to explain through my samples why my colour is mixing in thread in the landscapes the way it does. I love the colour samplers as much as the formal compositions. It is also magical to see how even the gridded colour samplers can capture the feel of the colours of a place without any imagery of that place.
Medieval matters
I also am very drawn to Opus Anglicanum and medieval iconography. I have had the opportunity to study several pieces at museum collections up close over the years. I find Opus Anglicanum so beautiful and intriguing. I love the historic research.
A few years ago, I had the fantastic opportunity to create a sampler for the Art Institute of Chicago based on its beautiful Burgo de Osma Altarpiece, which is on display in the medieval galleries.
My study of medieval embroidery (this piece is not Opus Anglicanum: it is later medieval Spanish embroidery) provided the knowledge I needed to create that piece within the requested timeframe. I have also presented lectures on that piece to various embroidery groups and for the Medieval Dress and Textiles Society (MEDATS). I also presented a paper on my The Red Dragon Lurks in Front of the Woman Clothed with the Sun embroidery based on two Anglo-Norman Apocalypse manuscripts for MEDATS.
I really enjoy the balance of academic investigation with artistic exploration in my practice. I have also found that the challenge of writing about and documenting my work academically forces me to consider my work and influences more deliberately. I love the formal documentation of my process and visualising the weaving together of my various influences for a project.
Following the thread
Can you describe your route to becoming a full time embroiderer?
I cannot think of a time before I had a needle or crochet hook in my hand. One of the earliest childhood Christmas presents I remember is this little red sewing machine that my parents got me which did only a straight stitch. I loved that sewing machine! I made a lot of Barbie clothes.
I also loved old Hollywood movies, and in the summer my grandmother and I would watch classic movies while she crocheted and I sketched all the dresses. These sketches then led to reading the biographies of the actresses and costume and fashion designers. On Saturday mornings, I would look forward to watching 'Style with Elsa Klensch' on CNN, which was not a normal thing that kids my age did growing up in the mountains of western North Carolina!
I can't explain it, other than I just loved everything about stitching, costume, and fashion – learning the techniques and actually stitching is as enjoyable to me as exploring the stories behind it too. That curiosity continues to drive me still.
For me, it's not enough to just learn the technique. I want to know where it came from, what influenced it, how it changed, why it changed, what it was used for, who used it, and what I can learn from all this to push the technique further or translate it with my own voice.
Embroidery became my main focus during graduate school. My mentor there was Susan Brandeis, who is also an embroidery artist. She introduced me to the work of Audrey Walker and Rozanne Hawksley, both of whom I love.
At the same time, I'd wanted to learn goldwork embroidery. I took an extended trip to the UK to do the City & Guilds Goldwork Certificate with Tracy A Franklin. The ladies who sat beside me for that week were three embroiderers who embroidered for York Minster. They introduced me to ecclesiastical embroidery, and I absolutely fell in love.
I came home, went through wholesale quantities of metal embroidery supplies while practising, and started reading everything I could get my hands on about Opus Anglicanum and British ecclesiastical embroidery. I have since become great friends with the embroiderers from York (thank you – Denny, Uschi, and Christine!) and have continued learning from Tracy A Franklin through the Royal School of Needlework and her studio in Durham.
Susan Brandeis and I still share what we are working on regularly. Part of my love of stitching is anchored in my love for the people I have stitched with. After that trip, I came back and changed my focus to embroidery. I finally saw embroidery as an art within itself instead of an element to enhance my dressmaking.
Can you share some of the tools and materials you like to work with?
Some of my favourite items include my trolley needle. I forced myself to get used to it when I did my canvaswork piece for my RSN Certificate. It felt weird at first but now I feel slightly naked when I don't stitch with it.
Weeks Dye Works' cotton embroidery floss colours are just amazing and the sheen is beautiful. Oliver Twists' threads are harder to get for me in the US, however, I love them. The colours are just absolutely delicious.  
Jenny Adin-Christie's silk gimp (in fine and very fine) and her wrapped plate are just so much fun to stitch with, and the gimp is so much more flexible than others I have tried.
I love Kai Scissors' embroidery scissors so much. They are not crazy expensive. Their blades are wonderfully thin and they accurately cut the metals on the first go.
My favourite purchased ground fabric is raw linen. I love the neutral tone of it, and the feel of the fabric with the stitching. I also love eco-printing with silks. I find the entire eco-printing process fascinating and love the collaboration between the plants and myself.
The way forward
Would you share one or two tips for embroiderers?
Sample. Sample. Sample. Sample. Sample. Sample for fun. Sample to find answers. Sample to try variations. Sample to play with new threads. When in doubt or indecision, sampling is always the answer.
'Sampling is the unsung hero and the step that many people skip or dislike, as it can feel like a waste of time and materials. However, sampling allows time to work out both design and technique issues without the pressure of it being on a finished piece.'
It provides practice to refine techniques. It provides confidence that the technique, scale and materials are correct for the project.
Does it take time and materials? Absolutely. Is that cheaper than ripping out entire sections because the colour, thread or technique just isn't 'right'? Yes.
Have I ever finished a project and thought I wished I had not wasted time on the sampling? No, never.
Do I now have a huge library of ideas that are stitched? Yes, I do, Tupperware bins full of them. I reference them consistently, either for personal projects or for teaching.
And what advice would you give to an aspiring textile artist?
Ask questions. Give yourself room to play. My favourite pieces I've made have been those I did not know all the answers to at the beginning and did not need to make for any reason other than I wanted to.
And, if you can, make the opportunity to study pieces in person. The internet and books are wonderful but, no matter how good a reprint of a photograph is, it will never teach you as much as studying the piece in person. I've been very fortunate to study many firsthand and I've learned so much by that focused investigation.
I also work my artistic practice into my life. I very regularly have something in my purse to stitch or sketch. My children visit exhibitions with me and are normal inhabitants of my studio (as well as many times their friends too). Their observations are so exciting, and their freedom to experiment is inspiring.
What direction might your work take in the future?
I have several ideas of where I'd like to go in the future, but the most pressing at this moment is a desire to attempt larger scale embroidered landscapes. It all comes down to time, as I know what I want to do requires a chunk of devoted time. They will happen, soon I hope!
I am currently finishing an embroidered box that I know will probably be the first of a series as I've loved the process. I created the ground fabric by stitching together a patchwork of eco-printed silk remnants, then stitched it with metallic running stitch and manipulated goldwork Queen Anne's Lace motifs. I wanted to play with making three-dimensional Queen Anne's Laces sprouting out of the top, and I did. The challenge of creating three-dimensional flowers that matched the feel of the other flat embroidered flowers was intoxicating.
This piece was also a departure for me as I worked the entire piece intuitively with very minimal sketching and planning. I just wanted to play with it. I was inspired by the beauty of the Queen Anne's Lace that grows along the roadside so wild, free, and resilient. To capture that spontaneity, it needed to be worked spontaneously too.
'However, I will be exploring colour interactions in embroidery most likely for the rest of my life. I love it. Colour always presents something magical, and it just brings me great joy.'
Key takeaways
Katherine has worked on single commissions and in series, exploring a subject or a fascination from all angles over time, and there's lots we can learn from her process.
Start simple (and keep it simple!). Katherine works her artistic practice into her life by keeping something to hand (for instance, in her bag) to stitch or sketch.
Looking for inspiration? Katherine's 'Weeds: Longing to Belong' series started with a feeling, which led her to work with roadside flora as a metaphor for human belonging. Is there an aspect of your life – thoughts, feelings, family connections or history – that you could explore?
Documenting her work is important to Katherine, as it forces her to consider her process and her influences more deliberately. What might you discover by trying this? You could document your progress online simply using photographs, or write notes or thoughts about your progress in a simple diary or sketchbook.
Although it's not always accessible to all, if you do have the opportunity, Katherine strongly recommends visiting exhibitions and viewing artworks firsthand. Why not set up a visit with a friend, or make an artist's date for yourself, and spend an inspiring afternoon with some art?
Most of all, remember to have fun. Enjoy the journey – play, experiment and sample (lots!) See where your passions lead you. Your aims might change, but your efforts will never be wasted, says Katherine.
Katherine Diuguid is a studio artist and teacher specialising in hand embroidery based in North Carolina, USA. She has a Masters in Art and Design specialising in Fibers and Surface Design from North Carolina State University (2011). Katherine has been awarded artist residencies at the North Carolina Museum of Art (2017) and Penland School of Crafts (2018, 2019). In addition to teaching, she exhibits her work and has completed several commissions, including a sampler based on the Burgo de Osma Altarpiece for the Art Institute of Chicago.
Artist website: katdiuguid.thinkific.com
Instagram: @katdiuguid
Katherine's love of colour lead her to researching its theory. Richard McVetis is another artist who examines the process of embroidery, as is Claire de Waard, whose take on traditional methods challenges ideas of how we define luxury and beauty.
When did you first fall in love with sewing or embroidery? Let us know how your enthusiasm (or aversion!) became a passion for textile art.