Karen Searle: Women's work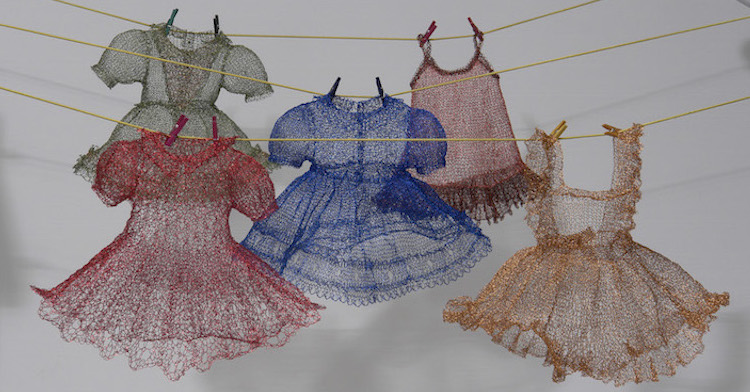 ---
Karen Searle is a sculptor, author and teacher of fiber and mixed media. Her imagery is inspired by women's lives and women's bodies and by the feminine impulse to nurture. Her sense of humour is integral to many of her pieces which have been exhibited worldwide. She is a keen mentor to emerging artists through the Women's Art Resources of Minnesota mentor program.
In this interview Karen talks about the passions which influence her unique style. We learn about the techniques and processes she employs and why women's history and lives have been fundamental in her artistic vision.
TextileArtist.org: What initially attracted you to textiles as a medium and how was your imagination captured by stitching?
Karen Searle: I have always had an interest in textiles. It started with sewing doll clothes and learning to do the blanket stitch in a fourth–grade sewing project. Neither of my grandmothers was living, and my mother was not involved in any textile making by that time, so there was no handing down of skills through the generations. Much later I learned that one grandmother did crochet and the other was a weaver.
My mother showed me some embroidery and knitting that she had done in her youth, and I became intrigued with the idea of making and decorating cloth. I tried several times -not very successfully- to teach myself to knit and crochet from a book, and at age 10, I joined an urban 4H club where I learned sewing and embroidery. I crocheted my first sweater (in granny squares) after high school, and my college roommate got me started knitting Norwegian ski sweaters.
My mother wrote poetry and my father was a graphic artist, so I guess I was programmed toward the arts, although I carefully avoided any formal art education until I was an adult. Then I enrolled in many textile-related classes and workshops through the school run by the Weavers Guild of Minnesota and at weavers conferences and became a weaving teacher.
I eventually branched out into taking adult education classes in drawing, painting, and photography. On a parallel track, I had a 25-year career publishing books on cultural traditions in textile crafts, Dos Tejedoras Fiber Arts Publications, and publishing a magazine for weavers, The Weaver's Journal.  In my 50s I retired from publishing and decided to pursue an MFA degree, which I completed in 1999.
What or who were your early influences and how has your life influenced your work?
I have followed and been influenced by the feminist art movement in the US since the 1970s. Faith Wilding's early fiber environments and body works planted the idea in my mind that there are no limits to explorations in fiber, and this was reinforced in several workshops I attended taught by Walter Nottingham. His attitude toward fibers as magical and mystical captured my imagination.
My acquaintance with art knitting pioneer Mary Walker Philipps led me to explore knitting as an art medium. Other early influences on my thread manipulations included Dominic DiMare, Diane Itter, and Irene Waller. More recently, a workshop with Warren Seelig on incorporating objects into textile constructions broadened my approach to my work.
Since I was a 'late bloomer' as an artist, I naturally gravitated to themes of aging and imagery of older women's bodies.
The 'aha' moment
What was your route to becoming an artist?
I am fascinated with the process of constructing a fabric or form from stitches. After spending a number of years designing sweaters and loom-shaped woven garments, and a stint in a production weaving studio, I realised that I think three-dimensionally, and started making figurative sculptures. At first, I wove shaped tubular forms, but in an 'aha' moment, I realised that there was more subtle control of shaping to be had with the off-loom processes. Since then I have been creating forms and objects with knitting and crochet, and more recently, relief images with needle lace.
I am fortunate to be a member of WARM, (Women's Art Resources of Minnesota), and Women's Caucus for Art, organisations. They provide inspiration, supportive communities, role models, and exhibition opportunities for women artists.
How do you use these techniques in conjunction with sculpture?
Knitting and crochet are ideal techniques for building subtle shaping into a form. I prefer to make sculptural forms in which the structure is also the armature. I choose a construction technique (knit, crochet, knotless netting) depending on the material and the amount of structural support I need to incorporate into the form.
Wire is my current favorite material, although I will try anything long and bendable. I can visualise a 3D piece, and often some of the 'engineering' problems that may arise before I start, so I rarely need to sketch it beforehand. Once I have started, I might make a drawing to determine the finished proportions.
A feminine viewpoint
How would you describe your work and where do you think it fits within the sphere of contemporary art?
I make figurative sculptures in natural and recycled materials, and relief images in wire. My love of needlework has led me to use the tools and materials of domesticity to assert the validity of 'women's work' and to present a feminine viewpoint. The work is process-oriented, and my sense of humor usually becomes entangled within it, somehow.
My materials include thread, fabric, wire, found objects, and materials gathered from nature. The work has a feminine/feminist perspective, and could be considered postmodern/postfeminist. Much of my work is on a small or intimate scale, but occasionally I do life-sized works as well.
Seeking possibilities
Tell us about your process from conception to conclusion.
My forms are often containers and reference the Jungian concept of the body as a container for aspects of the self.
I am always seeking possibilities within the materials available to me by using and responding to their characteristics in an intuitive way. I enjoy finding new uses for a material, and combining natural and man-made materials to form new entities. I sample a new material with several different techniques to determine the most appropriate use and structure for it. Often the idea for a piece comes through this process.
Some of my work involves attaching natural or man-made elements together with fiber. My works using birch bark begin as meditations on beauty in nature. I delicately mend found birch bark, adding a few beads to enhance its natural beauty. I join pieces or create forms using either a natural fiber or wire. Combining nature, hand-made and man-made manifests my concern for environmental issues. The 'bark quilts' and 'tree spirit' figures also pay tribute to the activities of 'women's work:' we salvage, mend, piece together, and adorn–both the objects in our lives and our relationships.
Making my hollow wire sculptures feels like doing 3-dimensional line drawings in space. The shadows cast by the objects complete the image. My needle lace works are another kind of dimensional drawing based on drawings or photos. I work with Photoshop to adjust the image in size and proportion to its intended mounting. I then use that image as a base to form a 'drawing' in thread or wire, combining needle lace stitches with some crochet. 'My Mother's Hair' is based on photos taken at different stages of her life.
What environment do you like to work in?
I have a studio space where I work on larger or complex projects. For smaller pieces with lots of handwork, I like to work at home in a comfortable chair.
What currently inspires you?
I find inspiration in nature, ritual and ceremony, women's history, and women's lives. Also the textile-making processes themselves are inspiring.
Who have been your major influences and why?
I greatly admire the work of the late Eva Hesse and Ana Mendieta, and the mixed media works of Betye Saar and Alison Saar, Kiki Smith, Lesley Dill, and Rose Marie Trockel, among many others. All have been fearless in pursuing their careers and in incorporating many different media into their work.
Recreating memories
Tell us about a piece of your work that holds particularly fond memories and why?
The first piece in my 'Body Bag' Series brought the realization of my ties to feminism and also illustrates the multiple levels of thinking that go into some of my works. The feminine torso form humorously depicts an older woman's body, something I have been fascinated with since my own began to sag a bit.
The bag is crocheted with my handspun flax; both techniques fall into the category of 'women's work'. It is lined with paper pulp and filled with cast paper 'body parts' cast from old baby dolls. Each 'body part' is labeled with a museum tag. The tags have an 'accession number' on one side and a title—an adjective used by men to describe women—on the other side. The inside pieces can be 'read' like a catalog of these words. I enjoy its humor and its complexity.
How has your work developed since you began and how do you see it evolving in the future?
Over time, my work has become more subtle in its message and more sophisticated in format. I began doing serious work in my 40s and 50s, focusing on body imagery. In my 60s, and now in my 70s, my focus has been turning toward looking back on my life and recreating and revising, memories. I am interested in enlarging the scale of the lace works and doing more installation works.
What advice would you give to an aspiring textile artist?
Explore widely to find your voice and your particular textile vocabulary, then dive deep into using this language as a way of communicating your ideas. Finding a mentor is also important. I have had the unique opportunity to mentor 16 artists over the past twenty-five years in a 2-year mentor program run by Women's Art Resources of Minnesota that matches emerging artists with mentors and provides a structure for a protégée's professional development.
Can you recommend 3 or 4 books for textile artists?
By Hand, Hung and Magaro
Finding Your Own Visual Language, Jane Dunnewold
Women's Work, Elizabeth Barber
What other resources do you use? Blogs, websites, magazines etc.
Textile Artist, Fiber Art Now, Hand/Eye, Surface Design Journal, Selvedge
What piece of equipment  or tool could you not live without?
If I could only have one, a crochet hook would offer a lot of options.
Do you give talks or run workshops or classes? If so where can readers find information about these?
I teach  at The Textile Centre and the Weavers Guild of Minnesota. I also travel to give lectures and workshops. I lead an annual textile tour to Guatemala through Art Workshops in Guatemala.
How do you go about choosing where to show your work?
I enter shows with themes that resonate with my work and participate in invitational group shows. I am fortunate to have The Textile Centre in my backyard, which offers many opportunities to show, sell, and teach.
Where can readers see your work this year?
The Art of Cash, Janet Carson Regional Art Center, Eau Claire, WI, March 25-May 6, 2016.
The Women & Money Project, Katherine Nash Gallery, University of Minnesota, Minneapolis, MN Sept. 10-Dec. 6, 2016.
For more information visit: www.karensearle.com and www.mnartists.org
Got something to say about the techniques, materials and processes used by this artist – let us know by leaving a comment below.