Captivating collage: Six artists show the way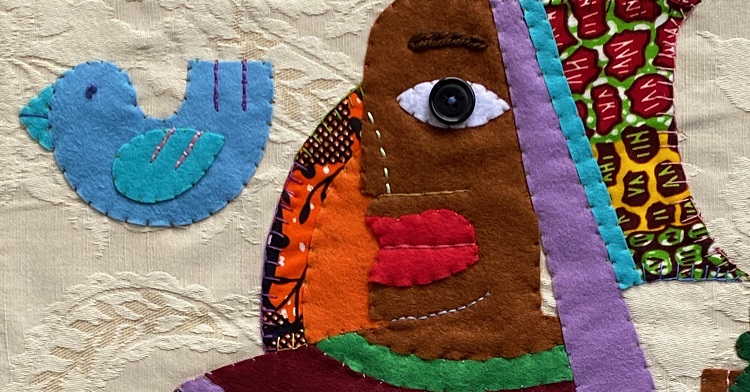 It's hard to think about 'collage' outside of its verb tense. Even a finished artwork still hums and buzzes as the different elements mesh together. The eye shifts back and forth between viewing the work as a whole and then noticing the distinct pieces. Visual magic!
The collage process is all action. Artists first sort through beloved collections and stashes of materials to choose select treasures to be featured. Then those treasures audition for their place in the composition. Ephemera of all types are layered, swapped, snipped and reshuffled to see how colours, patterns and textures dance together. Once the pieces are in position, how to keep them all in place? Sewing? Glueing? Machine stitch? Hand stitch? The possibilities are endless, and that's what makes collage a great way to explore textile art and develop your artistic voice.
We've gathered six renowned collage artists who are not only sharing their work but also their best tips for starting your own collage journey. Mandy Pattullo and Barbara Shaw especially enjoy working with vintage and recycled materials, while Anne Brooke shares her love of working with various papers. Marcia Bennett-Male describes her connection with African appliqué techniques, while Cas Holmes demonstrates her use of surface design using paint and other media. Deborah Boschert brings it home by sharing her raw-edge fused appliqué technique and use of personal symbols.
Mandy Pattullo
Mandy Pattullo made scrapbooks as a child with her grandmother, and she still collects tickets, images, postcards, fabric swatches and other ephemera today. She had also been sewing and doing patchwork, so transitioning to fabric for collage made sense.
'I think collage and patchwork share a history. Both are about arranging things and juxtaposing colour, tone and pattern. But patchwork is more prescriptive, whereas my freer approach of layering materials from many different sources is textile collage.'
Mandy carefully sources interesting fabrics, and she's committed to only using recycled materials or what she has to hand. She also only works with hand stitch. Having run vintage fairs with a friend, Mandy's stash includes old quilts from the north, which have become part of her visual language. She is also particularly fond of thrift quilts that are less designed, as well as scraps left over from dressmaking or tailoring.
'Quilts are collages themselves, but as I cut them up and unpick them, I feel a connection to the previous maker. I then put my own mark on them by rearranging the pieces and decorating the surface with stitches.'
Rather than working to a theme or brief, Mandy says her projects always come out of the fabric itself and its conjunction to other pieces. She'll start by jostling fabric pieces next to each other to discover interesting colour combinations. Sometimes a piece arises out of a need to incorporate something in particular, like a piece of old needlepoint or embroidery. Other projects are inspired by old garments begging for transformation through collage and stitch.
'I find collage to be liberating as I arrange things to explore the juxtaposition of colour, tone and pattern. And as a collector, I am driven to use my beloved collections of materials, cutting them up and collaging them into new and resolved compositions.'
Mandy believes having interesting materials that inspire is the key to creating a successful textile collage. If you can't source old things easily, then look to charity shops. Once you have your materials, unpick, overdye, cut or tear fabrics into different sizes and mix them up in a basket. Then using a firm foundation such as a piece of old blanket or quilt, work instinctively as you pin a selection of pieces from the basket. Once you have something that's appealing, leave for 24 hours and then return to view the composition with fresh eyes.
Hand stitching also makes collage work more personal, so Mandy encourages artists to develop stitch samples and then only work with stitches they really love. A limited repertoire of simple stitches can be used in so many ways.
Mandy Pattullo is based in rural Northumberland, UK. In addition to exhibiting her work, she teaches textile workshops at The Hearth and throughout the UK and France. Mandy has written two books: Textile Collage (2016) and Textiles Transformed (2020).
Artist website: mandypattullo.co.uk/
Facebook: facebook.com/MandyPattulloTextileArtist
Instagram: @mandypattullo
Marcia Bennett-Male
Collage is a great technique for artists wanting to both celebrate and rage against life events. Each collage element can hold its own symbolic meaning, and then collectively, raise voice to emotions that are otherwise hard to express.
UK artist Marcia Bennett-Male uses textile collage as her 'art therapy'. Her works examine depression, suicide, self-harm and self-hatred as she navigates the world as a Black female. Her art also depicts important historical women and goddesses of myth and legend.
'I started my textile pieces in 2004 to aid my severe depression. I was going through therapy and on medication before I even knew what art therapy was. I just knew sewing helped. After a long hiatus, I again picked up a needle in 2019 to help me deal with perimenopause, Black Lives Matter and other world events crashing into my life. I use my doll-like figures like ventriloquists' dummies to comment on my life and surroundings.'
A stone carver by trade, Marcia enjoys the speed and colours of her collage technique. Sculpting stone is infinitely slower and more intricate than using a needle and thread. And the colours of her beloved felts provide a rich contrast to neutral stone hues.
Marcia starts with a thumbnail sketch, working up to a final drawing. She then makes a working tracing of the drawing and then templates of the individual pieces. Cut fabric pieces are then layered sequentially like a complicated puzzle. Marcia describes her process as 'choreography'.
'I predominantly work with felt and an African fabric called Dutch wax fabric. It's a distinct batik-like fabric that uses melted wax for designs. I use it as a shorthand to denote my Black heritage and background. I also use upholstery chintz to denote I was born and live in England. I like how the two fabrics bounce off each other.'
Marcia also adds treasures from her mother's button box that she inherited for her figure's eyes and breasts. Other unique embellishments include netting, lace, beadwork, leather, and even metal washers.
Once the collage pieces are in place, the hand stitching begins. Marcia prefers using six-stranded cotton embroidery threads, splitting them when necessary to help the colours pop, and to accommodate different fabric weights. She also deliberately uses a range of simple stitches: back, blanket, chain and couching. Despite completing 'O' and 'A' levels in embroidery at secondary school and studying theatre wardrobe at the Wimbledon School of Art, Marcia believes less is more.
'I even studied ecclesiastical embroidery, and I did use elaborate stitches when I started. But they slowed me down. So instead, I turned to the Asafo flag makers of Ghana, Africa, for inspiration of style and execution of work.'
In terms of advice for exploring collage, Marcia recommends working with felt. It's easy to manipulate and cut, it doesn't fray much, and it comes in many colours. She also suggests getting comfortable with playing with composition, pattern and colour, and then start to introduce other fabrics and haberdashery for embellishment.
Marcia Bennett-Male is an artist working in both textiles and stone, and is based in London, UK. She was interviewed in Embroidery magazine (January/February 2022) and staged a solo gallery show at the Knitting & Stitching Shows in London and Harrogate in 2022. Her work sells in the UK and internationally, including to Hollywood actor Chiwetel Ejiofor, who owns two of her artworks.
Artist website: mbennettmale.co.uk
Instagram: @marciabennettmaletextile
Cas Holmes
Cas Holmes describes her work as 'painting with cloth', combining textiles and stitch with painting and drawing. Her processes and ideas are interconnected throughout her work, which largely uses reclaimed cloth, paper and found materials.
Driven by an innate love of textiles, painting and drawing, Cas sees her work as sitting between fine art painting and stitch craft. Her references come from the everyday world, and the visual and physical connection between her work and the landscape is essential.
'Fabric provides one of the most versatile surfaces for manipulation. When combined with found materials and mixed media such as paint and dye, the substrate textiles allow surfaces to take up new dimensions, being reformed and transformed.'
Cas is especially interested in her immediate surroundings and exploring the processes of change. She also draws inspiration from physical experiences, situations and memory of place. Carrying a small portable art kit allows Cas to capture things of interest in her garden or while travelling. She makes quick drawings, records notes and stores images, much like a diary, marking her progress.
Most projects start with a limited number of found or gifted materials. Cas believes limiting her resources or time can lead to unexpected outcomes. She'll then make a series of quick small test collages by pinning or glueing things together, and then she chooses the best samples to explore further. Cas also enjoys working into surfaces with brushes and mark-making tools in a freehand fashion, as well as altering cloth and paper with paint or dye.
'The depth and tactility of textiles and their manipulation provides a whole new dimension to the surface. This is particularly useful when I'm trying to portray the shapes and forms we see in landscapes as they unfurl around us.'
When asked for advice on exploring textile collage, Cas stresses the importance of experimenting with both materials and processes. Make a list of what is important to you, such as colour, mark-making or texture, and then use that list to create multiple samples. The process does not need to be exact. Also set simple goals to explore, such as seeing how a stencil and acrylic paint work on different fabric surfaces. Then once you find a technique or material you like, you can explore it yet further.
Cas Holmes is based in Kent, UK. She exhibits her work internationally, including the Sevenoaks Kaleidoscope Gallery (2022-23, UK) and the Barony Centre –Craft Town Scotland (2023). Cas also teaches internationally, and she has written several books, including Embroidering the Everyday: Found, Stitch and Paint (2021).
Artist website: casholmes.wordpress.com
Facebook: facebook.com/casholmestextiles
Instagram: @casholmestextiles
Anne Brooke
Inspired by a love for working with paper and mixed media, and an admiration for paper collage artist Elaine Hughes, Anne Brooke began to experiment with a mix of paper, fabric and stitch. Anne initially worked wholly in paper with machine embroidery, but over time, she has incorporated printing, linocut stamps and fabrics.
Anne's works revolve around a love of drawing, paper and observing nature's treasures. And her inspiration comes from simply taking a step out the front door. As she wanders, she collects, draws and photographs the various 'overlooked treasures' found along the way.
'Paper is an ideal place to start with collage work. You're more likely to take risks and not worry as much about getting things wrong. It's also helpful to look at other artists' works and then try to put your own twist on their approaches. Find out what you are drawn to, and then be patient and stay open to incorporating new ideas.'
Anne's sketchbooks are her first port of call for developing her ideas. She then gathers a collection of papers based on a colour theme. Wallpaper, old book papers, postcards, envelopes and other recycled ephemera help to build her collage base. She enjoys knowing the materials she uses have been on journeys of their own before landing in her collection. Maps are also often included to represent a journey, as well as vintage fabrics and lace to add a tactile quality.
After playing around with the composition, she'll add printed and hand-drawn elements. Finally, hand stitching using hand-dyed threads and other embellishments are added to create a relief effect that brings the whole work to life.
Anne Brooke is a textile artist and tutor based in Brighouse, West Yorkshire (UK). Stitching has been a major part of Anne's life for over a decade, and in 2020, she set herself a challenge to stitch each week. That led to her launching several online global stitching projects and challenges, including #52tagshannemade.
Artist website: annebrooke.co.uk
Facebook: facebook.com/hannemade
Instagram: @hannemadebyanne
Barbara Shaw
When viewing Barbara Shaw's work from a distance, you'd think it was an Impressionist painting. But when you look more closely, instead of layered paints, you'll discover hundreds of tiny fabric scraps layered atop one another to create glorious shapes and colours.
Most of Barbara's work starts with some sort of visual inspiration: something seen or a special piece of fabric that suggests an image. She especially loves recreating buildings of all shapes and styles. Black-and-white beamed houses have held particular interest of late, but she's equally happy interpreting bricks, wood and thatch.
Barbara's urge to create is so strong that she avoids using a sketchbook. She instead dives straight into designing, grabbing various fabric scraps of different colours and textures from her very large collection. Then she starts cutting small pieces and pinning them together one by one on a fabric background. Much as a painter builds colour and texture, Barbara builds her composition scrap upon scrap. Once pleased with the overall composition, all the bits of fabric are hand stitched into place with a running stitch.
'Hand stitching gives me control over how tightly or loosely I pull the thread so the different weights and textures of the fabrics I use aren't crushed. I use a grey thread, and the knots and thread become part of the work.'
Despite not using a sketchbook, Barbara still researches her subjects, often using photographs as a guide to help measure proportions. In her mind, she carefully notes the colours and details of a subject's shape and character. Then she turns to her incredible fabric stash, which includes printed cottons, batiks, silk, lace, chiffon, organza, beaded fabric and sparkly pieces. Many of her fabrics are recycled, and she encourages beginning artists to also use old textiles.
'Textile collage allows you to use waste scraps to experiment, and if you don't like the end result, it can be discarded without worry about what you spent. Start with a simple colour palette and see if you enjoy the process of layering, pinning and hand stitching. With practice, you'll learn what works for you and develop your own artistic voice.'
Barbara also suggests when finishing a collage, artists should ask themselves: 'Is this the best I can do, and does it say what I want it to say?' This is one of the best ways to develop your own authentic style.
Barbara Shaw is based in Herefordshire, UK. She has been artist-in-residence at two National Trust properties (Chastleton House and Claydon House), and her work has been exhibited in several UK museums, including the Oxford Museum of Natural History. Barbara appeared in the BBC's Junk Rescue show (2019), which led to taking part in the BBC Summer Social where she taught over 400 children to create textile collages.
Artist website: artintextiles.co.uk
Facebook: facebook.com/artintextiles
Instagram: @art_in_textiles
Deborah Boschert
The best part of the collage process for Deborah Boschert is the opportunity to explore how materials, shapes, colours and patterns interact. Her art quilts feature layers of fabric, paint and stitch that create remarkable texture and dimension. Added symbolism, including houses, leaves, ladders and bowls, allows Deborah to share her unique personal narratives.
'My symbols serve as anchors for my work, and they come from significant personal experiences. For example, my house quilts were made during a time when my husband and I were moving around a lot. But I purposely feature symbols that are simple and spare, so viewers can create their own meanings from their own experiences. They don't have to know what my original intent was to be able to engage with my work.'
When inspiration hits, Deborah first sets parameters for a work related to its size, colour palette or theme. She then starts sketching simple and small compositions, usually with a black pen, none of which offer specifics in terms of size or colour.
Once a design feels right, Deborah gathers a 'fabric palette', which includes a variety of commercial prints and fabrics she's printed with original surface design. Those fabrics are scrunched, folded, sliced, arranged and pinned on her design wall in the general arrangement of the sketched composition.
After everything is in place, Deborah finesses each shape and fuses all the fabrics to a batting. She then takes a picture of the fabric layer and prints several copies on which she doodles and auditions various stitch designs. After stitch plans are finalised, hand embroidery happens first, and when complete, a fabric backing is fused to the quilt, and the quilt is finished with machine stitching.
Deborah teaches workshops across the globe, and her best advice to students is to explore, experiment and see what happens. Developing a unique creative voice is a process that takes intention and patience. Think about what you want to express: which visual elements, materials and techniques work for you.
Another good tip is to set parameters for a project ahead of time. Maybe limit the size, the colour palette or techniques to help you figure out your best options. Limitations can help eliminate the paralysis of choice and keep you moving forward.
Deborah Boschert is based in Dallas, TX (US). Her award-winning quilts have been exhibited in quilt shows and art galleries internationally. She has appeared on Quilting Arts TV and The Quilt Show, and she authored Art Quilt Collage: A Creative Journey in Fabric, Paint and Stitch (2016). Deborah also teaches across the globe, and she serves on the Studio Art Quilt Association (SAQA) board.
Artist website: deborahsstudio.com
Facebook: facebook.com/DeborahBoschertArtist
Instagram: @deborahboschert
If you buy books linked to our site, we may earn a commission from Bookshop.org, whose fees support independent bookshops.
Want to explore the possibilities of working with photographs in stitch collage? Check out Gregory Wilkins's amazing textile collages.