The versatility of textile collage
---
… and how to develop your authentic style
If you delve into the world of textiles, there's so much to discover.
First you might return to the craft activities you enjoyed as a child. Perhaps it was cross stitch, embroidery or patchwork?
Then you begin to research other techniques; appliqué, beadwork, collage, felting, quilting or weaving. It's so easy to become immersed in all of the possibilities.
You start collecting fabrics and threads, hoops and needles, dyes and paints, artist books and kits. You have a go at some techniques. Others are left on the shelf to try later. You're excited but now you've got so many options that you don't know what to do next. You've dipped into lots of different processes but you want to make work that is personal to you. You don't know where to start.
Is this you? Do you often wonder how to develop your own authentic style?
Maybe textile collage is the right technique to help you achieve this. You can mould it to suit your personality and passions. It's so very versatile, as you'll discover in this article.
From working with treasured textiles, your favourite fabrics and your preferred stitches, to the process of constructing artwork intuitively and mindfully, textile collage is a great way to develop your own artistic voice.
You can start small, piecing together materials you already have at home. Use collage to explore what draws you to textile art. Find out which part of the process gives you the most joy (often you'll find that this will build on a technique or theme that you have always had a passion for).
From there, you'll start to feel some authenticity growing in your work. You'll be able to make work that is truly your own.
Mandy Pattullo
Mandy Pattullo is known for her collages of recycled vintage textiles embellished with stitch and appliqué, finding new beauty in aged and worn fabrics. Her book 'Textile Collage' (Batsford) was published in 2016 and she has a new book coming out in Autumn 2020, called 'Textiles Transformed'.
A passion for scrapbooks and patchwork
Mandy made scrapbooks with her grandmother when she was young. She still collects tickets, images, postcards, fabric swatches and other ephemera today. She's always loved patchwork, and it was embracing the common features of paper collage and fabric patchwork that led her to textile collage.
Mandy patches and layers up materials from many different sources. She describes collage as liberating, "arranging things to explore the juxtaposition of colour, tone and pattern"
The authenticity and integrity of her work comes from her careful sourcing of interesting fabrics, most of them old or handed on to her. These fabrics all hold their own story, often in the evidence of wear and tear, staining and use. She transforms them by mixing them up.
"I am a collector, driven to use my beloved collections of materials, to cut them up and collage them into new and resolved compositions."
Quilt heritage
When Mandy stopped teaching at art college over a decade ago, she rediscovered patching and collaging, using hand stitch and old, recycled materials including old quilts from the North, which are now an integral part of her visual language.
"Quilts are collages in themselves but as I cut them up and unpick them I feel a connection with the previous maker. I put my own mark on them by rearranging the pieces and decorating the surface with stitches."
Inspirational source materials
Rather than working to a theme or a brief, Mandy is guided by the fabric itself. At the start of a project, the fabric pieces jostle next to each other, revealing interesting colour combinations. Sometimes she finds a piece of old needlepoint or embroidery to use. Or she transforms an interesting garment through collage and stitch. A favourite technique is to work small, making fabric books.
Textile collage, your own way
Mandy suggests a search for interesting materials that inspire you; source recycled items and look in charity shops. Unpick, over-dye, cut or tear your fabrics into different sizes and mix them up in a basket.
Then choose a firm foundation fabric like a piece of old blanket, quilt or wool felt. Pin a selection of pieces, leave for a while, then return to it later with fresh eyes. Work instinctively. Use surface hand stitch to make it personal. Make samples first to find out your favourite stitches.
Cas Holmes
Cas Holmes describes her work as 'painting with cloth', combining textiles and stitch with painting and drawing. Her processes and ideas are interconnected throughout her work, which uses reclaimed cloth, paper and found materials. Cas Holmes' fourth book 'Textile Landscape: Painting with Cloth in Mixed Media' was released by Batsford in September 2018.
Inspired by the technique itself
Cas has found that fabric provides one of the most versatile surfaces for manipulation. She loves to use found materials in combination with mixed media, such as paint and dye. And when combined with stitch, the substrate textiles allow for surfaces to take up new dimensions, being reformed and transformed.
Fine art, or craft?
Cas is driven by an innate love of textiles, painting and drawing. Her first works were on paper, then she began to explore the use of stitch and cloth. She sees her work as sitting in-between Fine Art painting and stitch-'craft'.
Her references are drawn from the everyday world, but the surface techniques, substrate materials and ideas behind her work are all viewed as equally important. The visual and physical connection between her work and the landscape is essential to her:
"The depth and tactility of textiles and the manipulation of materials provides another dimension to the surface. This is particularly useful when I'm trying to portray the shapes and forms we see in the landscape as it unfolds around us."
Surroundings spark ideas
Cas is interested in her immediate surroundings and exploring the processes of change. She also draws inspiration from physical experiences, situations and 'memory of place'.
She usually starts with a limited number of found or gifted materials and her pieces are not designed or planned in a formal way. Creating work with limitations on resources or time can lead to unexpected outcomes.
Carrying a small portable art kit allows Cas to capture things of interest in the garden or on while travelling. She makes quick drawings, records notes and stores images, almost like a diary, marking progress.
Find your own style
Cas suggests noting down your ideas, to create a dialogue between ideas, material and process.
Sampling and testing will help you to experiment. List what is important to you; perhaps it's the colour, mark-making, texture or surface pattern. Refer to your list and create samples.
Test pieces are like a 'warm up' exercise. The process does not need to be exact. Cas often works into surfaces freehand with brushes and mark-making tools. Try altering cloth and paper with paint or dye. Set simple goals, like testing stencils with acrylic paint on different plain cloth surfaces. Or make a series of small test collages quickly, by pinning or gluing, and then choose the best ones to explore further.
Cas advises being selective. Restrict the elements you use. For example, choose just a few items and use them across two or three collages.
Her final tip is a common-sense one; make sure you follow health and safety guidelines. Check where your materials came from, especially if from 'found sources', and always read the labels on any new product.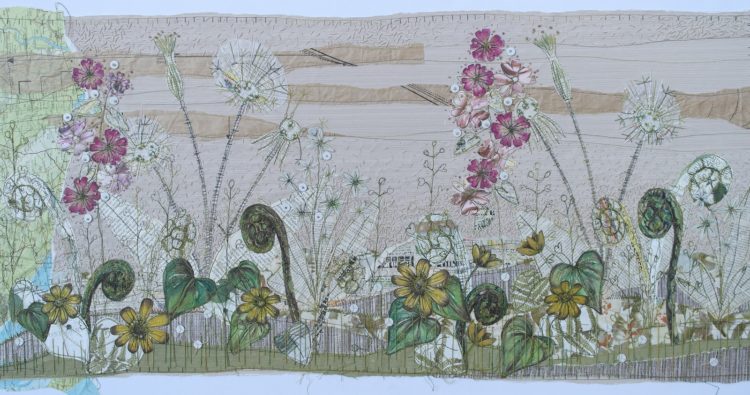 Anne Brooke
Anne Brooke creates stitched work that revolves around a love of drawing, paper and observing nature's treasures. Her inspiration comes from simply taking a step out of the front door, with her works becoming an illustration of her 'Textile Wanderings'.
Using paper
Inspired by the work of paper collage artist Elaine Hughes, and having always loved using paper and mixed media, Anne began to experiment with a mix of paper, fabric and stitch.
Her work records the things she sees on a journey or a walk, in particular plants and flowers. Her sketchbooks are the first port of call for developing ideas as she loves to draw.
Anne uses mainly re-cycled materials that have been on a journey, too. She chooses wallpaper, old book papers, paper ephemera, postcards and envelopes for the bases of her collages. She likes to incorporate vintage fabric and lace to add a beautiful, tactile quality.
Her stitched collages begin life as a collection of paper based on a colour theme. She plays around with the composition, incorporating printing and hand-drawn elements. With the addition of hand stitching, fabric and embellishments, her works are given a relief effect, making them come to life.
Moving into 3D
Initially Anne worked wholly in paper with machine embroidery. But over time she has incorporated printing, lino cut stamps and fabrics. Layers of vintage lace and texture give additional texture to her work.
She started off creating stitched collage pictures, but this has developed to include three-dimensional vase wraps, boxes, embroidered postcards and jewellery. Recently she has been working on the journey element within her work, using vintage postcards as a base for her collages.
Step out of the front door
Anne's work starts with a wandering. She collects things to draw and carries a camera to record things she can't bring home.
She starts by gathering papers and fabric together, according to her chosen colour theme. Her threads are hand-dyed, to blend in perfectly. She loves to use maps to represent a journey. She spends time playing with paper layering, creating cut outs, stamping, adding vintage fabrics scraps and stitching, until a piece begins to come together.
Start with paper collage
Anne recommends paper as an ideal place to start, as you're more likely to take risks and not worry as much about it going wrong.
Look at other artist's work but always try and put your own twist on something; be it using your favourite colours or adding a familiar technique or theme.
Be patient. Find out what you are drawn to. Stick with what you like best, but stay open to incorporating new ideas.
Barbara Shaw
Barbara Shaw is known for her exquisite impressionist 'paintings', made entirely with scraps of fabric handstitched together. She exhibits regularly in the UK and enjoys sharing her process through short videos on social media.
Impressionism with fabric scraps
Barbara is driven by a spontaneous desire to depict a subject in a piece of art. She revels in the wide variety of tactile textures and colourful materials she uses to create her work.
This urge to create is so strong that she avoids sketch books. Instead she often dives straight into the design, selecting fabric scraps, then pinning, cutting and shaping by eye as the piece progresses, like building the layers of an oil painting. The scraps are hand-stitched together making an artwork with texture, energy, movement and rawness.
Her style is Impressionistic with lines, marks and shapes suggesting contours and detail. She uses fabric scraps as an artist would daub paint, resulting in an image that from a distance looks like a painting, yet close-up all the scraps and detail of the construction can be seen.
Refining the technique
Barbara originally glued scraps and ribbons onto paper to make simple landscapes. These days her technique is refined. She cuts carefully chosen small pieces of fabric and layers them on a background fabric using running stitch to attach them.
Her fabric stash includes printed cottons, Batiks, silk, lace, chiffon, organza, beaded fabric and sparkly pieces, allowing her to create highly complex studies. Recently she has experimented with a series of hands and dancers. Her recent houses and interiors artworks reflect the lockdown period when many of us have been confined to home.
The aim is to grasp the character
Choosing a new project can be quite random for Barbara; perhaps a piece of fabric reminds her of something. Sometimes a work is more planned and she seeks out appropriate materials, takes reference photographs, and examines and researches the subject.
In her mind she carefully notes the colours and details of the subject's shapes or character. Then she draws on these memories to produce an authentic and coherent interpretation, an essence of the subject, in textiles.
Facing the fear of getting started
Barbara admits that beginners can be deterred by a blank canvas or by the worry of making expensive mistakes. However, with textile collage you can use waste scraps, often from recycled materials. Then if you don't like the end result it can be discarded without a major outlay.
She suggests you start by experimenting with a simple palette of colours and textures. See if you enjoy the process of pinning, layering and hand-stitching.
The way you express yourself is unique; that includes choice of subject, colour, pattern and shape. Be confident that your view of the world is valid, so there's no need to try and copy someone else's.
And to know if a picture is finished, ask yourself 'Is this the best I can do?' and 'Does it say what I want it to say?'
With practice you'll learn what works for you. In this way, you'll develop your own authentic, personal voice.
Deborah Boschert
Deborah Boschert's art quilts and fiber collages incorporate personal symbols like houses, leaves, stones, bowls, ladders and handwriting. Her work has been exhibited all over the world and her book 'Art Quilt Collage: A Creative Journey in Fabric, Paint and Stitch' was published in 2016.
Complex simplicity
The collage process lets Deborah explore how materials, shapes, colours and patterns relate to each other. Her work is all about layering fabric, paint and stitching, using symbols as a personal narrative.
Her quilts are complex with numerous elements and interesting details that can only be appreciated upon close viewing. The texture provided by hand stitch and machine quilting adds complexity and dimension to her work.
She prefers to let go of precise measurements, technical construction methods and meticulous skills, in order to simplify her process. This is not to suggest that collage is easy, or that she doesn't value skilled execution of process. For Deborah, simplifying her methods allows a freedom of choice that works for her.
The evolution of quilting
Deborah first started by piecing quilts from patterns. Today she no longer uses these formal methods, nor embellishes with beads and sequins. She works in an intuitive, unconstrained way. Some of her compositions and imagery choices have changed and developed over time, but there are clear similarities in her works; the idea of constructing a personal narrative is woven through all of her works.
Recording brief moments
On a trip to Chicago in January, Deborah was on a city bus with her family. She noticed some bushes with bare, bright red branches. And more in the next block. The images were fleeting, but they left an impression, reminding her of brief moments of brightness in life. The image of the bare, red branch became her quilt 'Glimpse'.
Tiny ideas and observations like these make their way into simple thumbnail sketches. Then Deborah gathers some fabric and begins to build a colour palette, and before long a new project starts to become reality.
Quilt collage tips
Explore. Experiment. See what happens.
Developing a unique creative voice is a process that takes intention and patience. Think about what you want to express, which visual elements you find exciting and which materials and techniques work for you.
"If I can maximize all that, then I've set myself up to create my best work."
Deborah shares that it's equally as important to know what you don't like.
Another really great tip is to set yourself parameters for a particular project. For instance limit size, colour palette or techniques, or set yourself a deadline, to help you figure out your best options. This can eliminate paralysis of choice and keep you moving toward finishing the work.
So what's stopping you?
We've found that textile collage covers a wide range of work, which it what makes it so is versatile. There really is something for everyone.
All of our featured artists produce very different work, as you've seen. But they do have some things in common. Their work stems from an inner passion, whether it is for a particular subject or theme, a preferred style or technique, or an interest in the juxtaposition of shapes, elements or colours.
What's really interesting is that when we asked our five artists for tips for anyone wanting to try textile collage (and use it to develop their own authentic voice for their artwork), they all came up with the same answer.
They encourage you to experiment. To find out what you're most passionate about.
It might be a stitch technique, a subject or theme, a type of fabric or paper, a colour combination, or a particular way of working.
Find out what excites you, what gets you 'into the zone'. Set limitations to help screen out what you do and don't like. Then use those ideas to make your work your own.
So why not give it a go? See what materials you've got around the house, start small and make some quick sample pieces. You'll soon start to discover what is important to you, and then you can begin to develop your own style. Good luck!
Are you inspired to give this versatile technique a go? Then let us know using the buttons below.