Ali Ferguson: Working with a mentor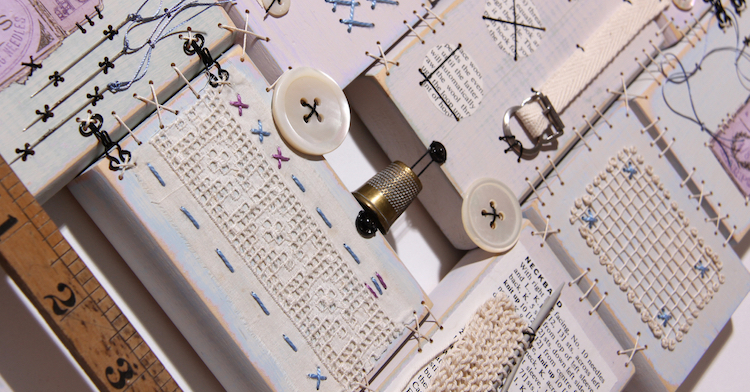 ---
Ali Ferguson is a maker, artist and teacher working from The Purple Thread Shed, her studio in Roslin near Edinburgh.
She gained her degree in Textile Design at The Scottish College Of Textiles (now Herriot Watt University) in the Scottish Borders graduating in 1982. She went on to run her own successful knitwear business for several years before taking a change of direction and becoming involved in adult education.
A strong desire to return to textiles in 2008 motivated Ali to undertake a number of courses at Edinburgh College of Art and Edinburgh's Telford College. She became a full-time artist in 2012. She is an exhibiting member of Edge – textile artists, Scotland.
In this article, the third in our Creative Development series, Ali explains why she wanted a mentor, the process of finding and working with her and the benefits to her work and life in general.
The decision to ask for help
Ali Ferguson: I hope that by sharing my own very positive experiences of working with a mentor it may encourage readers to consider making this part of their own creative practice. I explain the reasons behind looking for help, why I chose to work with contemporary craft maker Jennifer Collier and how I found this experience beneficial in helping me expand my creative practice into online and retail selling.
"I design and create contemporary stitched textile pieces for sale, exhibition and commission as well as running a programme of workshops."
That was the wording on my website. The only problem was that when I actually took a step back and reflected on my creative practice earlier this year, I realised that I seemed to have lost direction somewhere along the way. I was spending way more time teaching & developing workshops than creating anything! While this was providing much of my income (obviously very important as a full time artist), I was beginning to lose confidence in the other areas of my practice and was feeling frustrated at the lack of time spent creating.
On talking things through with my family, I decided to move out of my comfort zone by shifting my focus away from teaching and instead concentrating on developing the "selling" side of my practice.
I already had some really exciting projects and exhibiting opportunities lined up for the year so it felt like the time was right. Making this decision was exciting, liberating and terrifying all at once. Whilst I have been successful over the past few years with selling my work at exhibitions, I have little experience of selling through galleries or online and I realised I didn't really know where to begin, so I decided to ask for help.
Choosing a mentor
Working with Jennifer Collier was my obvious choice. She has more than 16 years experience as a maker, as well as running and curating her own gallery, Unit Twelve. She has been published numerous times in books and magazines and exhibits nationally and internationally. I have long been an admirer of her work and see her as a leading figure in her own field of contemporary craft.
Also while we had never properly met, we already had a working relationship:
The first two of my "Patchwood Samplers" range were selected for Unit Twelve's Open Contemporary Craft exhibition in 2013 and, on the back of this, Jennifer had invited me to be one of the contributing artists for her "Meticulous Stitchers" exhibition and to hold a workshop this summer. This invitation had been a great boost to my confidence!
I realised that it would be a wonderful opportunity to work with someone whose opinion I really respected and who already was familiar with, and appreciated, my own work.
So when I saw that her website offers an invitation to "pick her brains over a cup of tea" I really couldn't refuse!
Preparation
On contacting Jennifer we arranged a date for me to visit her at her gallery for a two hour mentoring session. As this would involve around ten hours travelling, I spent the next two weeks preparing as I wanted to get the most from my session.
Taking some time to get my rather confused thoughts mapped out onto paper turned out to be a really valuable exercise in itself.
It allowed me to really look at my practice as a whole – to consider my current position and think about how I wanted to move forward.
I realised that I wished to continue working in three areas:
as a "textile artist" creating work for exhibition
as a "maker" of contemporary craft for selling
and as a textile workshop teacher.
The trick would be maintaining a balance that brought in enough income while also keeping me creatively challenged. I realised that out of the list above, where I really needed help was in developing a more commercial range of work for selling online and through galleries.
One of the very positive things to come out of this exercise was that I was able to see how much I had actually achieved over the previous three years and how far I had come rather than focussing on my feelings of frustration.
On the down side I also saw that by mainly using my website and Facebook page to promote my workshops, I hadn't kept the sections showing my personal artwork up to date. My public face was therefore rather confused and not at all representative of how I actually wanted to present myself.
All of this enabled me to get a clearer picture of what I wanted to achieve from my session with Jennifer and allowed me to draw up a list of the things that I most immediately wanted help with;
To develop a cohesive and recognisable range of work for selling.
Selling – online and through galleries – where & how?
Pricing
A clear artist statement – written and verbal.
Streamlining my website
To leave with focus and direction and a clear set of goals.
The session
I was so excited to finally arrive at Unit Twelve and walk through 'the green door" – actually visiting the gallery was a bit of a pilgrimage in itself. I immediately felt that I was amongst friends as I Jennifer put a welcome cup of tea in my hand and I was given time to look around the gallery and studios.
My mentoring session took place round the "kitchen table". The informal nature of the meeting immediately put me at ease and we covered a huge amount of ground in two hours fuelled by tea and cake!
Jennifer had clearly been through every bit of my website and thoughtfully considered all aspects of my work. She was very clear and hugely encouraging in advising me to focus on my "Patchwood Samplers" – my hand-stitched wooden pieces. She absolutely saw the potential in developing these as a range for selling and helped me with some great ideas for taking them forward.
We worked our way through each of my bullet points with Jennifer giving honest and constructive advice. She had great ideas for organising my website and confirmed that it was time to "lose" some of the older content while adding vital information such as a Press Pages and some of my commissioned work.
She also led me through the thorny issue of retail pricing, helping me to set prices that reflect the number of hours spent making. I know for sure that I wouldn't have had the confidence to do this on my own.
I went into the session with a confused portfolio, a bit of a dream and a huge amount of self-doubt. With Jennifer's help I left feeling confident, focussed and with a clear plan of action. At the same time, I was under no illusion that it would all be easy.
FOLLOWING ON
I am now seven months down the line and feel that I have made some really good progress although there have definitely been highs and lows. One of the highs came almost immediately after my mentoring session when I was asked to be one of the contributing artists in the TextileArtist 3DMixed Media Textile Art Book. This seemed like a real confirmation that I was on the right track.
In addition to the advice and very practical help that I received from Jennifer, the emotional boost has been huge. To know that someone, who is so well respected in the field of contemporary craft, genuinely believes in my work is beyond value. It is this that keeps me going when I get overwhelmed and doubt creeps in.
I remain in contact with Jennifer – the odd email with a quick question or for reassurance when I am going through a wobbly patch. I have several emails telling me simply to "keep the faith". I see this relationship as being an on-going part of my professional practice.
I have spent the last few months developing a range of work that is commercial and that I am really proud of. I have very recently opened an online shop with Madebyhandonline– that was a real high when my application was accepted.
I have made a new website and designed new promotional material. I am also just starting to submit to galleries. That can be one of the lows – it is really hard not to take it personally when your work is rejected!
Rather ironically, now that I have shifted the focus away from my workshops in my studio, they are not only still working well but I am also being asked to teach in some wonderful venues around the country. I have workshops lined up for 2016 at Needle & Thread, Unit Twelve and Indigo Moon
To enable me to keep the balance between each area within my creative practice I have worked out that I wish to work with only a small number of galleries. As my first collection of work is being delivered to The Found Gallery, Dunbar at the end of this month, this all seems very achievable. However some days it doesn't and that's when a short email telling me to "keep the faith" makes all the difference!
For more information visit: www.aliferguson.co.uk
If you've enjoyed this interview why not share it with your friends on Facebook using the button below?