Stunning stitched self-portraits
---
If you're aiming to make deeply personal and authentic artwork, perhaps nothing is more individual and expressive than a self-portrait.
But self-portraits can be a challenge. Separating opinions about the value of the work from thoughts about the way you look in the work can be tricky.
There are potentially great rewards too. A self-portrait can lead to self-discovery. Or it can be used to capture a cherished memory. And it's a great way to make use of an easily accessible model!
So how do textile artists approach self-portraits?
---
We recently reached out to four textile artists who have created self-portraits in their own unique ways, to find out about their motivations, tips and techniques.
We asked what drew them to self-portraiture, and how they developed and created their work. We wanted to find out whether they based their work around a love of particular techniques or materials, or if they were inspired by a specific theme or special story.
We wondered how it felt to use themselves as the subject for their artwork. Did it made the project easier or more difficult? Did it feel more authentic? Or did it help them connect more deeply with the story behind their work?
Read on for insights, inspiration and ideas from these four fabulous artists. Perhaps it will encourage you to create your own self-portrait in stitch?
---
Nneka Jones
Growing up in Trinidad and Tobago had a huge influence on Nneka Jones. Her love of vibrant colour, texture and detail is integral to everything she makes.
Nneka was awarded a BFA degree at the University of Tampa in 2020. She has received the Roddy Brownlee Reed Award of Artistic Excellence (2020) and the Willian O'Dowd Memorial Emerging Artist Award (2019) at the Gasparilla Festival of Arts, Tampa, Florida.
Nneka uses her art to speak out against social injustices and political issues and she was recently invited to produce a cover design for 'The New American Revolution' special issue (Aug/Sept 2020) of TIME Magazine.
Website: artyouhungry.com
Instagram: @artyouhungry
Painting without paint
Nneka Jones: While taking an experimental painting class at the University of Tampa I discovered a textile artist called Cayce Zavaglia who produced realistic embroidered portraits. I was mesmerised by her ability to capture the essence of the person, so much so that the artwork could almost be mistaken for a photograph or hyper-realistic painting!
The class emphasised a creative process that involved thinking beyond holding a paintbrush. We had to create a painting, without using paint.
I knew that I wanted to complete a piece as good as Cayce's but I had zero experience in embroidery. I decided to use an image of myself as I was most familiar with my facial features. I'd previously completed a self-portrait using paint that I was happy with, so I felt comfortable with the idea of using my own image (and of course, I didn't want to offend anyone if the final image did not turn out quite right).
I knew how risky it already was, in switching my medium, so I was basically playing it safe.
Trial and error
The process for developing this hand embroidered portrait involved a lot of trial and error and the freedom of experimentation without barriers. Although I adored Cayce Zavaglia's work, I was unsure of the techniques she used, or her approach to starting these embroidered projects.
So I chose to use my intuition instead.
First I selected an image of myself that I could reference. Then I purchased my first pack of embroidery thread, containing colours that matched the image.
I did not do any research on types of stitches or specific tools. This wasn't because I didn't think I needed to. I wanted to make the process to be as natural as possible. I was thinking, "How can I achieve that level of craftsmanship with my own methods and techniques?"
After gathering my materials and transferring my image to canvas, I made my first stitch. Starting with the eyes, as I always do, I pushed the needle through the canvas.
It took a while to get used to not being able to mix the specific colours but I soon learned how to manipulate the thread, overlapping stitches to create the illusion of a particular tone or colour.
A willing model!
Using myself as the model for my first hand-embroidered portrait brought an ease to the process. It allowed me to fully enjoy the experimental stage because I was not worried about how the subject might feel if it did not look like them. I only had myself to answer to!
As the portrait developed, I not only fell in love with embroidery and the texture of the canvas but I also fell more in love with myself and my facial features as a young black woman. I felt more beautiful by simply by looking at the image.
It was then that I knew I was capable of capturing the essence of a person through embroidery, as I had hoped.
---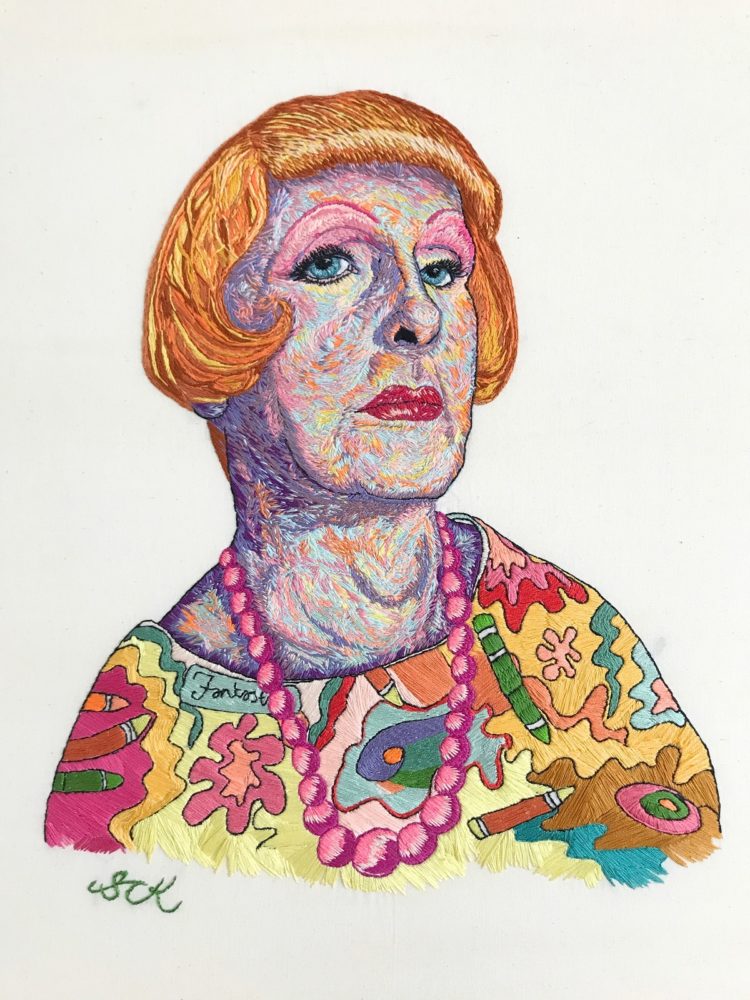 Sorrell Kerrison
Sorrell Kerrison is known for her modern and vibrant portraits in stitch, inspired by the Fauvist movement. Her works are so heavily stitched that they take hundreds of hours to complete. Sorrell's attention to detail and use of colour produces incredibly expressive results.
This year she is one of the finalists in the Hand & Lock Prize for Embroidery. And recently, she explored her personal experiences of pregnancy and the birth process through a series of self-portraits.
Website: www.sorrellkerrison.co.uk/
Instagram: @sorrellck
Capturing motherhood
Sorrell Kerrison: The first self-portrait I created was started when I found out I was pregnant. My body and my relationship with myself was changing. I thought that it would be interesting to work on a portrait of myself to explore this momentous event.
After I gave birth I wanted to make sure that I didn't lose connection with my creative process, so I created three self-portrait based pieces.
One was based on the last photograph that I took of myself in the mirror while I was pregnant. The second was based on one of the first photographs that was taken of my son, asleep on my chest. It captured the peace and calm of those first moments of togetherness. The third was more of a fictional construction. I wanted depict the strange and joyful feelings of creating and bonding with this newborn life, as well as learning to heal physically and emotionally after a traumatic birth.
I felt that creating these artworks would help me compartmentalise the dramatic changes I was experiencing.
Snapshots of time in textiles
I based the portraits around photographs that were taken at specific periods of change from pregnancy to postpartum. Two of the pieces include a multimedia approach, using watercolour pencils to stain portions of the fabric and adding stitch to outline and pick out the details.
The third piece, 'Headless Relief', was done using my regular layered stitching style, yet I approached the design in a more illustrative way. I was inspired by Greek tragedy-style historical works and the statues of Medusa. I wanted to somehow depict my emotive state rather than create a straight-up portrait as I had done before.
These works were all completed two months after I gave birth and were shown at a textile art exhibition at the Modern Eden Gallery in San Francisco USA in November 2019.
Creating an honest depiction
Using myself as the subject matter had its pros and cons. As you know your own face so well, it's hard to be subjective about its depiction; breaking down the figure into shapes, shades and highlights can be really difficult. It's also really hard to know if you are being overly flattering or too denigrating to your own self-image through its artistic creation.
Despite this it helped me to better understand the changes I was going through, physically and emotionally. It became a cathartic expression and a stamp in time for my personal journey.
Pregnancy and birth is so fascinating, it affects every area of your life. It's a watershed moment that needs to be marked with the gravity of the fact that not only a new life has been created through a child, but another new life has been formed as I passed from maiden to motherhood.
---
Juana Gómez
Juana Gómez creates stunning self-portraits based on photographic images printed on to fabric, embroidered with a tactile network of stitches to depict the structure and veins of life, and referencing how the world is structured around us.
Patterns are everywhere, in biological, geological, social and cultural systems; consider the veins of a leaf, the course of a river, the connections within the central nervous system, or the routes of data packets over the internet. Patterns connect us with the world, even when we are not aware of it.
Website: www.juanagomez.com/
Instagram: @juana_gomez_m
Using what you have
Juana Gómez: My first criterion for working with self-portraits was not having to choose another body, and thus work with the one I had.
It was the most difficult decision for me, because I am rather shy and I don't have a good relationship with my body. I have suffered from having large breasts, and often felt that it was a punishment to have been born a woman, so I saw working with my body perhaps as a way to make peace with myself.
I started to work with my body but treated it as if it were an 'other', without attachment or feelings towards it.
But constantly embroidering images of my own body has made me understand many things about myself, about my own history, my physical pains, traumas and inherited diseases.
One of the most beautiful aspects of this work was fully realising that my own body took form inside a womb, and I have embroidered my uterus and ovaries on several occasions as a way to honour that first protective space that contained us. No matter who you are, we have all inhabited a female uterus.
These kinds of thoughts are the paths that my own body has led me down, transmitting its own wisdom to me.
The difficulties of printing on fabric
When I realised that I wanted to combine photos with embroidery, it took me a while to solve the technical problems.
I wanted to enrich my photography with threads. I felt that I was adding a layer of tangible matter, something that is not the same as a drawing or a painting. At the same time, it would make the piece unique and avoid the repetition that digital art can sometimes fall into, by making every piece an individual and unique work, mixing photography with textile art.
My first problem was the printing. Even now, several years later it still is problematic. I don't know if I have solved it completely.
I started by screen-printing the photos, but the end result was lacking the midtones of photography.
I worked with photochemical prints, printing on cotton and silk, and also with sublimation on textiles with a percentage of acrylics.
In all of these processes I encountered problems, particularly with the limitations of size.
Finally, I chose to work with digital printing because I can achieve a good resolution and print on natural materials such as linen and cotton. Also I can work on large canvases, over two metres in length, without problems.
It makes a big difference to be able to work on cotton and linen because I can feel the texture and quality of the material with the tips of my fingers. All my works are hand embroidered and I only use a few different stitches such as satin stitch, running stitch, back stitch and chain stitch.
Choosing the right needles was important; I work with very thin, long needles because I have to embroider for several hours every day. I often develop aches and pains in my elbows and shoulders due to the pressure needed to pierce the fabric over and over again.
Disengaging from the body
For me each photo session is difficult, because I literally have to bear myself completely, which is something I do not like to do. I even tried to create some works where I left my clothes on, but they did not turn out in the same way.
Working with my own body gives me a lot of freedom when creating, as I do not feel the pressure to do something good, bad, nice or pretty. This is just my body and I can do whatever I want with it. I don't have to ask anyone for permission, or meet anyone's expectations, and that has given me a lot of freedom.
I feel that my naked body becomes somewhat asexual. All eroticism is stripped away.
Also by embroidering it I clothe myself and cover myself. I dress myself with what lies beneath our skin; with the veins, arteries and nervous systems inside us that we never get to see. By embroidering these shared structures, and common ancestral organs, I try to lose myself and not be 'me'.
I don't care about being myself. I don't want to be myself. I am simply a body.
I like to show what we are made of, the systems that run throughout our body. Our systems are like roots spreading underground, or like the mycelium tendrils of fungi, making a complex underground network.
Our organs and internal systems follow the same branches structures and patterns found throughout nature. The dynamics of flow that give a river its shape are replicated in the arteries inside is. It shows that we are not separate from nature nor from each other.
That being said, I also work primarily with my skin, which is the largest organ of our body. I use that as a canvas. Our skin separates us from the outside world. It protects our chaotic interior and gives us a unique identity with which we identify ourselves. I pierce that canvas skin thousands of times, to make it transparent, to show the interior that is hidden from us.
---
Sheena Liam
Malaysian-born artist and model Sheena Liam was taught how to embroider by her mother when she was a child. She began revisiting the medium as means of self-expression between periods of travelling and modelling.
She sees both her modelling and her portrait embroidery as ways to use body language in order to express a mood, a moment or a feeling.
Sheena sticks to a monochrome colour palette, embroidering with simple, elegant outlines framed inside an embroidery hoop. Her portraits are full of expression and emotion, giving you a glimpse into the private, everyday world of the subject.
Each image features her signature thread hairstyles that are released from the confines of the hoop, giving fabulous added texture and movement to each pose.
Website: www.timesnewromance.net/
Instagram: @times.new.romance
A model of convenience
Life drawing classes first introduced me to the concept of drawing with models. I realised how easily I could capture emotions and subtle nuances in motion I never was able to.
So when I was looking for references I started using myself, just out of convenience.
It's all about the hair
I started by embroidering my drawings and slowly realised what works and what doesn't.
My process has evolved, especially how I approach the hair, which is what gives my work dimension. This aspect of my work requires careful planning; with certain angles I am unable to embroider the hair realistically.
I use a simple back stitch for outlines. For the hair, the technique varies and I switch between multiple techniques depending on the desired outcome. A lot of times the hair can make or break the piece, so I try to foresee any difficulties while planning my work.
Self-expression through the pose
I actually don't mean for my pieces to be self-portraits directly. However it does add a form of self-expression to my work. From the body language of the pose, to the way I sketch and how I embroider the image on the canvas.
When depicting more than one figure I try to work with multiple models, and not just myself, otherwise I feel that the work lacks emotional draw.
---
Why self-portraiture?
Creating self portraits is a personal journey.
Some of the pieces featured here grew from a love of line drawings and emotive postures, combined with the need for an easily accessible model to work with. Some are more concerned with capturing the essence of self through stitch.
Others seek to explore an emotional moment in time, or the vast and complex networks within the human body.
No matter what first drew them to the process of capturing themselves in stitch, these four textile artists have produced a dazzling array of diverse, personal and inspirational pieces.
Have you ever attempted a self portrait in stitch? Let us know about your process by leaving a comment below.