Reena Makwana: Hoop Magic
---
When Helen Harmes invented the adjustable embroidery hoop back in 1903, it's likely she did not envision the lengths to which stitch work would be taken 117 years later. No longer interested in stitching an alphabet sampler or puppies on tea towels, younger textile artists are turning traditional embroidery techniques on their head.
Reena Makwana is a perfect example. While still relying upon hoop and thread, her remarkable command of colour and chosen subject content result in remarkable little scenes. And because she exhibits her work in the hoops in which they were created, the juxtaposition of the traditional hoop surrounding modern subject matter is a wonderful surprise.
Reena's training in illustration is evident across her small hoop stories. The simplest of stitches capture sentimental, and sometimes comical, moments in everyday living. She especially enjoys documenting the people and buildings she comes across while venturing across London and other UK places.
Reena has been super generous with us in not only sharing her story but also her actual techniques. So, we promise you'll enjoy this read.
Reena is an illustrator and textile artist based in south London. She has a BA in Illustration from Camberwell College of Art & Design (London). She has exhibited her work in many workshops and group shows, including the 'International Contemporary Stitched Art Exhibition' at The Clerkenwell Gallery (London, 2019) and the Brum Zine Fest (Birmingham, 2019).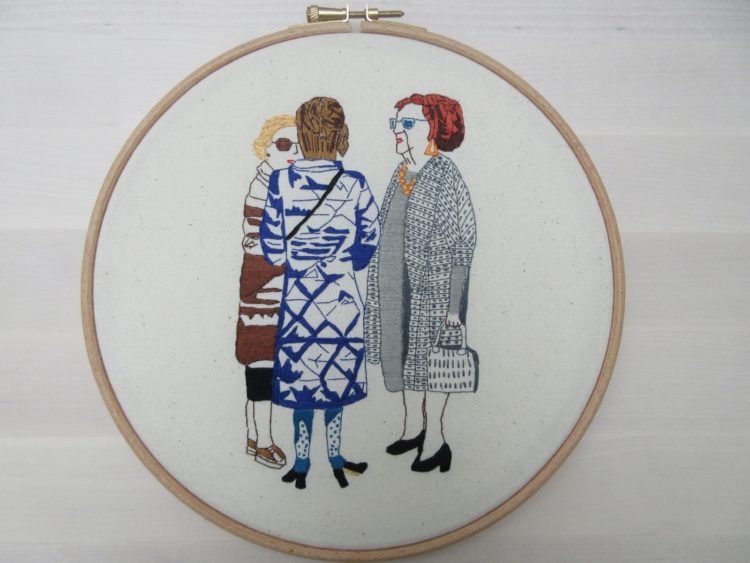 Illustration meets embroidery
TextileArtist.org: What initially attracted you to textiles as a medium? How was your imagination captured?
Reena Makwana: I used to embroider as a child as a hobby. My grandmother used to embroider, and my mum taught me how to sew. When I was at primary school, we worked on a few textile projects with English embroidery techniques. I also loved creating cross-stitch patterns and free-form embroideries of drawings.
I loved drawing, painting and making little books, so I feel my work with textiles is part of the same thing. I've just continued developing as an adult what I started back then.
What or who were your early influences and how has your life/upbringing influenced your work?
I am British-Asian. My mum was born and grew up in Nairobi, Kenya, and my dad was born and grew up in Kampala, Uganda. They came to London in the 1970s. My family is originally from Gujarat, India. I am definitely influenced by the vibrant colours of Indian textiles when I think about my mum's saris!
I also loved looking at picture books, reading stories, animations on children's television, making things and trips to historical buildings and the seaside. I feel these all influenced my work.
What was your route to becoming an artist?
I took textiles for the General Certificate of Secondary Education (GCSE) and A Level, but when I did my foundation at Kingston University, I realised I wanted to work as an illustrator. Still, during my time studying illustration at Camberwell College of Art, I often worked across textiles, print, drawing and book making.
After graduating in 2008, I've worked either full- or part-time as an office or event worker alongside my practice as an illustrator. I organised exhibtions with friends from college under the name 'Nest Gallery' from 2009 to 2013, which also included craft and zine fairs.
Over the past 10 years, I've been lucky enough to work with a variety of independent magazines and organisations creating illustrations of people, places and food.
Using hoop and thread to draw
Tell us about your process from conception to creation
My work always starts with drawing, as a good drawing usually translates into more vivid embroidery. I create my drawings from life itself or photographs I've taken.
I try to capture tones and things like creases in clothing and brickwork in buildings. I also try to introduce pattern on plain blocks of colour to add texture.
I usually use felt tips for drawing. They help me achieve a lot of detail, but they often don't exactly match colours. So, the embroidery allows me to use a more tonal range, especially with things like pastel colours. With embroidery, I can also create something that has more of a 3-dimensional feel.
I then trace the drawing onto tissue paper and pin it to fabric held in an embroidery hoop. I use straight stitch to embroider through the paper and then remove the paper once I've finished the outlines.
I then work with different stitches and colour thread to complete the embroidery. I tend to stick with only three stitches: straight stitch, back stitch and satin stitch. I think they help to create the embroideries to be illustrations in themselves. I also like using cross stitch for architectural images, because it lends itself to a grid system that matches the brickwork or materials on a building.
I like using six skein threads, such as DMC or Anchor cotton thread. And I usually use one thread for the initial drawing on an embroidery and two threads for a thicker line.
I usually buy threads online if I'm certain of a specific colour, but I do like going to haberdasheries or department stores where I can choose the colours I want according to projects.
For my foundation fabrics, I really like using a good quality calico. It has the same feel I get from using cartridge paper to draw on. I feel like my embroideries work well using it and tie into my style as an illustrator. I usually buy fabrics in person at places like William Gee Fabrics, Kingsland Road and Kingston Upon Thames.
Tell us a bit about your chosen techniques and how you use them
As noted earlier, I use straight stitch, back stitch and satin stitch to create my embroideries. I like the idea of 'drawing' on fabric in this way, while keeping it tight in an embroidery hoop.
When working with a hoop, I usually just keep fabric very tight in the embroidery hoop and make sure the screw at the top is as tight as possible. When I feel the fabric loosen and dip, I keep pulling it gently
when sewing.
I do think you need to keep the fabric tight as a drum, because it keeps the stitches neat. It also makes it easier to frame final embroideries flat or simply keep as an object.
Sometimes I also display my work in the same hoops in which they were made. I will reuse hoops when working on projects, but once an embroidery is ready for exhibition or sale, it remains in the frame. I finish the back of the embroideries by trimming excess fabric and then stitching the remaining fabric in a circle. I then pull the thread to gather and pull the fabric inwards. Lastly, I stitch a round piece of felt on the back with my name and date the embroidery was made stitched onto the back.
What currently inspires you?
I live in south London, and I am constantly inspired by the people, community, history and architecture I see when walking around.
I am currently working on a short series of embroideries inspired by my daily commute on the Victoria Line to my morning shift at the British Library. My Victoria Line embroideries explore my interest in how strangers interact in close proximity to each other and the nature of traveling.
I exhibited the first two embroideries of the series with The Society of Embroidered Works last November in their first group show. And I will be exhibiting these embroideries at The Douglas Fir pub in Crystal Palace from 7 May to 3 June, 2020.
I'm also interested in exploring new cities, towns and villages documenting them with photographs and drawings and developing them into embroideries.
I love the work of Tove Jansson, Bjorn Wiinblad, Lubna Chowdhary, Edward Bawden, Eric Ravilious, Tirzah Garwood, Njideka Akunyili Crosby, Annette Messager, Sophie Calle, illustrations in old cookbooks, films with a strong sense of style and medieval panelled textiles.
Stitch travelogues
Tell us about a piece of your work that holds particularly fond memories and why?
I've got one of my embroideries hanging up in my flat called 'Heygate Ladies' from 'The Great Outdoors' exhibition I organised with my friend Anna Lincoln as part of 'Nest Gallery' (an art collective we both ran).
The show was held at The Department of Coffee and Social Affairs on Leather Lane, London in 2010.
We worked with Anna Ridley who was the curator of the space. We and six other artists exhibited work inspired by an outdoor theme.
I really enjoyed putting together the exhibition, which was a mixture of print, drawings, ceramics and textiles. We also produced a set of postcards featuring each artist's work.
'Heygate Ladies' is based on a photograph I took from the top of a bus of two friends on their mobility bikes going past the Heygate Estate in Walworth. The embroidery was one of three I showed of a journey from Elephant and Castle to Coldharbour Lane. It's a fond memory of a really enjoyable exhibition and a recorded point in my time of living in Camberwell.
How has your work developed since you began and how do you see it evolving in the future?
The themes of my work have developed hugely over the past few years. I feel more confident in creating artworks inspired by documenting the London places I visit and capturing the likeness of the people and buildings.
I also feel my embroideries have developed alongside my colour illustration work for print. I think more about composition and how I want to produce certain details and textures.
I like trying out techniques and combining different mediums, so that is something I would like to also evolve in my work.
Lastly, I feel I'm better at presenting my artwork for exhibition and also producing it so it is suitable for being published. I think the more I sew, the more I think about the details of my work and what I want to show.
What advice would you give to an aspiring textile artist?
I would say keep doing what you are interested in and be opened to being inspired by lots of different types of art and craft. I think showing with other artists is really rewarding, you get to meet lots of people who you can talk about your work with.
Working as an artist, things don't always come at once; each thing you work on is working towards to something new and exciting.
Don't get disheartened if you get rejections from projects or exhibitions, just keep working at it and see what happens. Organising your own exhibitions and projects is a great way to push yourself, try new things and create new work.
For more information visit www.reenamakwana.com
Reena's work puts a contemporary spin on traditional embroidery. Let us know below if it inspires you to do the same.