Nerissa Cargill Thompson: Casting threads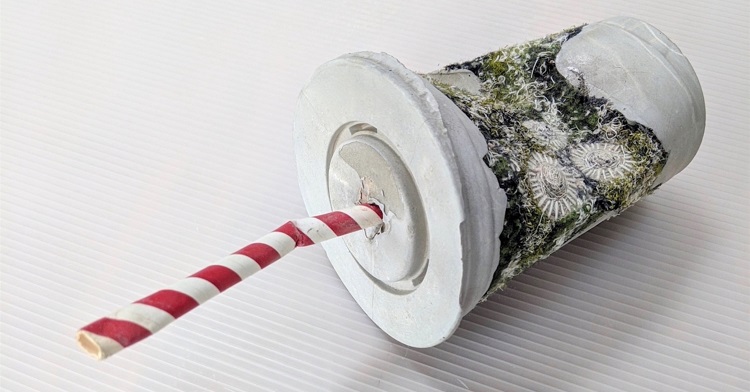 Concrete and textiles are not words you usually hear in the same sentence, let alone expect to see combined in a piece of work.
Textile artist Nerissa Cargill Thompson is passionate about combatting pollution and climate change; she's also inspired by the textures and colours of the natural and manmade world around her. So her use of concrete is a deliberate attempt to show how the often translucent nature of the detritus that litters the landscape is in fact creating a permanent scar on our planet.
However, instead of being overwhelmed by today's throwaway culture, Nerissa literally picks up rubbish piece by piece before transforming individual items into works of art – delivering a powerful message in a beautifully embellished package of colour, texture, and form.
By drawing on her lifelong love of the landscape and natural world and her desire to protect it, Nerissa's work reduces the global issue of climate change to a local one, bringing home the message that every individual has a responsibility and can make a difference.
Nerissa's way of working with concrete and used textiles is unique. By layering her fabrics with colour and texture, embroidered with additional marks and forms from nature, and dipped or cast in concrete, she illustrates how the cups, bottles and other items that are tossed away become an unnatural part of the living landscape.
Nerissa Cargill Thompson: I am inspired by observing the world around me. I document and respond to the changes I see. I love textures in nature but also those that are man made. I'm always on the lookout for interesting juxtapositions of structure and colour: the contrast of nature and stone; coastal textures like the lichens and limpets that envelop eroded rocks; the moss and fungus on fallen logs or the growth in urban settings that reminds us that nature finds a way to fight back.
I was born in Manchester but when I was eight years old we moved to Pittenweem on the coast of Fife in Scotland. I'm sure starting my life in the city meant the move to the coast brought new adventure and freedom rather than taking that environment for granted. Although I'm now living back in Manchester I love going back to visit the coast and my mum and I always return with more photos of rocks than my family.
Most of my sculptural work highlights the issue of plastic pollution and climate change. It's influenced by the litter I see each day that's entering our waterways and ending up in our seas and on our beaches.
I want people to consider the packaging that we use and discard on a daily basis: objects such as plastic bottles that seem insignificant so that we barely notice them but yet have such a long lasting impact on the environment.
Every object tells a story
As an 18-year-old from a small village, I didn't feel I had anything to say with my art – or nothing that I felt happy sharing with the world – so I didn't feel I could be an artist. However, working in theatre design gave me a chance to use my creative skills to tell someone else's story and help an audience to get a deeper, richer experience. Every show was about a different time or place or culture or issue.
My desire to work in textiles links with my theatre background, as textiles hold stories and we choose different textiles in both set and costumes to signpost period, culture, class, status etc. With a background in prop making, particularly masks and sculptural costumes, I knew I wanted to use these skills to manipulate textiles through stitch, moulding and casting to create three-dimensional work.
There is also a wonderful sensory aspect to the colours and textures in textiles. I find them a good medium when working on wellbeing and mental health projects. This year I've made the set and costumes for an intimate performance touring special schools all made from old clothing and household textiles so they can experience it through both sight and touch.
Always be looking. Keep noticing. I use my phone to photograph both natural and urban textures that inspire my textiles and also moments that suggest a story to me.
I document and respond to the changes I see in the world around me. I create my textiles in my small garden studio and cast my mixed media pieces at Neo Studios in Bolton.
Inspired by leftovers
I like how the concrete can represent both the coastal rocks and also the urban man made environment.
I started using concrete in my work because I had a bag left over from a building project. I loved the contrast with the textiles, and the way it captured the embossed patterns and logos on the plastic waste. The concrete also gives the pieces weight and a sense of permanence and legacy that, at first sight, isn't the case with the original plastic as it is so light and often transparent, even though the reality is that it will, in fact, last centuries.
The plastic waste that I used to make my first mixed media pieces was mainly food and drink litter. As these are hollow containers, they lent themselves well to casting inside. However, during the Green Loop Project, the range of plastic waste that I was exploring expanded – I worked with Ribble Rivers Trust and Love My Beach regarding particular issues on the Fylde Coast. I needed to develop a method of representing the legacy of this waste too.
For some, I cast in other plastic waste like I had with my face mask pieces to create a facsimile of the waste. Others I dipped part of the piece to make it solid and heavy but left the textures created with embellishing and embroidery exposed, showing new growth as the waste becomes part of the landscape.
I am currently developing a series about balloons, another item whose image contrasts with the environmental impact. I have been manipulating old logo t-shirts with stitching, to mimic the way balloons warp and distort as they shrivel and deflate. These have also been dipped in concrete as a symbol of their impact.
As concrete has certain environmental issues, I am always trying to find more sustainable versions like using recycled or lighter weight aggregates. Current greener alternatives would mean making moulds, whereas using plastic waste to cast in doesn't just reuse waste but also saves on mould-making materials and energy.
Fail again better
My biggest challenge in creating art is having the time to play and explore.
It took me a while to develop my technique of combining textiles and concrete so that they read as a cohesive, holistic object – sculptures that represented the idea of the legacy of waste made using waste – rather than seeming stuck together. I overcame this through trial and error – lots of error – but developing this within the context of an MA in Textile Practice gave me permission to spend time experimenting.
I stitch the textiles inside the plastic waste to keep it in position while I cast the concrete. After it is set, the stitches are removed so the piece can be released once the textiles are permanently embedded in the concrete. This gives a softer, more natural join than sticking it on after the casting process. Although it does mean that if the casting fails, that piece of textile work is destroyed.
Secondhand first
Reusing is better for the environment than recycling as it uses less energy. Why use new when there is such a wealth of materials available to reuse already, often on its way to landfill.
Sustainability has always been a part of my life thanks to my mum. She brought me up to limit waste, reuse, make do and mend and to try secondhand first. She gave me my love of charity shops and beach combing, and understanding the search for hidden gems. She also introduced me to art in all its forms, across genres, periods and cultures. She loves textiles and rugs in their traditional forms but also contemporary textile art. My life was full of colour and texture and clutter and still is.
My training in theatre design and working in community theatre meant shopping for props and costumes in the cheapest of the charity shops where I would see long racks and bins of clothing destined for landfill and it seemed such a wasted resource. When I first started making craft, I used leftover materials from my theatre work and then progressed to buying old clothing specially to cut up.
I buy shirts, dresses and curtains for craft projects and workshops from the bargain rails and bins in charity shops for both economic reasons and ecological sustainability.
An embellisher, or felting machine, has multiple needles but no thread. The needles distort and blend the fibres of the fabrics. I tend to use a base fabric with good wool content, such as old suit trousers which have more than one tone as this reacts to the embellisher even before I start adding other fabrics, softening the transitional areas between the colourful textures and the background. I mainly work from behind, basically mashing fabrics through, blending different tones and textures to give a subtle variety, mimicking nature.
I choose assorted items in my chosen palette of greens and yellows, as the mix of different tones and weights gives a softer, more natural look to the finished work. For appliqué projects, I choose textured knitwear and patterned voiles to represent the mosses and lichens.
Thinking through making
Sometimes the history and story of the garments I use feed into the meaning of the piece. Although sometimes I sketch I am more likely to go straight in with sampling, using stitch to manipulate the fabric; testing combinations and creating new forms and textures – thinking while making.
As I use old clothing, I have a limited amount of each fabric so when it's gone, it's gone. Because I cast in actual litter, the size of my sculptures is constrained. Therefore, to create larger works I combine multiple pieces. I make each of these individually rather than creating duplicates using a mould. These groups reflect the build-up of litter and waste.
Because of the different stages and techniques used in the process of creating each work, I often work on several pieces at once, building up the textures on the embellisher by blending scraps of different fabrics, adding key motifs like the shells using a combination of free motion and hand embroidery, then stitching into the waste plastic moulds. Once I have a quantity ready to cast, I will make the trip to the studio where I cast them with concrete.
Relax and let existing textiles do the heavy lifting. Use what you have. Be inspired by it. Let it bring colour and texture rather than feeling that you have to create everything from scratch.
Staying with the basics
I have sewn since school, making clothes including the dress for my leavers' dance (aka 'prom') but apart from the odd school project (Mum still has the name sampler I made then), I didn't do much embroidery and would still not really call myself an embroiderer as I only use a small number of basic stitches.
You can achieve so much with even just a straight stitch.
I teach a wide range of workshops: single sessions making both useful and decorative things out of recycled fabrics but also longer courses on the basics of machine sewing or developing a piece of textile art using a series of different processes and techniques. I highlight that you don't need to know lots of complicated stitches.
The biggest challenge for me as a textile artist is identity. I was surprised (and honoured) when I was approached to lead a workshop for TextileArtist.org's Stitch Club as I don't fit traditional notions of textile art and techniques.
At the same time, textile art struggles in the field of fine art especially. Textile art is often seen as craft, as women's work, domestic and lower in status. A painting of equal size will sell for far more although the textile piece is likely to have taken much longer to create. People are not sure how to display and care for textile art and assume that it won't last so it isn't an investment. Although I think there has been a move forward recently in contemporary textiles there is still a long way to go.
Reaching out
Making art is generally a solitary task so I find being a member of groups really important. I belong to several, which bring different benefits of support, tips, networking and exhibition opportunities but have also led to some fabulous new friendships. I don't only belong to textiles groups; Design-Nation covers all types of craft and supports the more commercial side of my work. As sustainability is a key aspect of my practice, particularly thematically within my mixed media work, I also belong to a couple of groups for environmental artists – one local and one international.
Key takeaways
Nerissa's unique way of working with textiles is underpinned by experimentation and sampling. Here are more tips for you to explore.
Nerissa is driven by her concern over the plastic waste overwhelming our natural world. What are you passionate about? How could you bring that into your work either as a material or concept?
Next time you are doing a clear out take a moment to consider its potential, like Nerissa. Let the found item inspire you – it might be the colour, texture or something else. See where it takes you.
Nerissa's initial foray into using concrete was due to her desire to use up a bag she had leftover from a building project. What unusual materials do you have lying around that you could explore in your work?
Nerissa Cargill Thompson is a visual and community artist based in Manchester. After training and working in Theatre Design, she completed a MA in Textile Practice. She is a member of Prism Contemporary Textiles Collective, the Society for Embroidered Work (S.E.W.) and Design-Nation.
Nerissa exhibits regularly. In 2020 No Man is an Island – Mapping the Issue was shortlisted for the Fine Art Textiles Award. She won second prize in the Sustainability First Art Award in 2021 and winner of the inaugural Comme Ca/AWOL Open in 2022. In 2022, she was commissioned by Fylde Council to create a series of artworks to form an art trail highlighting plastic pollution on their coast.
Artist website: nerissact.co.uk
Facebook: facebook.com/nerissact
Instagram: @nerissact
Discover the work of two textile artists who, like Nerissa, are passionate about the environment. Rachael Wellisch makes textile art in indigo from salvaged fabrics and Russian artist Natalya Khorover has researched the causes of climate change and its impact on the planet and uses plastic to make a statement about its threat to the environment.
What unusual found objects have you used in your work? We'd love to hear what it was and how it turned out – and share an image if you can.