Julie B Booth: Purposeful fabric collage
Cloth books, talisman pouches and boro-style bags are the result of Julie B Booth's 'products with intention', created with a focus on visual and tactile details.
A graphic designer for 20 years, Julie's first love was always fibre. So in 1994, after gaining inspiration from Julia Cameron's book The Artist's Way: A Course in Discovering and Recovering Your Creative Self, Julie established her business, Thread Born Dolls, specializing in one-of-a-kind soft sculptured figures and doll patterns.
With her degree in Studio Art from Wesleyan University, Connecticut and her background in printing, stitching and beading, Julie also makes fabric collages 'with a purpose' and teaches classes in surface design, doll making and embellishment techniques. She works from her home-based studio in Vienna, Virginia, USA.
Julie has been a featured artist in Quilting Arts TV series. She has written numerous articles for Quilting Arts Magazine on hand stitching and surface design projects and is writing a four-article series, starting in October 2020, which features hand-stitching challenges using basic hand stitches.
With the group of exhibiting fibre (textile) artists, Fiber In Nearly Everything (F.I.N.E.), in Washington, DC that Julie started 20 years ago, she has created and shown work locally and nationally.
Julie is also the initiator of the Washington DC Textile Museum Muse Project, which started in 2017 and brought together fibre artists to study and be inspired by ancient textiles from the Museum's collections.
In 2010 Julie received the Margaret Conant Grant to explore the use of common household materials (especially those from the kitchen) as fabric resists. The kitchen is still one of her favourite resources for all kinds of surface design techniques on fabric. Julie produces a newsletter 'Julie B Booth Surface Design News' focusing on this topic and her book 'Fabric Printing at Home: Quick and Easy Fabric Design Using Fresh Produce and Found Objects – Includes Print Blocks, Textures, Stencils, Resists, and More' (Quarry Books) was published in December 2014.
In this article you'll learn how Julie was inspired after inheriting her nanny's sewing basket 20 years ago, why she finds a hoop cumbersome and how she has a special place in her heart for the quirky shapes of fungi.
Taking stitching seriously
TextileArtist.org: What initially attracted you to textiles as a medium? How was your imagination captured?
Julie B. Booth: It all started with a crewel embroidery kit. I can remember it so clearly…two owls sitting on a branch. My Mom gave it to me as a form of distraction while recovering from walking pneumonia. At age 11, I thought it was pure magic! All the different colors of crewel wool, the stitch diagrams that I could work out. I was excited to get started…to make those buttonhole ring owl eyes!
After this initial introduction, I began stitching my own designs of cartoon animals. I still have an embroidered piece of a toad sleeping next to a toadstool, from that time.
What or who were your early influences and how has your life/upbringing influenced your work?
I really was pretty much self-taught when it came to stitching. My Mom and her friends encouraged me and gave me books on the topic. I still own the two books that inspired and influenced me the most: Erica Wilson's Embroidery Book (an orange tome of discovery!) and Adventures in Stitches by Mariska Karasz. Wilson's book was my go-to stitch encyclopedia but Karasz's book was my inspiration book. She has pages of playful approaches to stitches along with her delightful illustrations and black and white photos of her rich texturally stitched works. When I think about it, the seed of my approach to teaching stitching can be found in the pages of Karasz's book.
What was your route to becoming an artist?
At a young age, I enjoyed drawing and crafts and was encouraged by my parents who even arranged for art lessons outside of school. Printing and stitching became my two favorite art activities. I used to carve linoleum blocks on Friday evenings when a teenager and I got my BA in Studio Art with a concentration in printmaking from Wesleyan University and a certificate degree in scientific illustration from Rhode Island School of Design. My stitching became a small business for a while when I started embroidering the brims of tennis hats with flowers and cartoon animals playing tennis. I also took on bigger stitching projects for my family including a family portrait and embroidered work shirts for my brothers.
After college, I spent almost twenty years as a graphic designer before heading back to stitching more seriously. I took a correspondence course in Surface Stitchery from the National Standards Council of American Embroiderers. This really opened my eyes to the potential of using stitching in a more artistic and painterly way.
In the mid-1990s, I caught the cloth doll "bug" and started my business, Thread Born Dolls, in 1994. Starting with more traditional (though original) doll designs, my style took a big turn after a class with cloth doll and surface design artist, Arlinka Blair. She showed me how I could bring together all my loves of printing, stitching and beading to create cloth figures for the wall. Not long after that, I started teaching classes in surface design and doll making.
Interest in my printed fabric designs grew and I was asked to design a line of hand printed fabrics for a gallery. I also became very interested in learning more about fabric resists and won a grant from my fiber guild to explore using common household materials as fabric resists. I continued to explore using household materials to create print blocks, stencils and resists publishing an online newsletter that eventually lead to the publication of my book, Fabric Printing at Home, in 2014.
Stitching was never far from my heart and around the same time I started teaching a series of classes that explored hand stitching as an expressive and healing art medium.
More recently, I've continued to write articles on hand stitching and surface design for Quilting Arts Magazine and have appeared in several segments for three of their television series. I also continue to teach, and have enjoyed putting together classes and retreats including the Textile Museum Muse Project where I provide opportunities for students to view selections of ancient textiles and objects from the Textile Museum's (in Washington, DC) collections, using them as inspiration for new fiber art works.
Lately my stitching focus has been on smaller, intensely stitched works including cloth books, talisman pouches and Boro-style bags. I'm inspired to make objects of intention with attention to the visual and tactile details. I want these pieces to be held and to also hold objects of meaning and importance to the owner.
Spontaneous stitching
Tell us about your process from conception to creation
My studio is on the lower level of my home in Vienna, Virginia, USA. I have a large work table (actually made up of four smaller adjustable work tables with a large piece of plywood and padding) where I can work on both stitching and fabric printing/painting projects. I also have lots of shelving for materials and an adjoining room with additional fabric storage. I like to have some of my favorite threads always handy in baskets and some organized in small boxes. Being able to see the thread colors out on my table gets me excited to start stitching with them!
Usually when working out an idea, I will spend some time thinking and journaling and drawing thumbnail sketches in my journal. I may go for a walk to sort through ideas and come back and make more thumbnails. I find walking a great opportunity to work through creative ideas. Then I pull out materials … fabrics first – often scraps – but depending on the project also sari ribbons, yarns, cheesecloth, tulle and threads. I'll begin moving everything around on a backing fabric/stabilizer—usually wool felt or wool fabric.
When I'm happy with a layout, I'll pin everything in place. I don't completely plan the stitching ahead. I may decide where I might like certain colors to appear but usually the stitching is the part that happens in the moment. I make decisions about the stitching as I go … trying to stay aware of color values and the different textures and designs of the stitching. After all the stitching is complete, I will stitch it into the final form (book, pouch etc).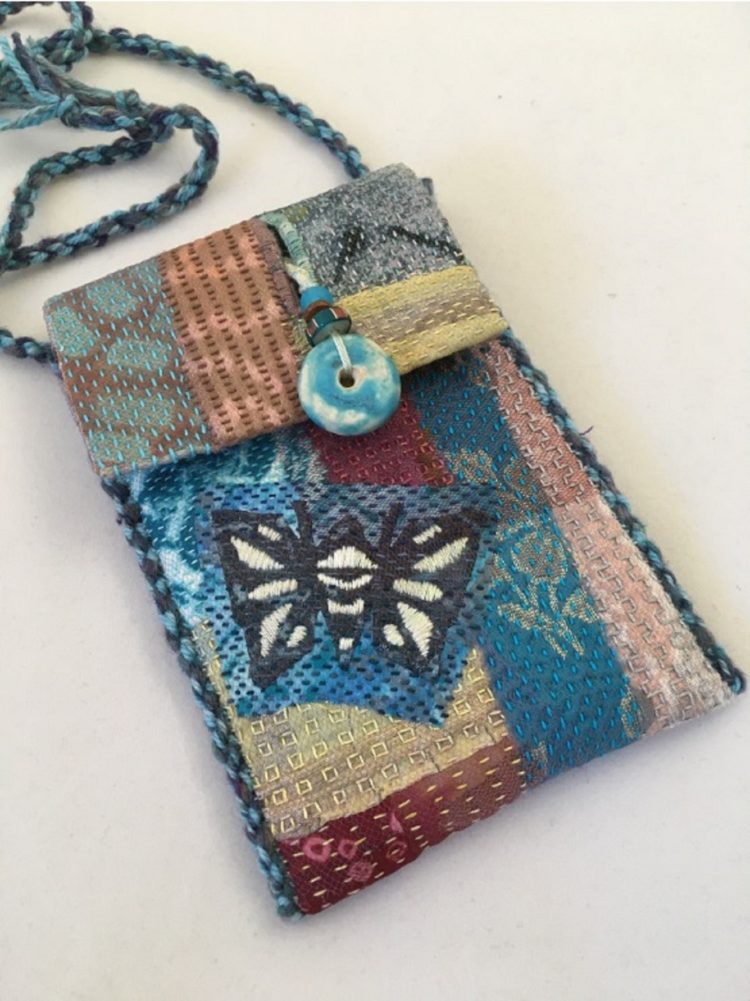 Tell us a bit about your chosen techniques and how you use them
I mostly work with fabric collage. I layer fabrics on a stabilizing fabric, usually wool felt, wool fabric or flannel. I don't like to use a hoop because I find it cumbersome. There's more freedom moving around a piece without one.
Also, since I often make stitched objects, I cut the stabilizer to the size and shape of what I'm creating.
Recently, I have two stitching approaches. One is more freeform and organic. In that case, I lay out scraps, sari silk ribbon, yarns in loops and curves and see if they start to resemble something. I add hand-painted cheesecloth and often tulle for layers of texture. I couch the yarns down and also use running stitch for the wider silk ribbon. Next I'll start to fill in some of the shapes formed by the yarn and silk ribbon. This is where I add even more texture with ruching, couching, French knots etc until I'm happy with the result.
The other method is a bit more structured … for my boro-style pieces. I will cut out fabric scraps and sari silk ribbon and fit them together in a raw-edge patchwork that I cover with at least one layer of tulle to stabilize everything. Then I'll stitch running stitch patterns over the patches.
In addition to stitching, I enjoy designing my own painted, printed and resisted fabrics. Bits and pieces of these often end up in my stitched work as backgrounds or focal fabrics (see "Inside Nanny's Sewing Basket/ Three Pairs, One Ornate).
My favorite kitchen fabric resists include: liquid soap, microwaved confectioners' sugar syrup, and uncooked wheat flour paste, but I've experimented with resists as diverse as gelatin and baking powder. I've even tried toothpaste (and it worked!)! Each resist has its own characteristics; confectioners' sugar creates velvety marks and wheat flour paste can mimic the crackling lines found in traditional batik. My favorite, though, is liquid soap – for its ease of preparation (none) and removal, and the diverse ways it can be applied to fabric. Most resists need to dry before applying fabric paint, but not liquid soap. It sinks into the fabric and is viscous enough to repel the paint. I can easily create multi-layered color fabrics with resisted details using this common household product.
What currently inspires you?
I am always inspired by natural forms and by beautiful textiles. Ancient textiles make my heart skip a beat. I've been lucky to have the opportunity through the Textile Museum to get to see and study ancient textiles up close. There is much love and skill that goes into the making of these anonymous pieces.
I also have a special place in my heart for the quirky shapes of fungi. I'm always inspired by beach walks.
Treasure in Nanny's sewing basket
Tell us about a piece of your work that holds particularly fond memories and why?
I'm particularly fond of my piece 'Inside Nanny's Sewing Basket: Three Pairs, One Ornate'. This was a piece I stitched in memory of my maternal grandmother. She's been an on-and-off inspiration ever since I inherited her sewing basket twenty years ago. I discovered three pairs of scissors inside and one in particular was so beautiful … sterling silver with ornate designs.
For this piece, I carved print blocks of the three scissors and printed them on one of my resisted fabrics. I added some of my hand-painted cheesecloth and couched it all into place. The scissors are all satin stitched.
This is about my deep connection with my Nanny. She was also someone who enjoyed making things with her hands, had a beautifully arranged home and was proud of her flower garden.
How has your work developed since you began and how do you see it evolving in the future?
My work seems to keep shifting back and forth from 2-D, to 3-D. At the moment, I am mostly creating stitched objects. I'm enjoying seeing how people connect to them. A friend remarked that "I get to hold them, turn them over and over and admire each little part of them". Because of this connection, I will most likely continue to make some similar items.
I am also thinking of a series of boro-style stitched land and seascapes of Wellfleet, Massachusetts (Cape Cod). My extended family has spent summer vacations at the Cape every since I was 2 1/2 years old (I consider it my "spirit" home).
What advice would you give to an aspiring textile artist?
Be open to exploring. Try working with different textiles…see what calls to you and what you enjoy working with. I always tell my students that the act of stitching should be pleasurable (or why would you continue?). I am never bored with stitching. In fact, I would advise starting by choosing one or two basic stitches and really diving deep to see what they can do…stay with them for a bit and really discover the possibilities they hold.
For more information visit threadbornblog.com
Have you enjoyed this article by Julie? We'd love to know what you liked most – please leave a comment in the box below.