Choosing embroidery and fabric scissors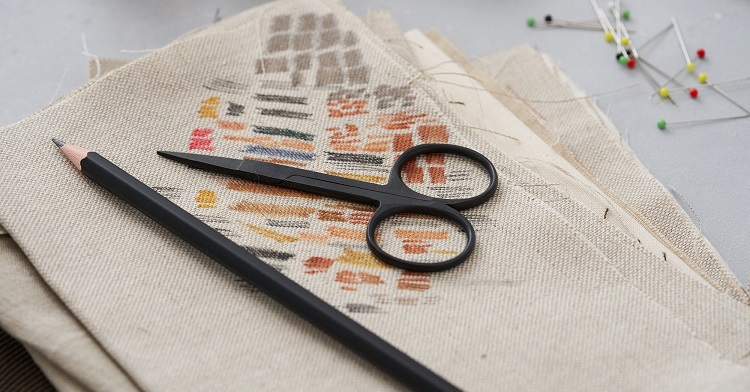 You're in a haberdashery shop, or browsing your favourite online sewing store, hoping to buy some embroidery scissors. But looking through all the options, the selection is huge. From tiny embroidery scissors to large fabric shears – and so many brands and styles in between – in all different colours and shapes.
So how do you choose?
Here's what you need to do. First, figure out what you need the scissors for – this will help you to decide which types of scissors meet your needs. Then you can narrow down your options. To assist you, we've compiled this useful guide.
We've also asked top textile artists Yvette Phillips, Aran Illingworth, Jessica Grady, Hannah Mansfield and Katherine Diuguid for their personal recommendations of the best scissors for textile art.
So if you've always wondered why some scissors feature a stork design, and others have duckbill shaped blades or a curved design, then this article is for you.
Read on to discover more about the world of embroidery scissors.
Please note: We've written this article to help you select the right scissors for the right task, and learn more about the different designs and some of the brands available. We've provided links to manufacturers and suppliers so that you can find out more before you head to your favourite local or online stockist. The scissors featured in this article have not been individually reviewed or tested.
Cutting threads with precision
Embroidery scissors are small and sharp, designed specifically for cutting threads or tiny snippets of fabric. There are lots of options to choose from: vintage decorative designs, traditional stork scissors, rose gold scissors, matte black scissors, colourful designs, foldable travel scissors and ergonomic scissors aimed for comfort.
Small straight embroidery scissors
Often the unfussy, straightforward option is the best. Classic embroidery scissors are small, pointed and sharp – perfect for cutting embroidery threads cleanly. They are widely available in haberdashery stores and online, and are made by many manufacturers.
Stork embroidery scissors
This distinctive and popular design evolved from the umbilical clamps in the toolkits of 19th century midwives. It was common for midwives to embroider in their quieter times and so their medical and stitch kits often became mixed up, as seen in the toolkit of midwife Rosa Bonfante held by the Smithsonian National Museum of American History.
Decorative small embroidery scissors
If you are looking for something a little more fancy, try the Dinky Dyes colourful range of patterned embroidery scissors.
Wide bow embroidery scissors
If you are looking for comfort, try a pair of wide bow (or big bow) embroidery scissors, which feature larger spaces for your fingers. These come in a standard size of around 10cm (4″) size, or as smaller baby bows, around 7cm (2¾").
Embroidery snips
Some stitchers like to use thread snips for cutting loose threads. They are spring-loaded, making them easy to use. Snips are also useful for anyone who does a lot of beadwork – they are great for cutting nylon or monofilament beading threads.
Goldwork scissors
Goldwork is an embroidery technique which uses a range of metal threads giving luxurious results. To cut goldwork purl and check wires cleanly, a good sharp pair of scissors is recommended. You can also buy specialist goldwork scissors, which have a finely serrated blade and should only be used for cutting metal threads.
Hannah Mansfield recommends… goldwork scissors
Hannah Mansfield: 'My favourite scissors to use for goldwork embroidery are a small gold pair from Golden Hinde. They are made specifically for cutting goldwork wires. They have a serrated blade which means they can cleanly cut the wires instead of squashing the ends.
'I particularly like the fine point of these scissors, which allows you to cut the wires delicately and precisely. Having a dedicated pair of scissors for goldwork is essential to avoid blunting your best embroidery scissors with the wires.'
Hannah Mansfield is an embroidery designer based near Bristol, UK. In 2019, she was awarded First Prize in the Textile Art Open category of the Hand & Lock Prize for Embroidery (UK). Hannah became a Trade Freeman of the Worshipful Company of Gold and Silver Wyre Drawers in 2020. She is a tutor for the Prince's Foundation Metiers d'Arts embroidery course.
Artist website: theperpetualmaker.com
Instagram: @theperpetualmaker
Bent scissors
These small scissors have an ultra-fine point and an angled, bent blade. They are designed to make it easy to cut away warp and weft threads of the ground fabric when creating the beautiful lace effects of Hardanger work, a traditional whitework technique.
Katherine Diuguid recommends… KAI embroidery scissors
Katherine Diuguid: 'I absolutely love KAI scissors – the sharp tips are nice and small and I can get into really tight spaces with no trouble at all.
'I use my angled [bent] embroidery scissors for cutting goldwork metals on a velvet board, for cutwork and chipping techniques.
'I prefer using my appliqué curved tip scissors for cutting the metal while I'm stitching it, or for any cutting close to or around the surface I'm embroidering – they are good for snipping threads without feeling like I might accidentally cut the ground fabric.
'The thing that I love most about the KAI scissors is that their blades are nice and thin and will chop my metals precisely with no bite marks or burrs.
'The only thing I don't use my KAI scissors for is silk threads: I have a beautiful pair of Ernest Wright scissors that I use only for cutting silks. I do so much metal embroidery that it's easier for me to have scissors that do everything including metal, and one special pair that only cut silk. As you can tell I am somewhat passionate about my scissors! They make a massive difference in the quality of your stitching, maintaining the rhythm when you're stitching, and reducing waste.'
Katherine Diuguid, based in Mooresville, North Carolina, US, is known for her technical studies of colour theory in embroidery. She has presented her research at academic conferences for SECAC and the Textile Society of America. Her work has been featured in Inspirations (published by the Embroiderers' Guild of America) and NeedleArts magazines.
Artist website: katherinediuguid.squarespace.com
Facebook: facebook.com/KatherineDiuguidArtist
Instagram: @katdiuguid
Curved scissors
If you are a fan of appliqué, you might want to invest in some curved scissors for cutting out small fabric shapes.
Yvette Phillips recommends… Westcott curved scissors
Textile artist Yvette Phillips has a box of scissors she's collected over the years. Her favourites are a pair of Westcott 10cm (4″) curved titanium super soft grip scissors.
Yvette Phillips: 'They're small and have a slight curve to them, which are great for snipping threads or trimming the edge of something that's been appliquéd on. They allow you to get closer to the fabric without accidentally sticking the points into the fabric. I also use them for cutting shapes – the curved blades are really useful for cutting curved leaves or flower petals.'
Yvette also uses a variety of small sharp scissors, including a pair of Westcott small pointed scissors. These are good for cutting out small, detailed fabric shapes. To keep your embroidery and fabric scissors sharp, she advises using separate pairs for cutting fabric and paper.
'I put a blob of coloured nail polish on the blade of the scissors I use for cutting fabric, to differentiate them from the ones that I use to cut paper.'
Yvette Phillips is a British textile artist living and working in Blewbury,Oxfordshire. She is a member of the Oxford Art Society, the Society for Embroidered Work, The Embroiderers' Guild, and Modern Makers Collective.
Artist website: yvettephillipsart.com
Instagram: @yvettephillips_art
Appliqué scissors
Duckbill scissors are great for appliqué and quilt making. The duckbill shape gives great control and protects the base fabric when you are trimming close to the edges of a stitched fabric shape.
Scissors for cutting fabric
A larger pair of scissors is useful for cutting larger pieces of fabric, thick materials, or several layers of fabric. Fabric shears, dressmaker's shears and tailor's sidebent shears all have long, sharp blades. To increase their lifespan and keep them sharp, only use them for cutting fabric, and not paper.
Aran Illingworth recommends… Fiskars scissors
Fiskars make stainless steel scissors with classic orange handles which are recognisable worldwide. The company was founded as an ironworks in Finland in 1649 and their first cutlery and scissor mill was established in 1832.
The iconic handle in Fiskars Orange™ is designed for comfort, and the precision ground stainless steel blades are known for their cutting performance and longevity.
Aran Illingworth: 'My go-to fabric scissors are Fiskars' fabric shears. I have been using Fiskars scissors for over a decade as they produce scissors which are durable, ergonomic and reliable. They allow me to cut fabrics with a range of densities and textures, both cleanly and precisely.'
Aran Illingworth is a textile artist based in Cottenham, Cambridgeshire, UK. Originally a psychiatric nurse working with the homeless and those suffering from addictions, she completed a degree in Applied Arts in 2010. She held a solo exhibition at the Knitting and Stitching Show in 2022 and exhibits at The Old Chapel Textile Centre, Newbury and The Willow Gallery in Oswestry in 2023.
Artist website: aran-i.com
Facebook: facebook.com/aranillingworth
Instagram: @aranillingworth
Left-handed scissors
If you are left-handed and want to avoid getting those painful blisters on your hands, the good news is that some manufacturers make left-handed embroidery scissors and fabric shears.
Other brands have super soft ergonomic handles that can be used by both left and right-handers. With a bit of trial and error, you'll be able to find the perfect pair of scissors to cut accurately and painlessly.
Jessica Grady recommends… scissors for left-handers
Jessica Grady: 'Being a left-handed stitcher, finding the perfect scissors always seems to be a little tricky. My favourite pair are actually not left-handed scissors at all, but are a pair of traditional Japanese bonsai pruning scissors – they are the perfect size and shape for cutting threads. I find these can be worked with your left or right hand and don't give me painful scissor blisters.
'As I work with mixed media I go through lots and lots of pairs of scissors. I'm constantly cutting through tough materials like rubber, plastic and metal. I like to stock up with several pairs of low cost kitchen scissors from homewares stores like IKEA, as I don't have to worry about blunting the blades – they are more budget friendly than specialist textile brands, and I can have a pair for all the different materials I work with.'
Jessica Grady is an artist based in West Yorkshire, UK. In 2018 she was awarded an Embroiderers' Guild Scholarship (under 30). She is also an exhibiting member of Art Textiles Made in Britain (ATMB) and The Society for Embroidered Work. She is the author of Stitched Mixed Media (2023), and exhibited her work at the 2023 Knitting and Stitching Shows in Harrogate and London, with Art Textiles: Made in Britain, and The Embroiderers' Guild.
Artist website: jessicagrady.co.uk
Instagram: @jessica_rosestitch
Looking for a bit of luxury?
Whiteley's is a family run firm based in Sheffield, UK. The owners describe the company as 'the last industrial scissor maker in the UK, and the oldest scissor smiths in the Western world'. William Whiteley & Sons were founded in 1760 and continue to produce handmade scissors for sewing and tailoring, including the Wilkinson patented 'sidebent' scissors which run flat along the fabric enabling a long straight cut, and a range of beautiful and high quality embroidery scissors.
Ernest Wright is another Sheffield-based company in the UK with a long history. They create sought after handmade embroidery shears and fabric shears. The company's efforts to maintain and pass on the traditional methods for handcrafting scissors (which is on the list of critically endangered crafts in the UK) were rewarded in 2020 with the President's Award for Endangered Crafts, given by the Heritage Crafts Association.
If you are looking to purchase scissors as a gift, the popular UK-based small business retailer Merchant & Mills stocks a good selection of attractively packaged, high quality embroidery scissors and fabric shears. The company's ethos is to sell stylish, functional and sustainable products – and their scissors are designed for a long life.
Karen Kay Buckley, the US-based quilt artist, developed the Perfect Scissors™ range of straight and serrated blade scissors. These have stainless steel blades and soft, ergonomic handles which can be used by both left-handed and right-handed people. The serrated blade scissors are great for appliqué as they can also be used for cutting several layers of fabric at the same time. They pull the fabric into the scissors as you use them, giving a clean cut which is less likely to fray.
KAI is a premium Japanese brand with a long history, having been established in 1908. Known for their mission of combining old traditions with innovative production technologies, their scissors are made of high carbon stainless steel with vanadium, and are strong, well balanced and long lasting.
Key takeaways
Some quick tips on embroidery and fabric scissors:
If you are new to embroidery, a pair of small, sharp embroidery scissors and some fabric shears are a good place to start.
To extend the life of your sewing scissors, don't use them to cut paper. Tie a ribbon on them or mark them with a dot of paint – this will remind you (and others) that they are to be used for fabric and thread only!
If you are exploring appliqué, cutwork or goldwork, it's worth buying a pair of specialist scissors to aid your work.
If you use scissors regularly with different materials, it's a good idea to keep a specific pair of scissors or shears for each type of cutting job.
Always store your scissors dry. Keep them wrapped in some clean, absorbent material. If you've invested in a specialist pair, why not sew a bag for them? Look after your tools and they will look after you.
Looking for new stitch techniques? Read The best hand embroidery reference books.
Do you have a special pair of embroidery scissors? Tell us more by leaving a comment below.