Deanna Tyson: Hooked on Kimono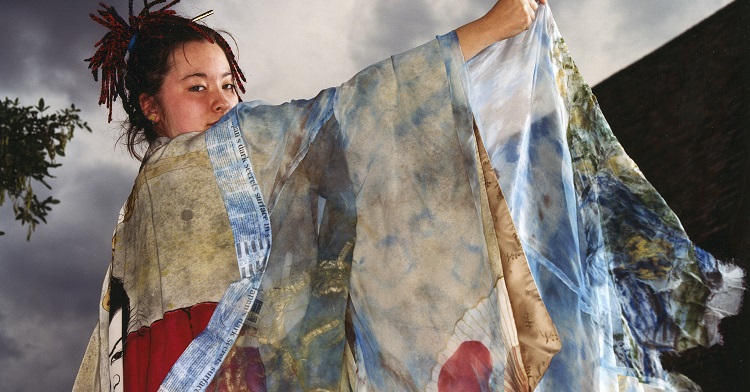 ---
What better canvas for expressing messages about politics and social narrative through vividly illustrated textile art than the Japanese kimono?
Deanna Tyson is a textile artist who transports ideas and messages around the world through that most ubiquitous, functional and accessible of forms – fashion.
Her uniquely decorated kimono, wall-hangings, paintings, soft sculptures and stitched drawings have been exhibited in Bali, Jamaica, Mexico, The Netherlands, the UK and US.
Deanna believes that artists have a duty to wrestle with the negativity of existence, as well as glory in the beauty of nature. She relishes the challenge of developing complex ideas, drawing parallels and finding metaphors, both to highlight the human condition and to question cultural and social mores. From this standpoint, she tells political tales and weaves social comments through her stitched, appliqued and painted textile art.
Over the last 20 years, she has perfected her personal interpretation of the kimono, making it her signature piece. She calls her work "Kimono with Attitude". Deanna wants her kimono to challenge, and sees them as 3D socio-political cartoons that express her personal response to contemporary issues. She considers them 'paintings on a moving canvas' in recognition of the tactile, sensuous and thought provoking qualities of the silks, satins, chiffons and calicos she uses.
When not making major pieces for public exhibition, Deanna works to commission, relishing the challenge of interpreting clients' ideas and including their personal input alongside her own.
She is a Fellow of the RSA, a founder member of the Cambridge based group of professional artists, Stray, and she also curates shows in galleries around Cambridge.
Admirers of Deanna's style access her art courses and workshops at her studio in Cambridge, UK and she travels around the country giving talks, including one entitled 'The Art of the Kimono'.
In this interview, we will learn how Deanna employs a variety of techniques and wide-ranging materials from the coarsest of calicos to the swishest of chiffons, how listening to Radio 4 can 'bring on a kimono', and how, since she started using teabags in her work, she just can't stop!
Story, layers and line in stitch
TextileArtist.org.uk: What initially attracted you to textiles as a medium? How was your imagination captured?
Deanna Tyson: I have always loved the tactile quality of fabrics, and their variety, from gossamer-thin voile, to soft sensuous silks, coarse calicos and dense woven wools.
As a student I was drawn towards 3D work; I loved the idea but didn't take to the traditional materials. And so, inspired by Claes Oldenburg, I began making soft sculptures in various fabrics and foams, mainly of body parts – a perfect solution for me.
The kimono came later after a period spent in The Netherlands where I made stitched and painted house portraits and rather ornate, art waistcoats and bodices. As my skill and enjoyment had always been in the design and artwork, I found the construction of the bodices, in particular, too time-consuming. When I realised the potential of kimono as a canvas, their simple form and potential for layering, then I was hooked.
What or who were your early influences and how has your life/upbringing influenced your work?
It was not pure coincidence that I settled on kimono; I have always loved line in art. I love Japanese woodblock prints, in particular, the work of Utamaro and Hokusai. I also love the way that Western artists such as Aubrey Beardsley took on that purity and rhythm of line in their work and wanted to emulate this in stitch.
Since secondary school days studying history, another of my passions has been political cartoons. Of far greater interest to me than the text, these wicked but wonderfully executed prints by Gillray, Hogarth and Rowlandson filled me with delight and admiration. Such accuracy of line, such powerful imagery and raw social commentary – I knew this was definitely for me and I endeavoured to recreate this in my own work.
What was your route to becoming an artist?
I studied both Fine Art and English Literature at Newcastle University and that obviously led to the passion for storytelling in my work. I loved analysing poetry, plays and novels; I loved the symbolism, the layered meanings and messages. By using kimono as my ground and support, I could combine all the things I loved: story, painted on layers of fabric in line drawn with stitch.
Appliqued teabags and Banksy-style stencilling
Tell us about your process from conception to creation
Many of my kimono are created from a feeling of anger or even despair. I feel a kimono coming on when something bothers me. The information is usually conveyed to me via Radio 4 – a source both of inspiration and information, and always on in my studio.
A recent piece, 'Rapunzel, A Tale of Two Towers', was a reaction to the terrible ongoing tragedy of Grenfell Tower. Several of my kimono draw parallels between folk tales and real-life happenings and the story of Rapunzel, trapped in the tower with her route of escape cut off, seemed appropriate.
I wanted to express the gap between rich and poor, between the glass palace of The Shard, with its wealthy occupants and trickle-down theory, and jerry-built Grenfell with its multi-racial inhabitants, most on low incomes. I did it by creating two towers, one housing 'The magic money tree' and one Rapunzel.
The kimono itself is made of cashmere-mixed, chalk-striped suiting. The tower is made of Ugandan barkcloth with flames of African wax cloth.
Tell us a bit about your chosen techniques and how you use them
I paint, stitch and appliqué my narratives, exploiting the movement and freedom that this 3D form allows, whilst layering kimono as a storyteller layer themes or a painter, paint.
My work always begins with the concept, and I ruminate, sometimes for weeks, sometimes months, sometimes even for years, until I can see in my mind's eye a way forward.
The subject matter really dictates which materials and methods I adopt. For example, my most recent kimono is worked on silk bourrette with appliquéd teabags and Banksy-style stencilling. Why? I was listening to an interview on Radio 4 with a woman who had recently translated a book by a Medieval lady of letters, Christine de Pizan. 'The Book of the City of Ladies' was Christine de Pizan's response to the misogynistic, dismissive and negative views held by many men at that time about women, their value, intelligence and role in history.
Christine fought back with a worthy, if rather dull, tome listing the wonderful, powerful women whom men had erased from history. That got me thinking about modern-day heroines, women who had not only excelled in their chosen fields but had worked for the betterment of mankind. This led to a wonderful conversation with friends, students, neighbours, relatives and social media contacts as to who would be eligible to enter The City of Ladies.
There is a Medieval painting of Christine building her allegorical city from stone blocks which gave me both the idea of using emptied oblong tea bags for the walls themselves and stencilling figures onto the walls, Banksy style.
I used bourette silk for the kimono. Being woven from silk waste it has a rough texture, also appropriate to create the idea of stuccoed walls. I dried and prepared the tea bags and gave them, together with flesh coloured silks, to anyone willing to stitch one for me. I also held several afternoon tea parties at which people chattered, stitched, talked about their chosen heroines, ate cake and drank tea. It was lovely – I learnt so much.
I, of course, had my heroines, whom I stencilled onto the city walls: Christine herself, Doreen Lawrence, Lubaina Himid and Gina Miller. The piece was begun in the build-up to the 100th anniversary of the passage of the 19th Amendment, guaranteeing women's right to vote, and so the figures and the lining are in the colours of women's suffrage.
What currently inspires you?
People keep asking me when I am going to do a piece on Brexit – but I'm not. The whole thing is too tangled and painful to tackle, though the story of Sleeping Beauty might form an interesting parallel!
I have been working on a stitched portrait of the abolitionist Frederick Douglass set in a huge gilded baroque frame given to me, as a dare, by a lovely artist friend. I have worked it in lace, tulle and stitch on three layers of netting; one for Frederick, one for Anna, his first wife who bought him out of slavery and one for Helen, his second wife who was an abolitionist and suffragist.
Working with these materials has set my mind running on a different track which might also employ teabags. I can't stop collecting them now, I just love the colours they are stained with. I'm also exploring stitch on delicate translucent papers, including old pattern pieces – I love the colours of these too and they give me interesting marks and the option to build tone.
Juxtaposition of paint and stitch
Tell us about a piece of your work that holds particularly fond memories and why?
I am fond of many of my kimono and still have 30 in my possession. I suppose 'Sympathy for the Devil' is one of my favourites. It took a long time to construct and I still am very fond of it. It has the added appeal of almost having been bought from a gallery by one of Mick Jagger's buyers. It didn't happen though – Mr Jagger wasn't prepared to pay the price and I wasn't prepared to drop it.
How has your work developed since you began and how do you see it evolving in the future?
I suppose my work has developed over time, but when you are busy working, you don't necessarily see that.
My kimono seem a particularly bazaar way of working – even to me – but I do keep going back to them. I have, however, used them to raise funds for refugee charities by holding kimono catwalks which kind of justifies their existence.
'Humpty Dumpty', an observation on the fine line comedians tread between humour and depression has been gathering momentum in the back of my mind and possibly – to borrow John Le Carre's title 'The Constant Gardener' – a kimono designed as an antidote to the mechanistic theories of capitalism.
I also, of course, love painting, and so I often find that, when sewing, I can't wait to be painting. Then, when painting, I'm itching to interpret my work in stitch and 3D. Who knows how it will develop in the future? So far I've done waistcoats, bodices, quilts, carpets, kimono, wall hangings, woven paintings, stitched drawings. I quite fancy making shadows and a very large human form in shades of pink silk, crepe and satin.
What advice would you give to an aspiring textile artist?
I think the thing that saddens me most when I meet young artists, is their lack of knowledge of art, history and culture, and how these things interconnect through time and space. You can gain inspiration from virtually anything, but if you can also relate it to the works of others, you can learn so much more.
For more information visit www.deannatyson.co.uk
Do you have a particular, or unusual, canvas that you use for your textile art? Let us know in the comments below.