Christine Mauersberger: Embroideries and installations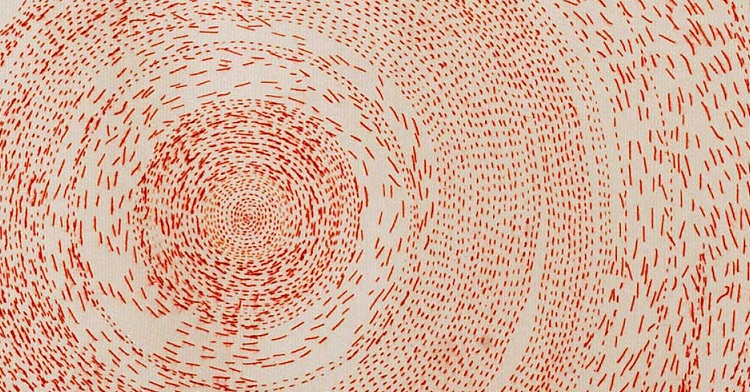 ---
Using mark-making as a statement and to represent the passing of time, Christine Mauersberger's stitched pathways express her inner thoughts to the external world. Creating small embroidered works alongside with large-scale installation projects gives her good balance; the best of both worlds.
While working in the financial world Christine took small, steady steps to achieving her dream of making art, through evening classes and study. After many years she gained enough confidence to take the leap and begin working for herself as an artist.
Christine is based in Ohio, US, and her work has been exhibited nationally and internationally, featuring in private and public collections. In 2020 her latest solo exhibition opened at ArtNeo, The Museum of Northeast Ohio Art. Christine has received numerous fellowships and grants, including a Creative Workforce Fellowship, the Windgate Craft Artist Fellowship to the Vermont Studio Center, the Rockwell Visiting Artist Award at The Taft School in Connecticut, and she has twice received the Ohio Arts Council Award of Individual Excellence.
In this interview, Christine shares why the comforting sounds of stitching bring her an innate calmness, and how she is encouraged by her inner belief that any project she visualises can become real. You'll also discover more about the positive benefits of balancing different styles and scales of work.
Mark-making narratives
TextileArtist.org: What initially attracted you to textiles as a medium? How was your imagination captured?
Christine Mauersberger: My practice and process in hand stitching is informed by traditional women's work. When I was young, the sound of my mother at the sewing machine was the sound of comfort. She would construct, repair, and mend our clothes and those of our friends, neighbours, and the parish priests. Her sewing work was the 'sound' of home and that all was well. Against this background, perhaps it is not surprising that I find the act of hand stitching such a calming process.
As an artist I use similar tools to those my mother used, but for a very different purpose. I use common sewing materials to express conceptual, philosophical, and ethereal ideas.
My singular hand stitches build pathways in which the stitch can lead or follow. Collectively, the successive lines unite the work and represent the physicality of a line as statement, while conceptually representing the passage of time. These mark-making narratives are an abstract investigation of my thoughts about the natural world, achieved by the use of repetitive stitched marks. Each final artwork is a metaphor for my inward thoughts as a message to the external world.
What or who were your early influences and how has your life/upbringing influenced your work?
I was introduced to textile arts in 1977 when I attended the "Fiberworks" exhibition, which was held at the Cleveland Museum of Art. I saw the large-scale artworks of forty-nine international contemporary fiber artists. Each was considered pioneers of the growth of textiles as a medium for artistic expression. I was mesmerised by each piece and dazzled by the prospects of what I could achieve in my work.
Artists included in this ground-breaking exhibition included Olga de Amaral, Shelia Hicks, Pat Oleszko, Jean Stamsta, and Claire Zeisler. There was an array of stunning sculptural works by artists including Warren Seelig, Barbara Shawcroft, and Luba Krejci. The works were not all hanging on the wall. Many were suspended from the ceiling or resting on the floor. The techniques we all have come to know so well in the 21st century included weaving, knitting, crochet, shaped tapestry, embroidery, knotting, and shaped, resist-dyed cloth.
Most of the works were large. One piece by Magdalena Abakanowicz entitled "Yellow Abakan" was made of woven sisal and measured over 3 x 3m (124 x 120") and Lenore Tawney's woven work "Waters Above The Firmament" which was even larger. My curious seventeen-year-old mind was filled with endless possibilities for what would become my future life in art.
What was your route to becoming an artist?
Much like many women artists I meet, my route wasn't a straight line from artist graduate programme to full-blown art making. Early after high school, I went to Vermont to learn how to weave from Norman Kennedy, wanting to become a production weaver as he was. As I think back to that time, I now know that fear is what kept me from moving towards my goal as an artist.
I worked for at least twenty years in the financial field while simultaneously taking classes at night or on weekends. Whether it was a class in accounting or a printmaking seminar, I found myself moving forward with the end goal to make art somehow. I focussed on achieving the completion of my Bachelor of Arts degree before I was thirty-one years old, yet still I continued to work in businesses that were not related to art.
Throughout my post-graduate years I continued to take specialised classes in lacemaking, quilting, printmaking, and drawing. I didn't know how to make the leap from working for someone else to working for myself.
Thinking and drawing
Tell us about your process from conception to creation
I approach all my work though thinking and drawing. An artwork may require as little as five hours work, to as much as four to six months, and I work in variety of media from diminutive works to room-sized installations.
Each work is planned out for logistical purposes. I use my drawing as a thinking process, then I consider the tools I will use to create the outcome I have visualised. If I'm hand-sewing on paper, first I sketch and doodle in my journal. Then I select some paper and thread that appeals to my sensibilities and resembles what I see in my mind.
When I stitch into fabric, the process is almost the same. I doodle ideas or review past marks I've made on paper, then I consider the fabric and thread. I think about what makes me happy, and which material I want to spend time with; a material that feels good, looks nice, and inspires my sense of well-being.
There are particular occasions where I hand stitch without drawing first, usually when I am under extreme emotional distress. For instance, when a loved-one has died I am filled with such grief that I can only express and sooth my interior space with stitch. In these moments my hands work in complete concert with my brain, transferring thoughts onto fabric through stitch.
When I am making a commissioned piece, I use raster programs (pixel-based image editors) to sketch compositions for clients. My education and the magic tools in my secret bag are pulled out, and my fear falls by the wayside when I step into this arena. I am given a set of conditions, colour, texture, theme, size, and an end-date, which helps me go forth into design and execution mode!
In a recent commission for the Moxy Hotel in Columbus, Ohio, the art consultant told me that the client wanted me to use blue jeans, belts, zippers, and other materials to evoke the fashion industry, but that the work should not look like clothes. The hotel was located in the region of the US where many fashion designers work. I used a raster program to create multi-layered drawings and present the design. "Wrapped" is the largest textile work I've ever made. In creating this, my magic bag of skills expanded further, to include how to select and source all the ceiling fittings, and how to create an installation 'map' in order to direct the installers. It was daunting but fun, and now I'm ready to jump into my next large-scale commission.
Tell us a bit about your chosen techniques and how you use them
The technique I use the most is hand stitching. I use three basic embroidery stitches: running stitch, French knot and back stitch.
Recently I was in the Pacific Northwest and felt inspired to react to the colours I saw outside the window of the cottage we were staying in. I used French knots to fill a circular space on linen to complement what I saw around me.
Ultimately every stitched artwork is a reflection of my thoughts or feelings. I want to make sense of my internal world by stitching an external expression of it.
What currently inspires you?
Lately, I have been inspired by science. As the pandemic has been spreading throughout the world, I've been reading and watching the news. I look at images of the virus and I become sad. To ameliorate this, I am concentrating on geometric forms made on non-traditional substrates.
Concurrent projects
Tell us about a piece of your work that holds particularly fond memories and why?
My work 'Redland II' is a piece that recalls the time when I translated my hand-drawn marks on paper into hand-stitched marks on vintage fabric. It is work I can look back to as the genesis for my large installation work. Red is a colour I continue to use in my work. It symbolises vibrancy, excitement, and this work is an example of what can happen when a limited palette of colour is used.
How has your work developed since you began and how do you see it evolving in the future?
My work has evolved from drawing and sewing small works to designing and executing large permanent installations. I see a continuation in working in the same vein. Making small works are happy moments for me. They allow me to finish something with relative ease while concurrently working on larger pieces.
I'm constantly amazed at how what we think about can become real. I am directed by an inner belief that if I can think it, it can be made. You can always get to where you can visualise, always!
My sculpture 'Triangulation' was born from my tessellation drawings. A client saw some of my two-dimensional drawings on paper and asked whether I could make a three-dimensional version. I said yes, and then set off to sort it all out.
I had to find an artist who could design the metal fittings for me, and a metalsmith to make the pieces. My studio assistant and I made several mock-ups and experimented with materials until all the parts came together as I had planned. This was a stress-inducing project, because we were inventing the process as we went along. But now, with this experience, we are ready to delve into another complex piece.
What advice would you give to an aspiring textile artist?
I want all TextileArtist.org readers to know that their ideas can become real!
For an aspiring textile artist, my suggestions go beyond making artwork. Often, younger women and men already have the skill-sets to easily place their work online. Learn about technology, and how to write about what you do.
Don't be afraid to reach out to artists whose work you like. Send them a message and ask questions.
Keep your like-minded community of friends close and ask them for help when you need someone to proofread a grant application or to photograph your artwork. Many of the people I reach out to are often people I have never met in person.
For more information visit christinemauersberger.com and on Instagram
If you enjoyed this interview, you can share it on social media using the buttons below.