Brendan O'Shaughnessy: Flies, sardines and other mixed media
Brendan O'Shaughnessy is both a sculptor and nature lover who loves the kind of plants and creatures that would make most people squirm a bit. He especially enjoys stinky plants like the corpse lily, sardines, and dead flies, but we're guessing nothing is off limits.
Armed with degrees in art and science, Brendan is on a mission to show how the two disciplines go hand in hand. His creative choices are also driven by the notion of 'biophilia' which suggests humans have innate desires to intimately connect with other life forms. Brendan's towering wearables that mimic his beloved natural oddities allow humans to crawl into the life of those beings. And his jewellery made with actual dead bugs or shellfish allows wearers to be literally connected with those creatures.
Be assured, it's a lot to take in. But this adventure into Brendan's strange world of natural spectacles is surprisingly delicious.
Sculpting with textiles
Brendan O'Shaughnessy: One of my earliest textile works was a small, square quilt that I made as a child with my grandmother. She taught me to sew when I was just six years old and was the first person to bring me into the spectacular world of fibre art. The simple quilt was hand sewn with scrap fabric.
I was more formally introduced to textiles through a course I took when pursuing a BFA in sculpture at the University of Illinois at Urbana-Champaign (US). My professor encouraged me to explore fibre as a sculpture medium. I also took a garment construction course that exposed me to the possibilities of wearable art and the activation of sculpture using the body.
Before these courses, my work was made with traditional sculptural materials, such as paper maché, plaster and wood. When I started working with fibre and textiles, something 'clicked' and my creativity began to flourish. I've worked within the realm of fibre and textiles ever since.
Despite a formal education, many of the techniques I use are self-taught and are the result of experimenting in the studio.
Mixing art and science
In addition to a sculpture degree, I also earned a degree in Natural Resources/Environmental Science with a concentration in Fish, Wildlife & Conservation Biology. The knowledge acquired through my ecology courses fueled my artistic practice and vice versa. I cultivated a close relationship between these two seemingly disparate areas of study.
In reality, art and science are not all that different, as they both use creativity to understand the world around us in new and unexpected ways.
At its core, my practice is rooted in biophilia which is humans' innate desire to establish intimate associations with other life forms in nature. I believe my art facilitates this deep biological connection. My sculptures express the unrestrained richness of the evolutionary history of life on Earth. From ancient life forms to extant species, creation has always rejoiced in its vitality, variance, and vision.
I understand the natural world through the unique perspective of a fibre artist. The natural world is a tangled ball of yarn, an infinitely complex string of ecological entanglements. Climate change and the unprecedented environmental destruction we are experiencing continues to fundamentally alter this tangled ball of yarn. Habitat loss and species extinction unravel the beautiful entanglements. If this trend continues, we will soon be left with an irreversibly simple pile of yarn.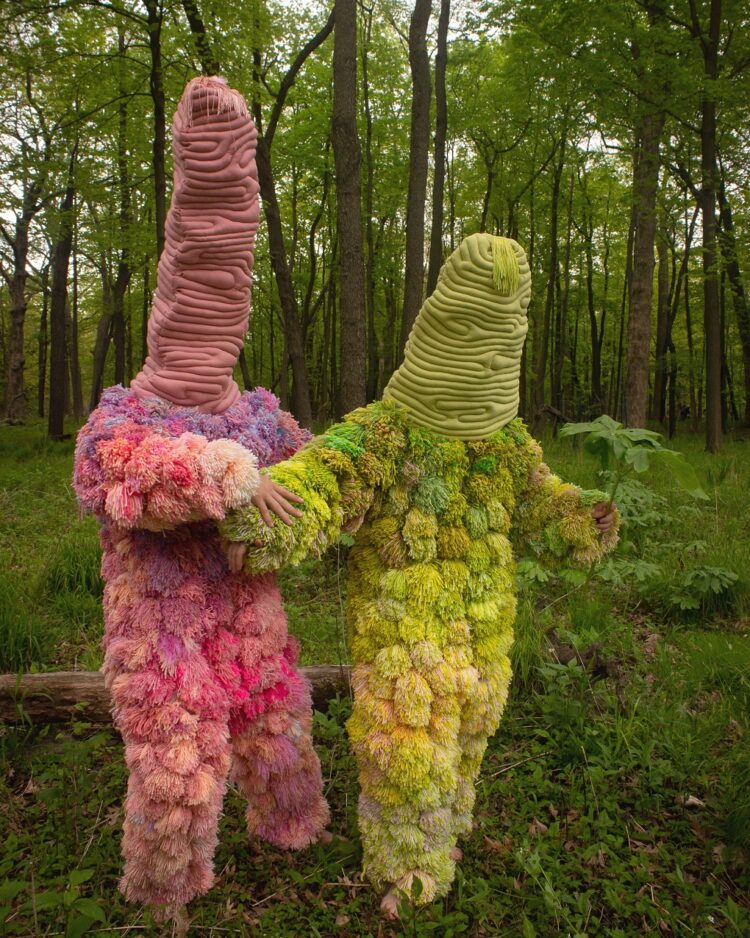 Along with this metaphor, I believe the intrinsic playfulness of fibre and textiles has a special ability to capture nature's dynamic spirit. There are strong visual connections between this medium and a multitude of ecological phenomena.
For instance, moss and lichens form lush, living carpets on the forest floor. On a smaller scale, mould operates similarly on the surfaces of decaying organic matter. In addition, certain quilting techniques can achieve a textural likeness to brain corals, segmented worms, and the human fingerprint.
Recently, I have been inspired by the ecology of carrion flowers, which mimic the scent of decaying animals to attract flies for pollination. Some examples include the corpse flower (Amorphophallus titanum), the stinking corpse lily (Rafflesia arnoldii), and the dead horse arum lily (Helicodiceros muscivorus). 
These species release a vile perfume comparable to rotten meat and cheese, and some even emit heat and grow 'hair' to further advance their bestial allure. I have been looking to carrion flowers as well as stinkhorn mushrooms to understand the delicate territory where the disgusting and the delicious coexist.
I would describe my work as Neo-Baroque and hybrid. My sculptures are spectacles characterised by extravagance and excess, both of which define the Baroque. They feature rich textures, vivid colours, and dramatic forms.
My sculptures are also hybrids that merge the human form with non-human creatures such as coral, fungi, and microorganisms. My wearable sculptures are both biomorphic and anthropomorphic – they give form to our biophilia.
Wearable fantasies
My love of wearables is intimately connected to the desire to adorn the human form. The beautification of bodies using jewellery and garments is a transcultural and transhistorical phenomenon. It is an essential component of the human condition.
My practice harnesses this aesthetic impulse to cultivate a deeper connection to the natural world. My wearable sculptures facilitate our biophilia through unifying the human and non-human.
I mostly work with two and four-way stretch fabrics. These synthetic fabrics are applied to cotton fabric using free motion quilting. The high loft, textured surfaces are created through a combination of meticulous hand stitching and machine stitching and manual stuffing.
Using stretch fabric with this technique is difficult because the fabrics have very different properties. At times, it feels as though I am wrestling with the fabric to get it through my sewing machine.
But ultimately, I enjoy working with these materials because of the visceral quality they can achieve. I have overcome many of the challenges regarding these materials and techniques by working on small sections at a time.
I also begin quilting in the middle of my pattern piece to lock the two layers in place. This prevents the fabric from shifting. Very large seam allowances can also account for the inevitable shifting and accordion-like shrinkage that occurs from this quilting technique.
Creative process
All of my textile art creations begin with observation. From frequent visits to forests and fish markets or even a trip to the Palace of Versailles, I find inspiration from a multitude of places. I am like a sponge, constantly absorbing the world around me to feed my creativity.
From there, I sketch until a final design is determined. For my wearable sculptures, I use my sketchbook. But for my new experimental work, small sketches are made directly with the material itself. Working this way is more intuitive because it establishes a conversation between the artist and the materials that he or she uses.
Materials have agency: their physical properties influence how we interact with them and thus codetermine the final form of the work. When we give materials the space to speak, they can teach us incredible things.
I next develop a sewing pattern and a plan for the internal structure of the sculpture. I gather materials and begin construction.
During the fabrication process, constant revisions must be made. The wearable sculptures must combat the constant effects of gravity while remaining light-weight, mobile, and portable. Finding that balance looks different for every project, and frustrations inevitably arise through trial and error. Working through these complicated structural issues requires persistence and patience.
I have started looking to historical crinoline structures, farthingales and bum rolls for practical solutions. I also use steel boning and dense quilting.
Most of my past sculptural garments feature coats made with handmade pom poms. Making pom poms with a large variety of different yarns presents infinite colour combinations. When densely applied to surfaces, pom poms achieve a visual likeness to pointillism. Texturally, they resemble moss, intestinal villi, and Lion's Mane mushrooms.
I use a Pfaff creative 1471 sewing machine made in 1985 that was passed down to me from my grandmother. My other must-have studio tools include my left-handed dressmaking scissors by Galadim, a set of long wooden dowel rods, and curved upholstery needles.
The dowel rods are used to stuff my elaborately quilted creations, which must be manually stuffed in small sections to achieve the desired texture. The upholstery needles are particularly important when stitching difficult pieces together.
Another tool I commonly use is a clear acrylic ruler with grid measurements. This is helpful for drafting the unusual seam allowances often required for wearable sculpture construction.
Edible textiles and flies
As part of my MFA degree program, I'm moving away from wearables to enjoy new opportunities of working off the body. That shift was initially daunting, but it has allowed me to experiment with materials in ways I haven't before.
I'm thinking more broadly about themes such as desire, decay, and perverse beauty. My new work blurs the boundaries between adornment, body, nature, and food through material and form. These materials investigate our ancient attraction towards shiny and sparkling objects and our aesthetic impulse to adorn ourselves and our surroundings.
I'm also exploring the transition when peak ripeness and perfection have passed, and decomposition begins. For example, in these instances of decay, flies, with their brilliant iridescence, become a form of adornment that signals the beautiful impermanence of material life. (I use dead flies I find in interior window sills of various buildings. Flies have not evolved to 'understand' glass, so many drop dead after their unsuccessful attempts to reach the outside.)
My degree programme has also pushed me to develop unfamiliar materials, such as my edible 'bio-textiles'. I make them from a type of bioplastic which probably wouldn't taste very good but is fully biodegradable. My bio-textiles won't decay unless prompted by the right conditions, such as composting.
Their ability to biodegrade is important to me because artists must use materials that reflect their values. So, the materials I use cannot contribute toxic waste to our ecosystems or harm us and the non-human forms with which we seek intimate connections. I am also working with cultured pearls, shellfish, anchovies, and rhinestones.
Aphrodisiacs is the fun nickname I've given to the small material sketches I've created using edible materials, including shrimp, mussels, gelatin, algae and sardines. I don't consider most of them to be wearable or finished work, as they are examples of my initial approach to working off the body.
I instead consider them to be Frankensteins of desire that are products of play. They are my first attempt at combining food, adornment, body and ecology. And I plan to use them as references for making larger, non-wearable works.
Despite these material and thematic transitions, a deep connection to ecology and fibre and textile remains in my practice. I continue to employ sewing, embroidery, and other garment embellishment techniques. It is difficult to fully articulate what my recent work is about, because it is so new to me. Most of it remains in the experimental phase, but I am excited to see where it leads me as a fibre artist.
Thoughts on social media
I primarily use Instagram to share my work. Using social media to promote one's work is incredibly important. Increased visibility and the exciting opportunities that come with it are two major benefits.
Through Instagram, I've been able to connect with many different textile artists and designers. Maintaining an active presence on social media can be demanding, but it keeps one's work on the radar of others.
Creating content for social media can sometimes feel as though one's work has been reduced to consumables, but the benefits far outweigh the drawbacks. Sharing work can be intimidating, especially when the work is experimental and filled with uncertainty. I have been reluctant to share my recent graduate school artwork for this reason. However, it is crucial to share the behind-the-scenes of one's artistic practice. It's an excellent way to build engagement and excitement surrounding one's work.
The way one's work is photographed and displayed changes everything. That's why I stylize photoshoots for all my photographed works.
I assume the role of a world builder for which I consider every detail, including the lighting and background to the type of camera being used. The final image must be curated because the space contributes to the message being communicated by one's work. A good example of this process can be seen in my work, The Grotesque. The work was captured with a 35mm film camera which worked wonders on the highly stylized tablescape and formal garden setting.
Key takeaways
Although we're guessing you won't be inclined to start stitching with dead flies, Brendan's approach to textile art gives us things to consider:
Try incorporating unusual objects in your textile art. They don't have to be scary or creepy. Explore the various ways you might work with them and the impact they have. 
Brendan enjoys using multiple colourful yarn pom poms because when combined, they create delightful colour palettes. How might you use multiples or repetition of textile elements in your own work?
When taking pictures of your completed art, think about the setting surrounding your work as much as the work itself. How does that background add to the story behind your work? Like Brendan, pay attention to 'stylizing' your photos.
Brendan O'Shaughnessy is an artist-designer working at the intersection of sculpture and garments. He is currently pursuing a Masters of Fine Art in Fiber & Material Studies at the Tyler School of Art and Architecture (Philadelphia, PA, US).
Instagram: @brendan_oshaughnessy
Interested in learning about other mixed media artists using unique materials? Check out these five artists.