Travel and textile art: Less is more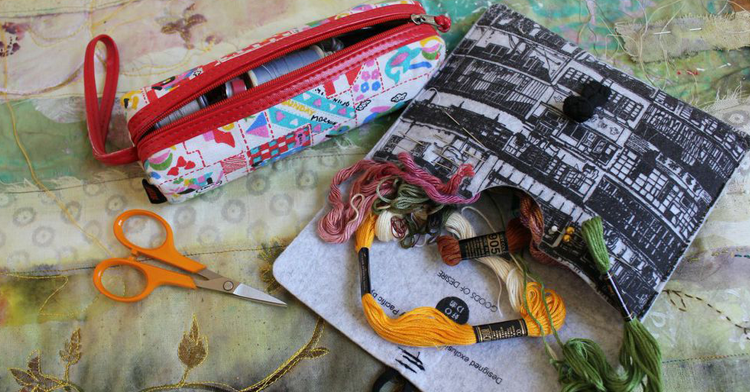 ---
Cas Holmes trained in fine arts and produces multimedia artworks in colour, paint and stitch. Her meticulous process of collage from salvaged remnants creates pieces without defined borders and reflect her interest in the urban and natural environment. As well as being an artist, Cas is a respected lecturer, workshop leader and regular TextileArtist.org contributor; past articles include Reflections on life, home and work, Finding inspiration for textile art and An exploration of collaboration. Travel is a major part of her professional practice and continuing to create work as she travels is fundamental to her process.
---
Extreme Stitching by Cas Holmes
In 1985 I took part in the 12th Biennale International De La Tapisserie Lausanne with a paper and stitch installation 'Sofonisba Anguissola.' (One of a series of three installations marking 'forgotten ' women artists.) Each panel was 6 feet in diameter. This postcard close up and the catalogue are sadly all that remain.  I remember finishing some of the stitching to be attached to the piece whilst on the train travelling to Switzerland. The piece had gone ahead in the post! A recent graduate, this was my first international trip and on the return I collected cloth and found materials as a resource to work with back home.
Being a 'pack rat'
I have always been a bit of a 'pack rat' and have learnt to carry the bare minimum as a working kit and exchange (and dispose) found objects, fragments of cloth and paper as they catch my eye. Limiting what you use in terms of what you may be able to physically carry can be a good creative tool.
As an artist Cas uses any materials to hand and even liberates skips of materials she may use – saving them from a landfill fate. If Cas had to choose one thing she couldn't do without she would choose to have a stack of very sharp needles so she could sew anything she found around her and one of the brilliant pros about Cas's type of art is that it is 'portable art' meaning she can take her art with her and add to it whenever she likes.

Liz White, Feature Article, 12th April 'Inside Maidstone-magazine.co.uk'
My workshop guides always suggest people bring materials to fit a small bag (interpretations of what 'small' means often differ!).
One student who came to several classes in the USA made the following observation:
It (the class) helped me to open my eyes to the world around me and seeing that I don't need to have a vast supply of items to create art work and to use what is at hand at that time. I had never sketched or journaled before and now I find my self taking just 5 minutes a day to sketch and journal about the world around me and using it is an integral part of my life and my art. I love to travel and now I have decided to gear down what I take with me and especially what I take to workshops. Cas travels with very minimalist items. She sheds what she does pack and gathers items in her environment which she uses in her artwork. I was also amazed and inspired that she takes 3 small pouches when she leaves her home 1. small sketch book with drawing pens 2) hand held watercolor set 3) small sewing bag with needles and threads. We live in a world which believes more is better like the latest medium or tool, but being around Cas I have come to realize less is actually better, because you appreciate it much more and it is more about the experience. 

Rene Chock
In addition, a small pocket sized camera!
USA workshops: 'Images and Narratives in Textiles'
It was a joy to work in the USA  and I reported on the trip regularly and www.magpieofthemind.blogspot.com. There are so many people I should list to thank here (but I would need a book!). But I would like to thank the four main organisors for sterling work in hosting,  South East Fiber Arts Alliance, the wonderful Lorie Garver who shared the Grand Canyon with me,  in partnership with Frenzy Stamper, San Diego Book Arts and my dear friend and colleague Jane Lafazio.
Making use of limited space at home or away
In the last few months access to stored materials in my small studio and workspace has became  more limited as it currently filled with boxes (as is much of the house). A new set of stairs are being built the loft space which will give better storage access and improved hanging space in my home. Good storage is as essential as good packing but this means I have been working on a very small table area.  New works for exhibitions including a guest appearance at the European Patchwork Meeting have been extracted from these limitations. I am delighted that this exhibition has been supported by www.husqvarnaviking.com and www.pfaff.com.
Just outside my front door
I found a scrap of fabric with 40 yards printed on it on a footpath locally so used that as my starting point for the new work.The piece will use materials I collected whilst travelling, combined with changes I record from within my footfall/40 yards connecting me back to my home.  I aim to make a modular piece which may end up being 40 yards long…eventually.
Wisteria is reflection of this process.  The lace came from a recent workshop in Ireland  and the fabric from Atlanta, and some of the embroidery thread from my host in St Diego, all donated by students whilst teaching in the USA.  In Georgia, wisteria is seen to grow everywhere; by the side of roadsides in much the same way as we have buddleia by railway tracks in the UK, and is regarded more as a 'pest' than as desirable. I have missed the first blooming of the same plant in my garden for the last couple of years but was delighted to see it on my return this year (where it is still regarded as a desirable garden plant).
I am currently working on a project with the Garden Museum and Age UK Bromley and Greenwich  where we will use handkerchiefs as a base as a means to create works in response to gardening in World War One.
I am continuing with my ongoing project Tea Flora Tales to raise awareness of the need to  preserve plants and related wildife habitats.  This project is now going global and will be shown as it progresses in Germany, at the European Patchwork Meeting  and later next year in Australia. More details of how to get involved with this is at the end of the article.
I attribute this approach to working to my desire to create wherever I am, with a nodding reflection to my Romany grandmother who would have been well versed in using what she had, and having limited storage and workspace. Working 'on the move' can be extreme, but 'extreme stitching' allows for greater interplay between your work and the world around you.
---
For information and my current exhibitions and workshops please follow the links from my website casholmestextiles.co.uk.
Tea Flora Tales:
Tea-Flora Tales' started life as a 'daisy chain' installation at the Knitting and Stitching Show in 2012  to raise awareness of the need to preserve of our wildflowers and related habitats. You can contribute and tell your own flora 'tale' in stitch and/or paint. Email or message me on facebook for the address to send these pieces. See Plantlife.org.uk for more information about their work.
---
Cas Holmes – Upcoming events
Common Place
Where: Quiltstar, Sophie Maechler, Viktoriahaus in der Basler Str. 61, 79100 Freiburg.Germany
When: July 10 -September 10
E-mail: mail@quiltstar.de
Spaces-Places-Traces
Where: 20th European Patchwork Meeting, Initiatives Evenements, 5, rue Kroeber Imlin F – 68160 Sainte Marie-aux-Mines
When: 18-21 September 2014.
E-mail: adm@ie-events.org
---
If you've enjoyed this article we'd love to hear your thoughts – leave a comment below.