Finding inspiration for textile art by Cas Holmes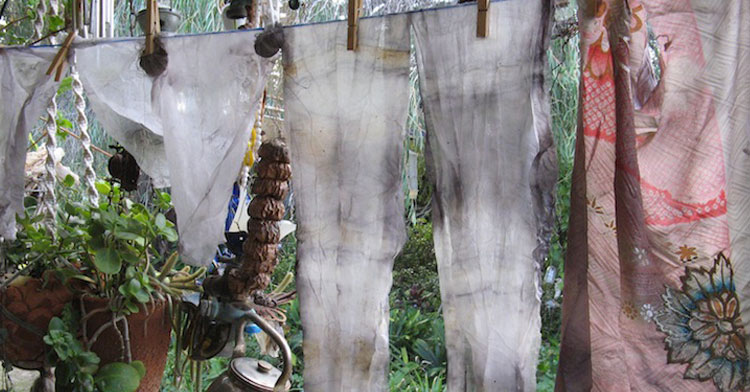 Cas Holmes has been a TextileArtist.org featured artist and wrote a wonderful piece for us reflecting on the life, home and work of a textile artist. She's recently returned from Australia, where she was invited to share her expertise with fibre arts students.
We're delighted to welcome her back and excited that she has been kind enough to offer an insight into how her recent trip may inform her future work and share some invaluable words of wisdom on finding inspiration for textile art. What's wonderful about this piece is that Cas not only gives advice from her own experience but offers a glimpse into what into what inspires the other textile artists she's been working with in Australia.
A sense of place
Cas Holmes: I tend to create pieces from found materials as I travel and go about my day to day work. Through interaction with the objects and fabrics I evolve a narrative. Being prepared to de-construct and reconstruct has become a vital part of my creative process both physically and mentally. Recently, I spent some time in Australia running workshops and giving talks. One of the questions I was often asked was how this experience would inform my work? How does a foreign place translate as inspiration for textile art
This is one of the most difficult questions to answer. I find the Australian landscape inspirational, full of texture and amazing flora and fauna, but alien. It tells its own story and it is one where I can only, as yet, find the most transient of connections.  For the Aboriginal artist, the landscape tells its own complex stories of place and connection to people. European settlers brought with them Western conventions of pictorial landscape painting to interpret the land.  At best my experience is only 'fleetingly felt'  as I travel and feels 'borrowed.' Finding a more solid connection to place takes time, if it comes at all.
You can view work on the following sites:
Art Gallery of Western Australia. Perth
The National Gallery of Australia, Canberra
Australia: Drawn to the familiar
I seek the often overlooked aspects of the connections I make to the world around me, the verges of our roadsides, railway cuttings, field edges, the places where our gardens and homes meet the outside spaces. Whilst away from home I sketched and made recordings of travels. In quiet times I stitched and made marks seeking to capture the atmosphere of a place or moment. On looking back, I realised I was drawn yet again to the 'familiar' in a more unfamiliar setting. Washing on a line against a weathered fence, gum trees but with Autumn foliage colours on European trees in the background, a golf course but with kangaroos instead of rabbits around the edges, skulls and found objects amidst hanging baskets
One of my students bought in a wattle bird (dead) to the class as a 'gift' for me to sketch. An unusual gift…but wonderful as a resource and a chance to look at a native bird close up.
Hong Kong: Fleeting but deeply felt
I spent a few days in Hong Kong prior to Australia- my time there was fleeting but deeply felt. My father was a National Serviceman during the Korean War and spent some time there recovering from injuries. His stories made the feel of the busy landscape familiar. I made some small pieces whilst travelling such as the Tin Hau Bowl, as little sketches of the places where I stopped to eat, draw and just absorb the colour and life around me.
Inspiration for textile art from other artists
Working alongside other artists can open up new approaches to your own work. I find you can learn and develop your own ideas through listening to 'other voices'. My connection to Australia was through invitation to teach at 'Fibre Arts Workshops' in Ballarat, Australia, organised by Glenys Mann, artist and teacher.
Glenys has the ability and reputation to get internationally renowned artists to teach for her. I was drawn to the work of fellow teacher, Chris Atkins; her powerful pieces draw their inspiration from, and talk about sense of place and our connections to the idea of 'home. The mixed media sculptural works are painstakingly created combining casting of found objects in metal with complex machine stitch which defy translation and are beautiful in detail and content. In a review of the work Judith McGrath says:
Most homes are full of simple treasures, happy memories, comfort and love. Chris Atkins has found her' home' in her art work. Best of all, her charming sculptures invite us into her world of whimsy, warmth and wonder.

For further details of Fibre Arts Workshops throughout the year see:
http://fibrearts.jigsy.com/
Inspired by Culture
As much as I am inspired by where my feet take me others are equally inspired by different cultural interests. Ro Bruhn, keeps a regular sketchbook and this piece is inspired by Eastern style turrets and links directly to her drawing.
A collective narrative
Creating a narrative can be a combined project. Whilst in Australia, I continued to seek contributions to Tea-Flora-Tales, ongoing sketches by individuals composed of small pages from old books and manuscripts. Individuals attending workshops added their own flora images and stitched stories with an Australian theme. I continue to keep the chain going to create an installation of the piece as the work moves to new venues during 2013-14. The first showing will be at The Front Room, Beaney Museum, Canterbury from Sunday 30 November 2013-Jan12 2014.
To get involved follow this link to Urban Nature
Support the wild flowers by visiting www.plantlife.org.uk

Absorbing the experience
I am still absorbing the experience but even in the last few days of 'down time' I had time to play. I spent some time with my friend boiling up the leaves of the Lilly Pilly tree to dye waste fabrics collected on my travels. I am unsure what I will do with the stash..but am thinking on it.
Words of advice to textile artists
Developing the narrative
Developing your artistic narrative is an individual journey. There is no short cut or easy way. I spend considerable time thinking through ideas and developing the processes behind them, both as an artist and a teacher. Why do I consider the act of drawings and keeping a record is important?
Your own references are important because you have been there
You build your own relationship to the experience; the places you have been, the objects you see, as part of the act of making a record
You train your eye and stop to look as part of an investigative approach
Your own drawing, notes and photographs act as a memory prompt
Work without fear
Make notes as you go either directly on the material or page. Keep them in a binder or sketchbook 'journalling' your thoughts about what inspires you (peeling walls, patterns from a building, flora). Learn all the techniques that interest you but don't be afraid to experiment with processes, adapt them and make mistakes. These failed 'experiments' are time well spent. Work without fear, it will take time but constantly referencing what is around you, combined with practice, helps to inform your work, develops your subject and leads to the development of your ideas.
My on-line journal, Magpie of the Mind acts as 'aid memoir' to my thought collecting and journal process.
For more information about Cas and her work visit www.casholmestextiles.co.uk
If you've found this article enlightening let us know by leaving a comment below or check out our other articles by and about Cas Holmes: Featured Artist: Cas Holmes and Reflections, life, home and work by Cas Holmes