Buying used sewing machines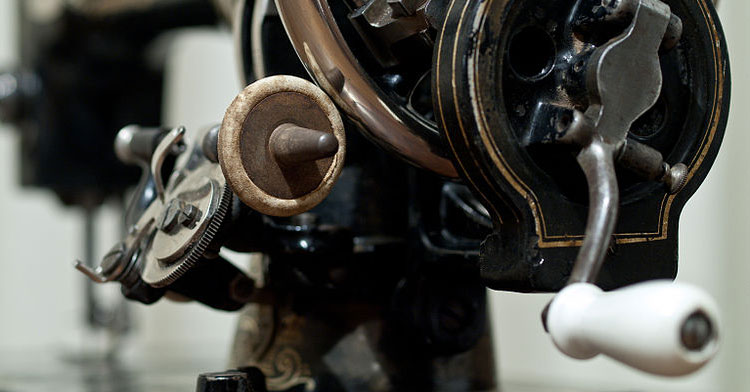 There is a wide range of used sewing and embroidery machines available at bargain prices on popular sites such as eBay
. But how do you know you're getting a truly great deal? It's important to consider what you need the machine for. If you're looking for a cheap sewing machine for beginners, quality might not be your number one priority, but if you're an experienced embroiderer you'll be more likely to want a versatile and durable machine and might be willing to pay slightly more for it. Let's take a look at what you should consider when purchasing a second-hand sewing machine.
Which is the best brand of sewing machine?
We asked several of the most-respected textile artists and designers, such as Carol Naylor, Sue Stone, Karen Nicol, Nigel Cheney, Sue Hotchkis and Jo Smith, what their machine of choice was. Without fail, all of them recommended Bernina; what better validation? You can read their opinion in the article The best sewing machines for embroidery.
Having dug a little deeper and scouted around for more of an objective overview, we discovered that most experienced embroiderers and sewers considered the European manufactured machines to be the best quality. These machines are generally rather intuitive and take less time to get to grips with. The following brands are available on eBay and are the best for reliability, quality and local dealer support and servicing.
Bernina
Bernina sewing machines are made in Switzerland. The only way to buy a new Bernina is to go directly to a Bernina dealer in person, as they are not permitted by Bernina to sell the machines over the internet. Because brand new Bernina sewing machines aren't cheap, there is always a high demand from quilters and embroiderers for pre-owned machines in a good state of repair. It's important to be aware, that no matter how new the machine is, if you buy a second-hand Bernina
 on eBay or anywhere else, you won't be getting a warranty, as the manufacturers don't allow the transfer from one person to another.
Husqvarna
When we published the article The best sewing machines for embroidery, we were contacted by a few textile artists who said they were surprised that Husqvarna sewing machines
weren't featured. Here's what one well-established textile artist had to say:
I'm surprised Husqvarna Viking didn't make the list. Their embroidery machines for domestic users are superb quality. Their Diamond Deluxe machine is fabulous – I had the chance to play on one (sadly out of my present price range) – but for versatility, smoothness of stitching, excellent embroidery output and capacity for digitized embroidery on a domestic scale I think nothing else beats it – not even the Brother PR. One of the advantages of the Husqvarna Diamond is that it can be used for general sewing, quilting and pre-programmed stitching etc not just for embroidery. That's why I think it's better value for money than a pure embroidery machine like the Brother PR – which has a comparable embroidery field size.
Having done some more research, Husqvarna machines appear to be much sought-after and receive excellent reviews across the internet. The company has a long-established history of quality design and manufacturing, and is based in Sweden. They pride themselves on serving the needs of passionate sewers across the world.
Textile artists we've spoken to have also mentioned their love for the following brands: Brother
, Pfaff
and Janome
.
What do I need the machine to do?
When considering purchasing a sewing or embroidery machine on eBay
, have a clear idea of exactly what you need to achieve with the machine. There are two main categories of sewing machine; sewing machines for sewing and quilting and combination sewing machines with automatic embroidery attachments and capabilities.
Choosing the best sewing machine for quilting and sewing
Quality is almost always the number one consideration. The higher the quality of the machine, the more capability it will have to perform a wider range of speciality stitches. Ask yourself if this is important to you or whether you only need the most basic of machines to carry out the most basic of stitches.
There are many lower-quality machines being made, and the better-quality brands (like Bernina and Husqvarna) don't allow their latest models to be sold on the internet. If you decide you do need a more versatile and long-lasting sewing machine, the cheapest way to get one is to shop around for deals on eBay.
If you need the machine to be rich in features, it's always worth spending more on a great brand. There is far less of a risk involved in investing in a Bernina, even if it is fairly old, because these machines are built and engineered to last. It's probable that a second-hand machine by a top-quality brand will last you longer, be more reliable, and cause you less hassle than a brand new generic model by an unestablished company.
Choosing a great combination Sewing/Embroidery machine
eBay offers massive savings (often half-price or better) on first class embroidery machines
made by the top manufacturers in the field. With these machines, it's important to make sure you know exactly what you are getting before you purchase; don't be afraid to contact the seller and ask questions about any concerns you have. Is there a warranty included? What is included with the purchase? Has the machine been reset to Manufacturer's standards? Study the images of the machine to check its condition.
Consider the age and condition of the sewing machine
Trying to save money on a pre-owned sewing machine is all very well, but don't compromise on quality of brand. If you are trying to economise, it's probably worth looking at slightly older machines rather than newer ones by a lesser brand. Remember, if it seems too good to be true, it probably is; if the price seems ridiculously cheap, be mindful and ask questions to see if you get a credible response from the seller. The feedback system on eBay is a useful guide to let you know how trustworthy a certain seller is. With a pricey purchase, like a sewing or embroidery machine, it's probably best not to buy from a seller with no feedback or previous sales. If the seller has a lot of great feedback, you know you can probably trust their claims about the quality and condition of the machine you're considering.
Questions you may want to ask the seller
Does the machine have a needle threader?
How many feet does the sewing machine have?
How many stitches does the machine have the capability to do?
How easy is the machine to thread?
How many hoops does it have? What sizes?
How many owners has the machine had?
Has it been in constant use since it was first bought?
Does it come with any accessories?
Is it simple to use?
Buying second-hand sewing machines on eBay – a word of warning
Unfortunately scammers are still rife on the internet, but there are some proven ways to reduce the risk when buying a used sewing machine.

If the seller has placed the item on a 1 day only auction, be wary. It could be that the person is looking for some quick money and doesn't actually have the item. The price is likely to be way too low for the machine they're claiming to be in possession of.
Take notice of poor feedback. Don't purchase anything from anyone you don't have the utmost confidence in.
Always pay via Paypal or cash on collection. Paypal is free to use and you are protected as a buyer . If you opt not to pay until you see the sewing machine, you have at least some insurance.
What questions would you want to ask the seller of used sewing machines? Let us know in the comments section below.